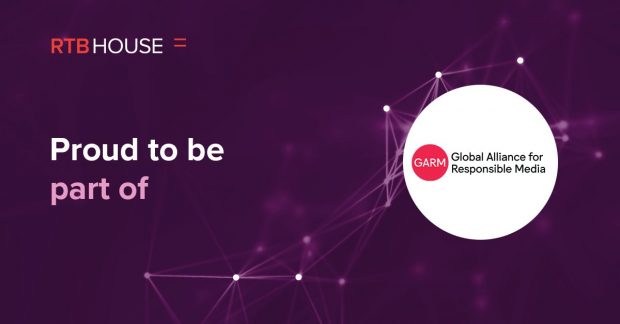 RTB House, a global company that provides state-of-the-art marketing solutions for leading brands and agencies, has announced its membership with GARM (The Global Alliance for Responsible Media). This project-based partnership reinforces RTB House's commitment to online brand safety in advertising, championing a fair and responsible online ecosystem. 
GARM was first founded in 2019 by the WFA (World Federation of Advertisers) to address the challenge of harmful content on digital media platforms and its monetisation via advertising. It's a one of a kind project that combines the power and expertise of publishers, agencies, media platforms, third party providers, and national association partners into one collective group. Each member of this alliance will play a role in addressing the need for a safety-first web.
Current members include major global brands, platforms, and agencies, such as Adidas Group, Microsoft, Havas Media, and LinkedIn – among a long list of others. RTB House now joins this prestigious collective, contributing its expertise in online privacy and cookieless advertising solutions driven by deep learning algorithms. 
As a member of GARM, RTB House will attend monthly meetings in a working group with other representatives of the marketing community to address GARM's key concerns regarding brand safety & responsibility: 
Adoption of GARM common definitions for harmful content;

Development of GARM reporting standards on harmful content;

Commitment to have independent oversight on brand safety operations, integrations and reporting;

Commitment to develop and deploy tools to better manage advertising adjacency.
Andrzej Surkont, director of global inventory partnerships, RTB House, adds, "We have a responsibility to keep brands and users safe from harmful content, providing advertisers with the most effective brand safety solutions. We are proud to partner with GARM and its incredible roster of members to implement a common framework that drives transparency, consistency and control in the placement of ads online. It's a natural next step in our mission to ensure brand safety and responsibility."
Rob Rakowitz, initiative lead, GARM, commented on the announcement, saying, "We're very pleased to include RTB House in our growing collection of digital leaders, all committed to creating a fair and responsible media landscape. RTB House prioritises brand safety, applying modern technology and strategy to build an internet that aligns perfectly with our own standards – they will be a valuable partner as we continue to develop our brand safety standards and solutions."
As well as joining GARM's global initiative, in 2021, RTB House also announced its TAG (Trustworthy Accountability Group) certification, addressing all of the organisation's requirements to be certified against fraudulent practices. RTB House's algorithms are compliant with the highest industry standards to monitor, detect, and block invalid traffic.
Brand SafetyInventoryMediaPartnership