Mediamond Partner with Adomik for the Optimisation of Digital Programmatic Ad Campaigns
by ExchangeWire PressBox on 6th Sep 2022 in News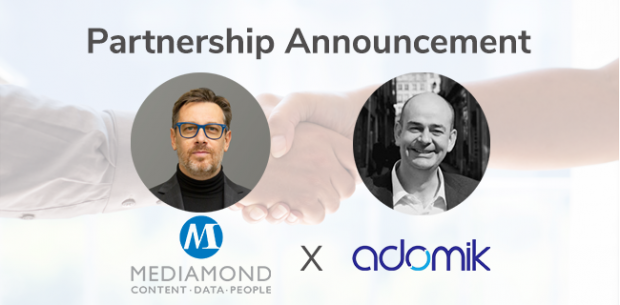 Mediamond today (September 6th, 2022) announces a new partnership with Adomik, a Paris and New York-based company that, through its advertising analytics platform, helps publishers worldwide manage and optimise programmatic campaigns to maximise revenues.
The partnership with Adomik allows the sales house to make the sales of automated advertising even more efficient, optimising management flows, improving delivery performance, and bringing benefits in terms of revenues.
Thanks to this partnership, Mediamond can use a series of tools, capable of reaching specific goals: automating control processes about delivery efficiency, discovering new business growth opportunities and increasing advertising revenues.
For example, through the apps developed by Adomik, the sales house can access a single holistic dashboard where all delivery and revenue data coming from different platforms can be viewed, significantly improving the post-campaign analysis process.
The platform also helps Mediamond monitor open market campaigns and implement the best revenue generating strategies, through automated recommendations based on machine learning algorithms.
"We have always believed that in digital advertising, one needs to constantly keep an eye out for new tech solutions to improve our offer to the market", commented Davide Mondo, CEO of Mediamond. "This new partnership enriches the proposition of our digital network of premium publishing brands with additional useful tools."
 "We are thrilled to partner with Mediamond, a leading advertising company in Italy. Through this partnership, we strive to help them manage their programmatic advertising and drive more sales opportunities and advertising revenue." said Nicolas Schueller, co-founder and CEO of Adomik.

Adomik
The Adomik platform is built with the publisher in mind: Over the years, working closely with small and large publishers, Adomik has developed deep expertise in monetisation and data science, which has been applied to building the best platform...
Powered by PressBox
AppsPartnershipProgrammaticRevenue