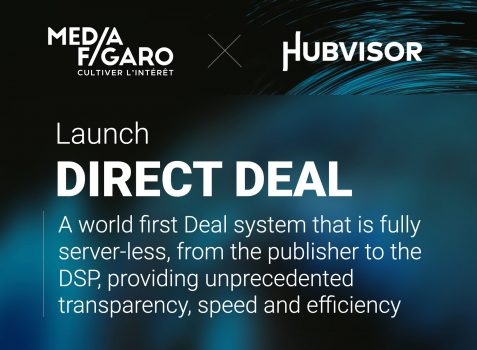 Hubvisor and Media.Figaro has announced the launch of DIRECT DEAL, the company's new SPO solution for increased transparency, value, and environmental responsibility.
Built by Hubvisor, DIRECT DEAL allows Media.Figaro to offer deals via a disintermediated programmatic route, thus constituting a complementary offer to Media.Figaro's existing deals. The product utilises a client-side infrastructure without a server, and is compatible with the DSPs already integrated by Hubvisor. DIRECT DEAL acts as a three-in-one solution for buyers by minimising the costs of the programmatic value chain; increasing the win rates and match rates of their campaigns tenfold; and providing transparency and minimising the significant carbon footprint
Karine Rielland Mardirossian, managing director at Media.Figaro, commented, "We are among the first publishers to benefit from a deal system within a programmatic route, thus reducing friction in the value chain. We are delighted to be able to enrich it with our expertise in terms of targeting." Mardirossian added, "This is a great step forward for SPO on the buy side and sell side, and it's a step in the right direction in terms of transparency, value, and ecological transition."
CEO of Hubvisor, Sylvain Travers, said, "Faced with the loss of speed of open auction demand over the last 6 months, it seemed obvious to us to encourage the introduction of a deal mechanism on our disintermediated routes by initiating their takeover by the sales forces of our publisher clients. We are proud that Media.Figaro is the first to inaugurate the concept."
"This approach remains unique and we believe it is the perfect answer to the SPO issue, with premium publishers' inventories offered to the buying platforms at the top of the chain without any commercial or technical intermediary (server). The process has already proven itself with major advertisers like Renault, and we look forward to making it available to hundreds more buyers," Travers added.
EnvironmentalProduct LaunchSupply ChainTransparency