Smile Wanted intègre le prestigieux classement Européen du Financial Time, des sociétés en forte croissance
by ExchangeWire PressBox on 11th Mar 2023 in News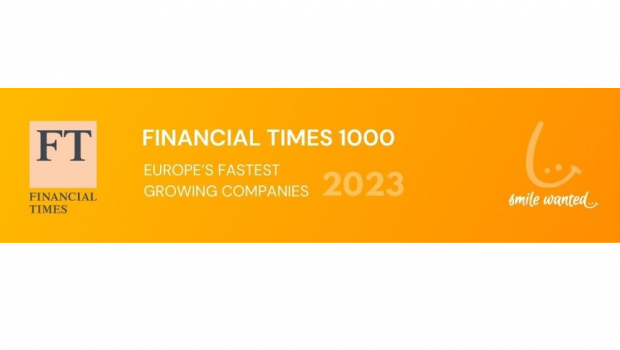 Le dernier classement Financial Time / Statista des entreprises européennes, à la croissance la plus rapide, a été publié ce mois de mars 2023.
Ce palmarès répertorie les entreprises européennes ayant enregistré le taux de croissance annuel le plus élevé entre 2018 et 2021. Le taux de croissance moyen minimum requis pour figurer sur la liste était de 36,2 %. Il témoigne du nombre d'entreprises ayant prospéré malgré la pandémie, ou dans plusieurs cas, grâce à elle.
Dans le secteur de la technologie et du commerce électronique, cette période a été une aubaine pour les entreprises. Les consommateurs confinés chez eux, qui travaillent et achètent en ligne ont boosté la numérisation et ainsi la publicité digitale dans la plupart des secteurs.
C'est le cas de l'entreprise Smile Wanted répertoriée cette année dans le rapport de classement de Financial Times, compilé avec le fournisseur de données Statista, 
Fondée en 2016, Smile Wanted est spécialisée dans la publicité numérique grâce à une équipe de 30 experts agiles pour répondre aux besoins immédiats dans un marché en constante évolution.
La technologie de Smile Wanted repose sur 3 fondamentaux de filtrage qui sont : le contextuel, l'ergonomie et les performances. Ils permettent d'assurer des garanties de performance optimales aux annonceurs  dans un environnement de diffusion brandsafe et brandsuitable.
Cette French-tech allie puissance de diffusion dans plus de 25 pays et qualité d'inventairesvideo, display et native. De plus, étant connecté aux principales plateformes d'achat, l'activation se fait en quelques minutes.
Malgré une situation économique instable, la résilience de Smile Wanted laisse à penser que cette croissance ne fait que commencer ! 
Acteur  incontournable de l'adtech, Smile Wanted a construit une véritable success story dans un écosystème ultra-concurrentiel et le meilleur reste à venir.

SMILE WANTED
Smile Wanted - Curated Marketplace, independent, and cookieless. Spot the most valuable inventory on premium websites and provide guarantees of performance to advertisers. Reach +500M users /month globally....
Powered by PressBox
Ad TechAdvertisingDigitalE-Commerce