Lumen Registers Increased Views & More Positive Response to Ads Using SeenThis Technology
by ExchangeWire PressBox on 27th Apr 2023 in News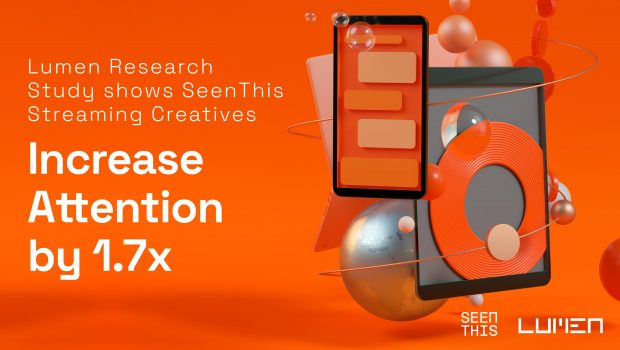 Adaptive streaming company, SeenThis, announce that a study with Lumen, the leading technology company for attention measurement, found that creatives delivered by SeenThis capture higher attention and more positive responses than delivering the same creatives using conventional technology ​​.
The study was commissioned to determine how much attention is generated by SeenThis-enabled streaming video compared to standard video advertising and to understand the impact of SeenThis proprietary streaming technology on the all important metric of attention.
For the test, Lumen compared three streaming creatives from SeenThis with equal size and placement standard video ads on a popular news website. Lumen then performed a variety of tests, including eye tracking and recall.
SeenThis is a vast improvement on standard streaming for the delivery of video in an advertising context, with its proprietary technology optimising for display and minimising data transfer. Lumen's study shows the performance value of this faster and more impactful viewer experience. It found that SeenThis streaming ads generated significant performance improvements. For instance:
80% of ads using SeenThis technology grabbed attention compared to less than half when using conventional technology
78% of ads powered by SeenThis technology were 'technically viewable' compared to only two thirds when using conventional technology
Prompted brand recall was up by 4% compared to standard banners
"Lumen's findings prove the clear benefit of delivering digital ads with SeenThis technology. Advertisers gain dramatic increases in attention compared to standard video ad delivery technologies," said Jesper Benon, CEO at SeenThis.
"Streaming video technology from SeenThis delivers higher actual attention, giving advertisers a clear opportunity to reach a higher number of their audience effectively," said Mike Follett, CEO and founder at Lumen.

Lumen
Lumen is the leading attention technology compnay. We use eye tracking data to build powerful predictive models of attention that can be used to plan, buy and report on digital media. Our creative testing tools allow brands to optimise their creative...
Powered by PressBox
AttentionCreativeResearchStreamingVideo