GumGum's Accredited Contextual Solution, Verity™, Selected by  MediaMath
by ExchangeWire PressBox on 16th May 2023 in News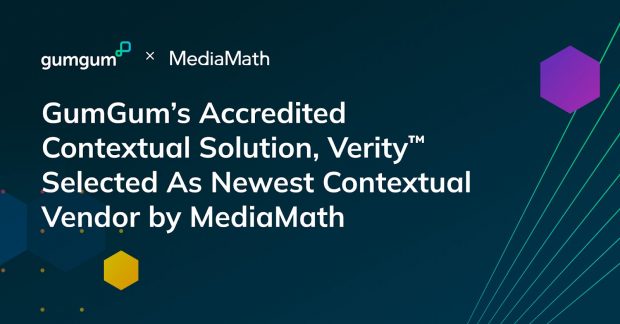 GumGum, a contextual-first, global digital advertising platform, today (May 16th, 2023) announced that its leading contextual intelligence solution, Verity, will now be available in MediaMath's demand-side platform (DSP) as the first MRC content-level accredited partner.
Advertisers can now take a mindset-first approach across their programmatic campaigns within the MediaMath platform with GumGum Verity. By applying Verity's accredited and advanced technology, advertisers are able to align their ad contextually with relevant content. This is proven to increase metrics like brand awareness and brand recall. Verity's precision and accuracy allows brands to limit wasted ad spend and ad placements by putting ads only in the moments that matter.
"We're thrilled to integrate with MediaMath and expand Verity's footprint to another leading DSP," said Hailey Denenberg, interim head of Verity. "Advertisers globally are planning on leveraging contextual targeting and that number will continue to grow as third-party cookies depreciate. Verity's ability to analyse all digital environments in their entirety at the content level makes it an invaluable contextual solution for advertisers. No matter the environment — video, audio, images — Verity will ensure that an ad meets someone in the right moment and will only serve ads in safe and suitable environments."
Verity combines computer vision (CV) and natural language processing (NLP) to process all available signals within a digital environment. Verity is able to analyse text, images, audio and video to gain a comprehensive, human-like understanding of web, mobile, or CTV content. Recently, Verity became the first ad tech platform to receive content-level accreditation from the Media Rating Council (MRC) for contextual analysis, brand safety and suitability across CTV, desktop, and mobile web.
"We are excited to make the only MRC-accredited contextual provider for content-level analysis, GumGum Verity, available to our clients through the MediaMath platform," said Dawn Valandra, director of ecosystem activation at MediaMath. "Advertisers will now be able to easily apply GumGum Verity's precise and accurate solution to their campaigns to ensure their ads are being placed in the moments that matter."
Verity is a cookieless solution that delivers strong results and can apply contextual targeting, brand safety, and suitability segments at the pre-bid level. This integration is now available in North America, Latin America, and Europe for display, native, connected TV, and in-stream online video inventory across 12 languages.
Brand SafetyBrand SuitabilityContextualDSP