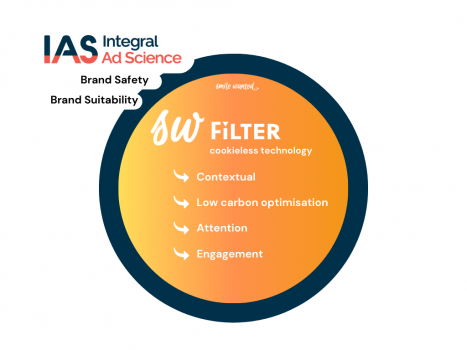 In an advertising market moving towards cookieless, Smile Wanted has decided to enter into a partnership with IAS.
IAS's "brand safety" and "brand suitability" algorithms strengthen Smile Wanted's proprietary technology: the "SW Filter". 
The "SW Filter" is founded on 3 technological fundamentals: contextual with more than 3000 property segments; ergonomy with guaranteed viewability, and optimal attention; performance predictions with a proprietary AI.
Reminder, Smile Wanted is directly connected to more than 5000 premium domains in France and abroad, which makes it the 1st independant and cookieless market place in Europe. It stands out for its exclusive and qualitative inventory in video, display, and native.
Founded in 2009 and based in New York, Integral Ad Science (IAS) is a global leader in digital media quality. IAS ensures every impression count, making sure ads are seen by real people in safe and appropriate environments, activating contextual targeting and optimising the supply path. Through the partnership, Smile Wanted will first use IAS' post-bid measurement to monitor that brand campaign delivery is always done in a safe and protected brand environment.

SMILE WANTED
Smile Wanted - Curated Marketplace, independent, and cookieless. Spot the most valuable inventory on premium websites and provide guarantees of performance to advertisers. Reach +500M users /month globally....
Powered by PressBox
Brand SafetyBrand SuitabilityInventoryPartnership