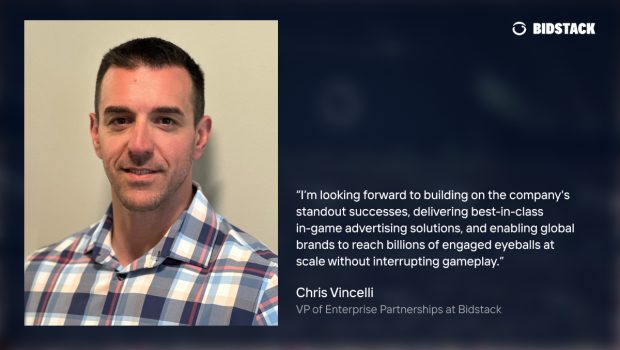 Bidstack, the leading in-game advertising and video game monetisation platform, today (May 24th, 2023) announces the appointment of Chris Vincelli as VP of enterprise partnerships.
He will work with existing gaming and programmatic advertising partners while also building new relationships with vendors looking to licence Bidstack's technology.
Prior to joining, Chris served as the VP of Publishing at Anzu, where he successfully led strategic initiatives and played a pivotal role in driving growth and innovation through strategic partnerships with AAA games companies.
With a decade of mobile ad industry experience under his belt, he has a proven track record of developing and implementing successful publishing strategies, forging partnerships and driving revenue growth, having held roles at Vungle, Verizon Media, and Yahoo.
Chris's appointment demonstrates Bidstack's continued commitment to expansion into the U.S. market, following last year's significant C-suite hires of Jude O'Connor as chief revenue officer, Camila Franklin as chief operating officer and, more recently, Thomas Bullen as chief financial officer.
On his appointment, Chris Vincelli, VP of enterprise partnerships at Bidstack, commented, "The global video games advertising industry is ripe for disruption, and Bidstack is at the very forefront of the in-game advertising revolution."
"Bidstack has an incredibly ambitious roadmap in place for 2023 and beyond, and I'm looking forward to building on the company's standout successes, delivering best-in-class in-game advertising solutions, and enabling global brands to reach billions of engaged eyeballs at scale without interrupting gameplay."
Bidstack Founder and CEO James Draper added, "We're delighted to welcome Chris to the Bidstack team. His deep understanding and passion for the games industry and expertise in publishing will prove invaluable as we continue to expand our commercial partnerships portfolio and ramp up our growth trajectory in the US Market." 
"By bringing Chris on board, Bidstack demonstrates its unwavering commitment to capitalising on the untapped potential within the in-game advertising market, further fueling the company's impressive growth."

Bidstack
Bidstack is the leading in-game advertising & video game monetisation platform. Their sophisticated technology allows brands to serve advertisements into natural spaces within video games whilst protecting the gaming experience. These ...
Powered by PressBox
AppointmentGamingIn-GameMonetisationProgrammatic