impact.com Continues Momentum in the First Quarter, Fueled by Client Growth, New Products & Partnership Events
by ExchangeWire PressBox on 24th May 2023 in News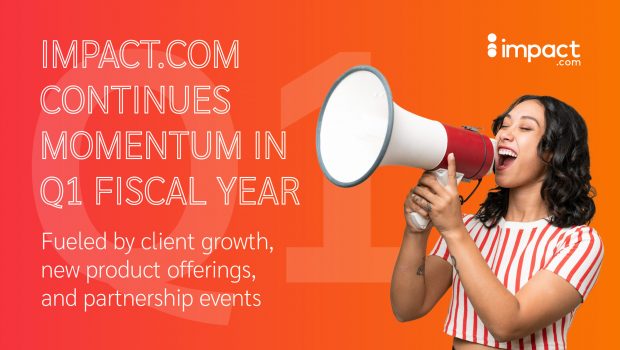 impact.com, the world's leading partnership management platform, announced the company's continued momentum in Q1, with client acquisition, new product offerings, and the company's sold-out Partnerships Experience (iPX) conference.
During the quarter, impact.com added more than 200 brands and partners to its total client roster; welcoming leading brands including ALOHA Collection, Athletic Brewing Co. and Hydro Flask. Currently, many brands are experiencing a pivotal moment as they look to partnerships to outpace competition. A key driver of recent growth is the rise of the creator economy, which is estimated by some to be a USD$100 (£80.4bn)market.
"Innovative partnerships offer resilient, low-risk sources for business revenue and growth, especially in a challenging macroeconomic environment," said David A. Yovanno, CEO of impact.com. "The success we've seen in the first quarter for impact.com and our global teams is a testament to our commitment to providing exceptional technology and solutions to our customers and partners. We believe that, with our continued focus on investing in and delivering the innovation that our customers value and expect from impact.com, we will continue to drive the industry forward and both inspire and execute on our clients' modern partnerships strategies."
During the quarter, impact.com launched new product integrations, features, and innovations. This included an extension of impact.com's strategic collaboration with Google through a new integration which powers affiliate link deals across Google surfaces, helping consumers find relevant deals and discounts; and Extended Search, which enables brands to streamline the discovery of right-fit partners outside of the impact.com marketplace to accelerate growth at scale. Brands set up keyword-based searches within the impact.com platform and the tool searches across the internet to pull in highly-relevant partner results based on what the brand's target audience is already searching for.
This quarter, impact.com also announced its flagship 2023 Partnerships Experience Event, iPX, which sold out in record time and now has an active waiting list. This year's event will bring together brands, publishers, creators, and agencies to exchange ideas for business growth over two days in New York City, with iPX also extending globally this year to iPX London on June 28 and iPX Sydney on August 31, 2023.
Additional highlights from the quarter include:
Becoming a certified app in the HubSpot App marketplace by meeting rigorous security, privacy, reliability, performance, usability, accessibility, and value requirements.
The launch of Promo Code Monitoring; exposing publishers using expired and unauthorised promo codes so that brands can ensure a positive customer experience and avoid shopping cart abandonment, reputation damage, and revenue loss.
More than a dozen global industry leadership and technology awards for outstanding solutions which support the broader partnership economy – including eight accolades as part of the 2023 U.S. Partnership Awards; gold winner for Partnership of the Year for Walmart Creator; G2 Best Software Awards and Best Results Awards, TrustRadius Top Rated and Most Loved Awards.
Meanwhile, Ayaan Mohamud, impact.com's RVP of Marketing in APAC was recognised by the B&T Women Leading Tech Awards, and Cristy Ebert Garcia, impact.com's chief marketing officer named a Top 30 Changemaker in partnership marketing.
The launch of season three of impact.com's The Partnership Economy Podcast; quickly surpassing 100k downloads.
The appointment of chief people officer Michelle Denman to lead impact.com's people function and develop and execute the company's strategy to attract, develop and retain top talent.
The launch of new sustainability-focused initiatives, including the creation of an annual carbon footprint report, a coastline clean-up in Cape Town, and partnership with reforestation partner, Ecologi.
The launch of the new Global Citizenship Initiative; enabling employees to prioritize social responsibility through participation in volunteer efforts, donations, dedicated charitable service and more.

Impact
The leading global partnership management platform, impact.com transforms the way enterprises manage and optimise all types of partnerships—including affiliates, influencers and commerce content publishers. The company's purpose-built platform he...
Powered by PressBox
Ad TechEventsInvestmentPartnership