Suggestv's James Pringle on Global Ad Spend, You & Mr Jones, and The Trade Desk
by Mathew Broughton on 13th Dec 2019 in Podcast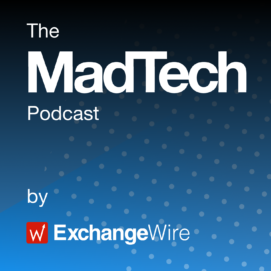 On this week's episode of The MadTech Podcast, ExchangeWire's Ciaran O'Kane and Mat Broughton are joined by James Pringle, founder and CEO, Suggestv, to discuss the latest news in ad tech and martech.
On this week's episode:
– GroupM have released their global advertising forecasts for 2020, with a slow down in ad spend growth, which is predicted at 3.9%, compared to 2019's growth of 4.8%. Digital spend is accelerating, with internet-related advertising "is now unambiguously the most important medium globally," according to the report. Digitally-native brands, which are not typical holding co customers, have driven a substantial proportion of this growth. The report also highlights the opportunity in emerging markets, with India and Brazil cited as potentially overtaking established markets such as France by 2024, while TV ad revenue is expected to contract by 3.6% (5.5% if political advertising is accounted for) and is "unlikely to grow in the future on an underlying basis". Will we continue to see digitally-native brands drive internet ad spend in the coming years, or will we see this plateau? What are the main opportunities marketers are aiming to capitalise upon in emerging markets? How can the established markets preserve ad spend share?
– You & Mr Jones, a self-styled "brandtech" firm, has raised USD$200m in a funding round, valuing the company at at total of USD$1.3bn. The company's services lend themselves heavily helping established firms in-house digital marketing activities which were typically outsourced to traditional agencies. The company boasts the likes of Hertz and Adidas among its clients, and notably helped Uniliver establish its internal agency U-Studio. Given the firm's heady valuation, along with the rise of similar "nimble" agencies such as S4Capital, is this the age of the independent?
– The Trade Desk has announced a new partnership with EBX, the digital ad sales collaboration between Channel 4, Mediaset, ProSiebenSat.1 and TFI, enabling marketers customers to buy EBX inventory on a programmatic basis. Are we seeing a break-out moment in connected TV? Are The Trade Desk insulating themselves from the privacy issues affecting display?
The MadTech Podcast is also available on:
Spotify
TuneIn
Apple iTunes
Google Podcasts
Stitcher
Pocket Casts
RadioPublic
CastBox
Deezer