Team ExchangeWire on TrueX, Google-Fitbit, and 100 Episodes of the MadTech Podcast
by Grace Dillon on 2nd Oct 2020 in Podcast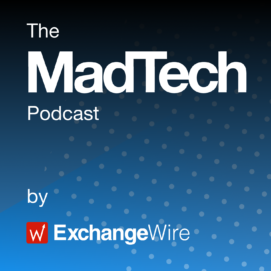 To mark 100 episodes of the MadTech Podcast, this week sees Rachel Smith and Lindsay Rowntree joined by the (nearly) whole ExchangeWire team to reminisce about their favourite moments from the past 2 years. With guest panellist Ciaran O'Kane, Rachel and Lindsay go on to discuss Disney's sale of TrueX, as well as reports that the EU is likely to give Google the go-ahead to buy Fitbit.
In this week's episode:
– Disney has sold off ad tech company TrueX to location-based targeting firm Gimbal. The entertainment titan acquired the company as a result of its USD $71.3bn (£55.4bn) purchase of 21st Century Fox in 2019 and has reportedly parted with it for less than $100m (£77.7m). TrueX is most widely known for providing interactive technology that asks users to engage with a video ad before viewing content. The company promoted this solution as a way to simultaneously improve the effectiveness of an ad and the users' experience, with viewers rewarded for their engagement with fewer or no ads.

According to Gimbal chief executive Rob Emrich, his firm snapped up the former Fox property in order to claim a greater stake in the advanced TV market, which accounts for streaming TV and addressable TV. With spend anticipated to exceed USD $3.6bn (£2.8bn) in 2022 (eMarketer), it's no surprise that Gimbal wants to break into advanced TV. The firm is also believed to be planning to use TrueX's technology to enhance targeting and to reduce ad fraud.



– Google is expected to get the go ahead to buy wearable tech maker Fitbit. The Alphabet-owned tech giant announced its intentions to make the purchase, worth USD $2.1bn (£1.6bn) back in November last year, but has since been prevented from doing so by the EU Commission, which launched an investigation into the potential impact the deal could have on user privacy and market competition in August. Now, after having made a new set of concessions, including measures to ensure that Fitbit data is not used for advertising purposes and allowing third-parties to continue to access users' information (provided they have their consent), the EU is expected to give Google its blessing to complete the acquisition. However, this has not been confirmed by the EU, which must now seek feedback from consumers and market rivals in order to determine whether to accept the concessions or demand more. If the deal is accepted, it would put Google in contention with other wearable tech heavyweights Samsung and Apple.

The Commission had been unconvinced by Google's initial efforts to convince regulators that a deal would not put users' privacy at risk, with Commissioner Margrethe Vestager criticising the firm's silo solution for keeping Fitbit data away from other channels as "insufficient". This, combined with last week's revelation that the deadline for the investigation had been extended until just short of the end of 2020, makes the latest reports surprising reading for some.


The MadTech Podcast is also available on: