Sociomantic Offering Real-Time Buying Platform To European E-commerce Advertisers
by Ciaran O'Kane on 30th Jan 2011 in News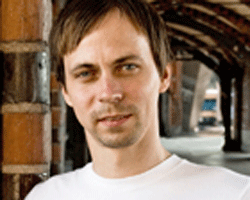 Sociomantic is a Berlin-based ad-tech company that offers a real-time buying solution for the European market. Dr. Thomas Nicolai, Managing Director at Sociomantic, spoke to ExchangeWire about the company's proprietary real-time platform, its social targeting layer and the client direct strategy.
Can you give an overview of the Sociomantic DSP offering?

TN: We offer a managed RTB platform that uses a social targeting logic to optimize bids and personalize the ads served. First and foremost, we offer aggregation of real-time biddable inventory across the European market, with bids and creative optimized by proprietary algorithms. Our clients are primarily major eCommerce advertisers, or in some cases their agencies, who are looking to maximize returns for their performance display budgets.
Are you leveraging any third party technology, like AppNexus, to run your DSP?

TN: We own and operate our proprietary tracking, dynamic banner creation, ad server, and bidding technology. All of our tracking, analysis, and ad serving takes place in a custom-built platform based upon proprietary data. In a space flooded with venture capital, it's perhaps worth mentioning that we are a bootstrapped company, profitable from day one.
Can you give some overview on how a typical client would buy display impressions using Sociomantic?

TN: We are predominantly offering our services to performance oriented advertisers in an arbitrage or cost plus model. Our customers are looking for the highest possible efficiency realized via an individual assessment of user, adspace and product / advertiser and resulting in a maximized bid volatility.
You offer a social targeting layer through the DSP, which is based on lookalike modelling. Can you give more insight into how this proprietary targeting works?

TN: Remarketing delivers excellent conversion results for the obvious reason that a user has already expressed interest by visiting your site. They're a good bet for a high bid. The problem with remarketing is that it's not fully scalable – it limits your audience to the pool of users who have already visited. Social targeting is a way of intelligently growing reach by identifying new users who have a higher likelihood to convert than the average Joe.
This prospecting methodology uses the remarketing user group as the basis for finding new users. A comparative behavioral analysis of the previous website visitors (the remarketing pool) and the non-visitors for whom we have user profiles allows us to rank the non-visitors according to their relation to the remarketed users. This comparison is based upon the tracking information we get once we deliver admedia on our publisher sites. Users with a higher level of connection tend to have a higher propensity to click or convert, so we adjust the advertiser's bids for new users based in part on their level of connection to the visitor pool.
For advertisers who want to implement dynamically personalized creative (now a common practice for remarketing), the social targeting logic allows us to more effectively personalize ads for users who have never actually been on their site before.
Is the data provided by the client?

TN: The data used depends on the level of tech integration that the client wants to adopt. Without any previous integration with the advertiser, we can deliver audiences from our existing user profiles which are based on users' affinity and yield profiles. With a small bit of integration (cookie placement), we can move into remarketing and social targeting. At the highest level of integration, we can enhance our existing user profiles by matching them with the client's internal CRM data (purchase history, product or brand affinities, etc.) for maximum bid optimization and ad personalization.
We are looking for a structured way to purchase intent and other third party data, and we are disadvantaged somewhat from the fact that the major data players aren't really present in Europe yet. Therefore, at the moment, we focus on data we collect from advertisers and our social targeting approach in order to achieve highest efficiency.
Is your platform a self-service offering or will you offer an additional managed service layer?

TN: The learning curve for exchange trading can be a steep one, especially for players in the German market, where things are moving a bit more slowly than in the U.S or even the U.K. So in order to maximize our clients' success, the platform is at this time managed in house. However, you can watch for our self-service platform in the future, when hopefully the German and European markets will show more readiness for self-serve ad trading and optimization.
Are you integrated with all the major exchanges, SSPs and supply channels in the European?

TN: Currently our supply comes from direct publisher relationships (including our own reach), premium publisher sales houses, and Europe's major real-time biddable supply sources, including Admeld. We are still finalizing integrations with Rubicon, Pubmatic, and OpenX, and we are in the last phase of certification for Google's DoubleClick exchange. Naturally we are anxious to incorporate as many European supply partners as possible, so if suppliers with real-time biddable inventory are interested in integration, please get in touch.
Can you give some overview on how the German exchange marketplace is evolving?

TN: Although Germany is a fairly mature and large online market, it is still a bit behind on the technology front. Right now the major RTB players are ourselves and Cologne-based Mexad, but we expect the space to pick up speed over the coming year as more advertisers become educated about the benefits of real-time bidding and as U.S. and U.K. players expand into this market.
Is Sociomantic looking at the client direct market, particularly ecommerce advertisers? Or will you partner with agencies?

TN: Because we offer the benefit of a managed platform, we are looking primarily at client direct relationships. If agencies approach us on behalf of an advertiser of course we are happy to worth with them as well.
Will you look to expand the offering across Europe and compete with the US-based DSPs?

TN: Right now our primary focus is on educating and empowering the European market. However, we believe that we have the competitive offering and in due time we plan to expand to compete with the US-based DSPs and trading desks in their backyard. Over the coming year we are also looking to enter the mobile RTB space. More info on that development to come.