EMEA Round-Up: New Euro Market Ecosystem Map Release; Turn Integrates eXelate's Data; RTB Growth Driving Mobile Advertising Demand; Taboola Personalises Video for German Newspaper Sites
by Romany Reagan on 10th May 2012 in News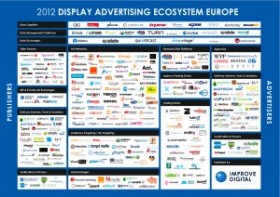 New European Market Ecosystem Map by Improve Digital
In collaboration with their major customers and input from ad networks and consultants, and driven by a popular demand, Improve Digital has produced Market Map of the European online display advertising sector in an attempt to clarify roles of the various industry players and the relationships between them.
The creation of such document has been inspired by the success of the U.S. version (put together by LUMA Partnets LLC) and the acknowledgment that the European equivalent has not been developed yet.
Terence Kawaja, from LUMA partners, who produced the U.S. Display Advertising Market comments: "Ecosystem maps are a great way to frame a discussion around how an industry is structured and where it is going. Improve Digital has done a great job mapping the European landscape."
Download your copy here.
Turn Integrates eXelate to Provide Marketers With Online Data
Turn and eXelate announced this week that eXelate's data is now integrated with the Turn Audience Platform to provide marketers with the ability to design and target large volumes of online audiences. The alliance will help marketers target online campaigns at scale, make better-informed marketing decisions, and centralise data and media for high-performance marketing.
Noah Everist, Associate Director, Media Investments, Compass Point, comments: "Providing our clients with a clear, competitive advantage is critical to our success. It is imperative that we partner with technology companies that enable us to effectively compete and continually win and renew business. The eXelate and Turn integration marries the management of data with a media execution – eliminating inefficiencies. As a result, we are able to quickly and seamlessly leverage media planning technology from Turn with eXelate's intent data to create custom campaigns for each of our clients."
By making over 30 billion advertising decisions daily, the Turn platform provides real-time insights to marketers with an aim to help them make smarter decisions, hopefully improving campaign ROI and performance. The Turn platform uses intelligent learning algorithms to process, in real–time, the large amounts of data that flows through eXelate's system.
Maureen Little, Vice President of Business Development, Turn, adds: "eXelate's vast data sets – analysed and verified – achieve an unprecedented level of reach on our platform, which provides marketers with the scale needed to achieve even the most aggressive campaign goals efficiently and precisely. It's critical our technology enables clients to engage with their target audiences, and by incorporating eXelate's data into our best-of-breed ecosystem will enable marketers to build custom and meaningful audience segments that perform well in their advertising campaigns."
eXelate premium data spans 350 million users globally and provides consumer insights across the purchase funnel. With over 1,000 targetable segments in online purchase intent, household demographics and behavioural propensities, eXelate allows marketers to act upon online data in real-time.
Damian Garbaccio, Chief Revenue Officer, eXelate, concludes: "If the highest quality data is the fuel for the online advertising ecosystem, it takes a high performing engine to deliver the campaign results that marketers demand today. The Turn platform is an industry-leading marketing solution, and when combined with eXelate premium data, empowers marketers with unprecedented reach and control over their targeted marketing endeavours. Our partnership with Turn is another step toward helping marketers make optimal marketing decisions through online data."
RTB Growing at Unprecedented Levels of 70% Month-on-Month
It is often said that there is more supply than demand in mobile advertising but recent statistics show that dramatic growth in RTB is driving mobile advertising spend. Alex Rahaman, CEO of StrikeAd, explains how developments in RTB, combined with powerful ad tracking, are helping to drive demand for mobile advertising
RTB has rapidly evolved from a technology option to become the strategic foundation of mobile advertising. Forecasts from the International Data Corporation (IDC) indicate there will be a huge increase in display advertising based on RTB by the year 2015. The growth predictions are, America – 71%, UK – 114%, France – 103%, Germany – 99%. And we anticipate a huge increase in mobile ad spend on RTB as well.
RTB in the mobile driving seat
Our experience at StrikeAd as the developer of the world's first global mobile Demand Side Platform, is that RTB is seriously in the driving seat as regards mobile advertising spend. One of our partners, the mobile advertising exchange Nexage, is now experiencing a 70% per month bid volume growth while showing a minimum 2x eCPM premium on their RTB exchange.
The role of the DSP in the process
RTB-enabled DSPs – such as StrikeAd – integrate with all major ad exchanges, enabling advertisers to buy from multiple exchanges. The more reach a campaign has, the more efficient it will be, and the better it can work at scale. By being able to see all the information on one platform from multiple ad exchanges, DSPs allow the advertiser to make a holistic decision on a campaign's progress, when compared to accessing multiple ad exchanges individually and manually.
RTB provides impression-level transparency
Combining RTB capabilities with a mobile advertising exchange's inventory allows advertisers to monitor traffic across multiple networks, identify the individual consumers they want to reach and deliver targeted advertising to them in real time. This impression-level transparency that RTB provides is something advertisers have never had before – and is a huge reason why mobile advertising demand is ramping up.
Add powerful ad tracking
When RTB is combined with powerful new developments in ad tracking, then mobile advertisers have unprecedented levels of transparency. There are solutions on the market right now that allow advertisers and agencies to very precisely track and attribute downloads, conversions and even in-app events such as frequent use, purchases, game level completion and much more. Plus, by plugging app download tracking data into a mobile DSP, its learning mechanisms can automatically adjust the buying strategy to buy more of the traffic that has the same profile as that which delivered the best results.
Taboola partners with German Newspaper Network OMS to Bring Personalised Video Recommendations
Taboola.com Inc., a leading video recommendation provider, announced this week that it has signed an agreement with Germany's OMS earlier this year to provide video recommendation functionality on its network of sites. OMS is an alliance of more than 30 newspaper publishers and operates an advertising and video syndication network, which provides online video marketing for about 200 German newspaper websites.
OMS piloted Taboola on Derwesten.de and Weser-Kurier.de in recent months and the reported results were promising. Under the agreement, OMS will have access to both web and mobile solutions from Taboola.
Recommending videos to over 120 million users each month, according to Quantcast, Taboola's widget-based video discovery engine aims to enrich the user experience for visitors on the OMS sites by providing personal video recommendations based on each user's content and video consumption patterns and the newspapers editorial preferences.
Kim Kriegers, Head of WebTV at OMS, comments: "Within the first month of deploying the Taboola module we saw more than 50% uptake in video plays on certain sites."
The partnership shows Taboola's growing presence outside the U.S., where customers include publishing giants such as Wallstreet Journal, Bloomberg, CNN, BusinessWeek, The Washington Post, Hearst, the New York Times, USA Today, IGN, The Hollywood Reporter, Thompson Reuters and many others.
Adam Singolda, founder and CEO at Taboola, adds: "We're thrilled to be working with OMS, a leading online marketing specialist in Germany. By showing personalised videos across the various pages, users across the OMS network will discover new videos they are interested in and stay on the site longer. At the same time, OMS will have full editorial control to ensure that every recommendation reflects the freshness and quality required by the various publications."