Following a host of new device launches this year, from Samsung's Galaxy S4 to Blackberry's Z10, new data to be released tomorrow by ad tech platform Adform has revealed that Europe's digital advertising community has vastly increased its investment in programmatic mobile marketing, with a near three times (275%) increase in mobile RTB spend in Q1 2013.
The figures published in Adform's Q1 RTB Trend Report 2013 also highlight the improving health of programmatic advertising across all devices, with a 66% increase in RTB spend by advertisers in March 2013 alone.
Martin Stockfleth Larsen, CMO, Adform says, "RTB spend has continued to increase as the industry realises the benefits of automated campaigns for reaching and engaging with the most relevant audiences. Coupled with the accessibility of the technology, the availability of more premium inventory and the increasing number of rich media formats in the programmatic arsenal, advertisers now not only have the option to run RTB performance campaigns where direct response is the main goal, but also RTB brand campaigns where they can build brand awareness with relevant audiences."
General Growth in Spend
Where CPM rates for programmatically traded inventory had peaked during the 2012 Christmas holiday season, and fell as consumer shopping declined in January, the trend was reversed in February and by March CPMs reached an all-time high.RTB spend in March brought overall spend for the quarter to an all-time high.
Possible Reasons:
1) Increased Supply and Demand: The supply of digital and mobile inventory available through global ad exchanges is still increasing dramatically. Publishers, having tested programmatic selling over the past few years, are beginning to see numerous benefits of the model. Additionally, new technologies are enabling private deals and exclusive sales arrangements to flow through RTB pipes.
2) Increased Buyer Expertise: Agencies and advertisers continue to advance through the programmatic learning curve, gaining valuable experience in setting up, optimising and measuring RTB campaigns. Having moved from the trial stage, marketers are dedicating real budgets to RTB/programmatic buying.
3) Premium Publishers Jumped into the Game: With stronger prices, whitelists, and brand ad quality controls available on the global ad exchanges, publishers' confidence in programmatic trading is on the rise. This growing sense of security is prompting premium publishers to jump into the RTB game. As a result of the higher quality inventory, RTB CPMs are going up.
4) Programmatic Buying Is Getting Easier: Advances in technologies, such as demand-side platforms with easy-to-use console interfaces, make programmatic buying easier and more convenient than ever before. Additionally, advertisers have a bigger toolset for fine-tuning their campaigns, including CPM & CPC bidding models, as well as better targeting options such geotargeting, demographic targeting and time-of-day targeting.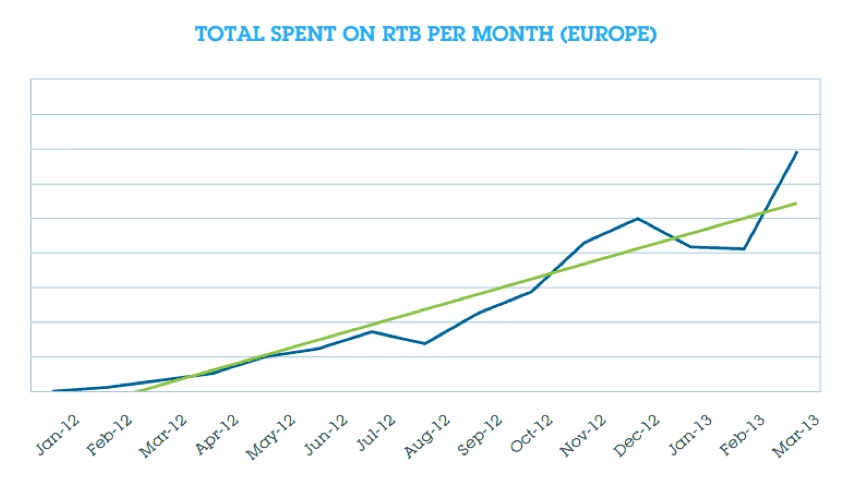 CPMs Are Still Rising
There are two reasons for this:
– Supply and demand are not quite balanced. Despite the increase in inventory in the market, buyer demand still exceeds supply, resulting in a scarcity of inventory in the RTB market. The scarcity drives competition and, with it, CPMs.
– With more publishers offering premium inventory in the RTB markets, CPMs increase.
Rising CPMs are good news for publishers and advertisers alike. Publishers have long perceived RTB as a 'race to the bottom' in terms of revenue, and were hesitant to offer premium inventory to the programmatic markets. Higher yields go a long way towards instilling confidence in the sales model. Moreover, RTB is an efficient way to move unsold inventory, as each bid received represents a willing buyer, resulting in few defaults and higher yields.
Advertisers also benefit when publishers offer more of their inventory to the ad exchanges. Scale and inventory quality are chief concerns among marketers – two problems that will be eliminated once premium inventory is freely available in the RTB markets.
More importantly, rising CPMs are a clear indication of stability in the RTB market. For markets to succeed in the long run, they must obey the fundamental rules of supply and demand, with both sides benefiting equally.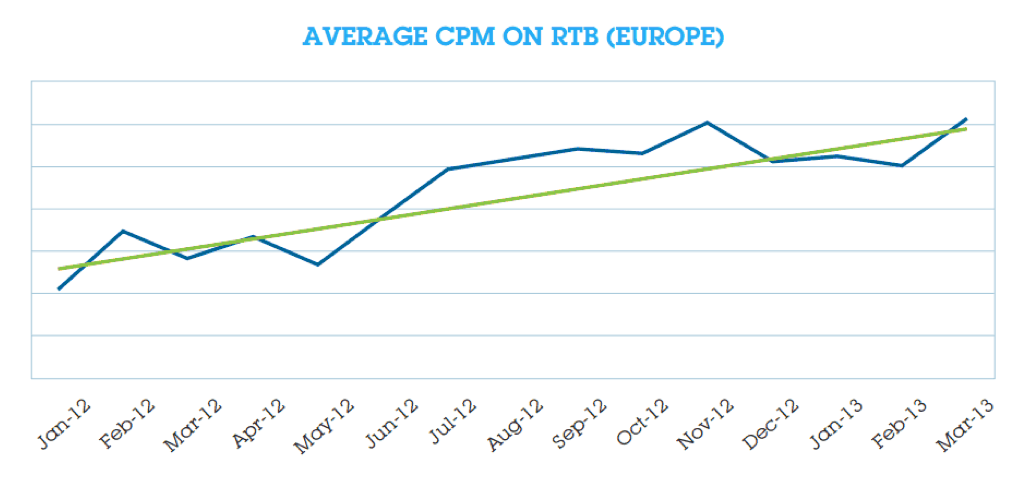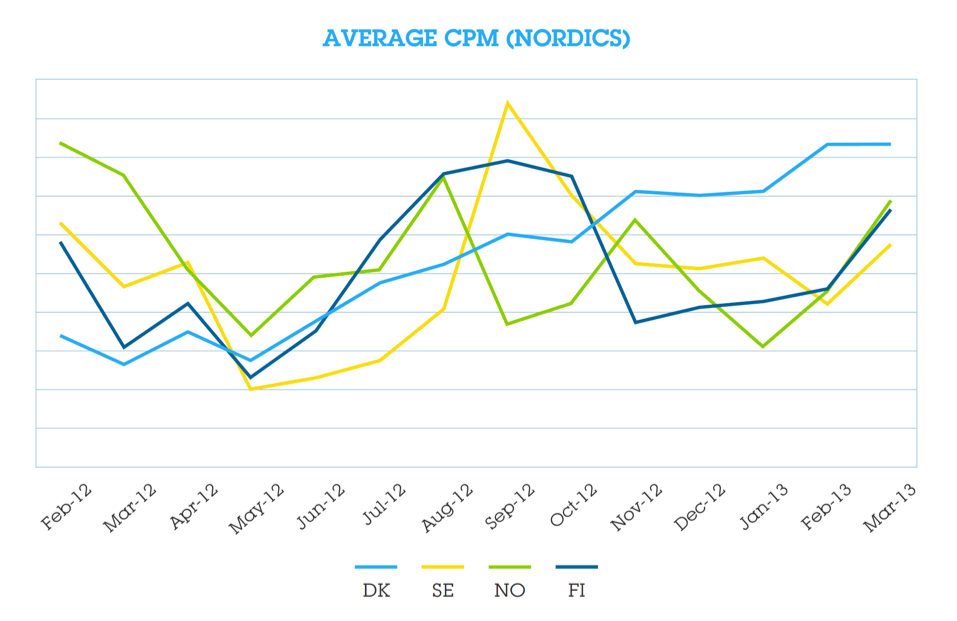 Digging deeper into the Nordic region, it appears that advertisers and media agencies experienced slightly different RTB learning curves, as represented by the CPMs marketers were willing to pay for inventory. One would expect CPMs to reach their zenith during the peak holiday-shopping months when competition for consumers is at its highest. However, each country seemed to follow its own trajectory, as reflected in the volatile prices. Adform believe the volatility was due to experimentation in bidding strategies.
In the first quarter of 2013, however, all four countries appear to follow the same trajectory, with CPMs steadily going up throughout the region. By March, the price differential narrowed considerably.
RTB Performance & Brand Performance
In boardrooms and C-suites alike, the term 'ROI marketing' has gained significant currency, driven by the expectation that every ad shown can be assessed for its impact on the brand.
In response to these demands, digital campaigns can be divided into two camps: performance or brand. Performance campaigns, also known as direct response campaigns, seek to encourage specific user behaviour, such as clicking on an ad, completing a form or making a purchase. Campaign goals are specific and are measured using standard metrics such as click-through rate (CTR), cost per click (CPC) and conversions. As advertisers and agencies focus on engagement rate and time for their RTB brand campaigns, they will then begin to deploy algorithms to optimise those metrics.
Country Comparison
To get a sense of in-market variations, Adform compared data for key campaign metrics – CTR, engagement rate and engagement time – on a country-by-country basis.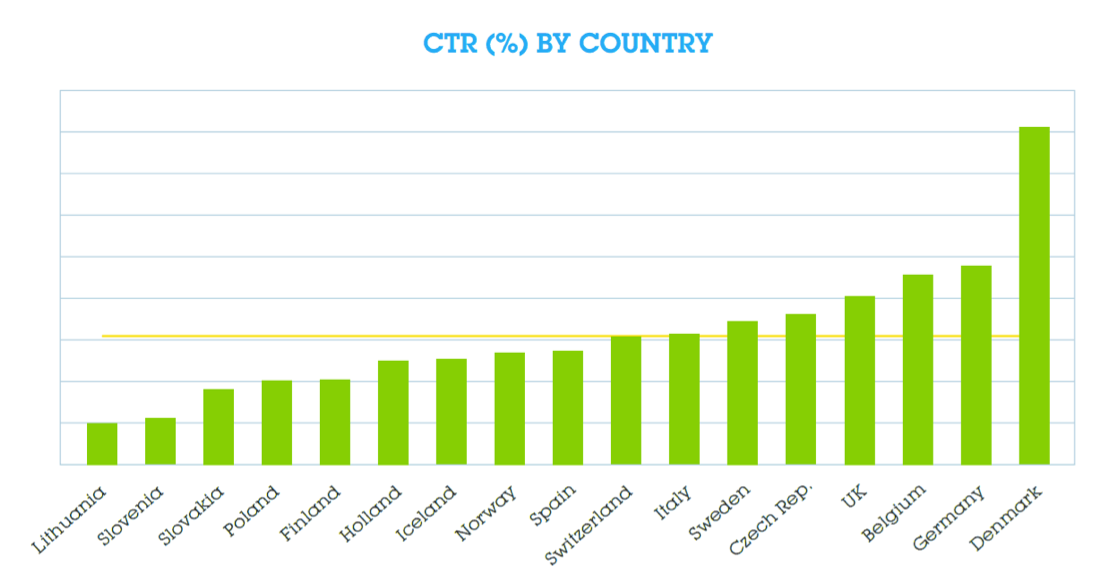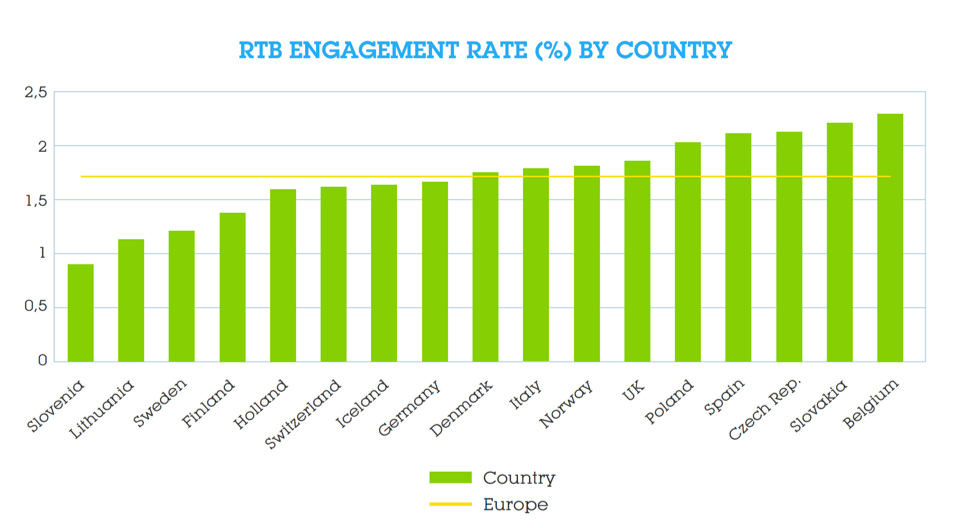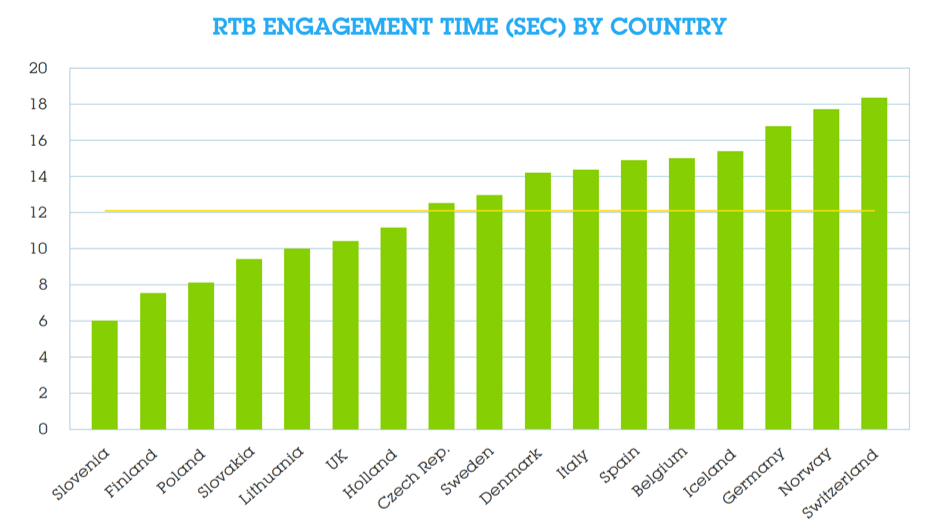 Devices
Until recently, RTB spend on mobile inventory represented just a fraction of the European marketer's ad spend, largely due to fear of low campaign performance.
Last quarter, Adform reported a significant uptick in mobile and tablet CTR, both of which surpassed the CTRs of desktops. They predicted that if CTRs held steady on mobile, spend would increase. This prediction has been borne out, with spending on both tablet and mobile devices increasing each month.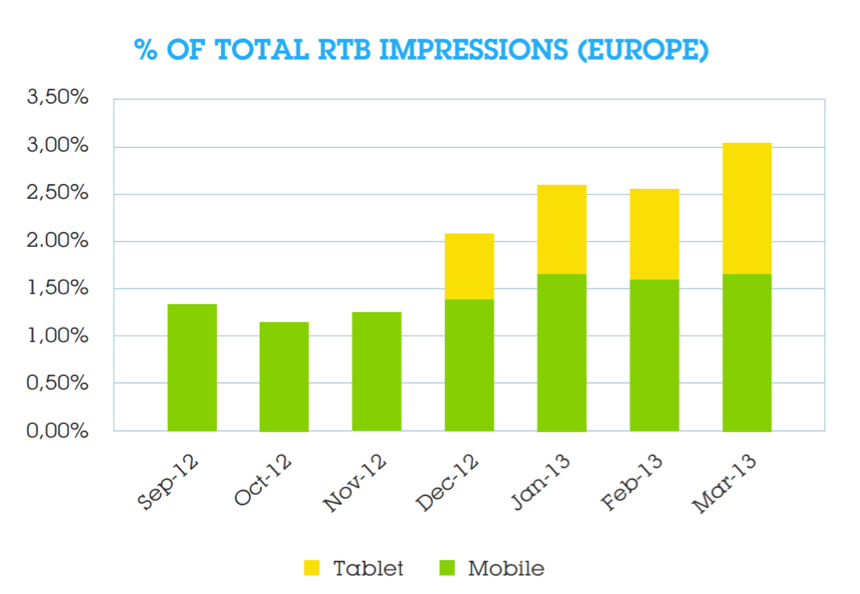 A Look Forward
– With rising CPMs, Adform expect to see European publishers offer more inventory to the RTB markets. Additionally, with the advent of new technologies to support exclusive deals between premium publishers and advertisers through RTB pipes, we anticipate the quality of inventory will rise.
– By monitoring key brand campaign metrics such as engagement rate, engagement time and banner visibility, Adform expect to see RTB expand to encompass brand campaigns. This, in turn, will increase both the number of campaigns that are executed programmatically as well as the spending on rich-media ad formats.
– Mobile and tablet RTB campaigns are on the rise, although the market can hardly be considered mature.
– Mobile web traffic is growing by leaps and bounds, and marketers have been slow to meet the consumer in this hugely important channel.  Mobile increases are anticipated all around: in percent of budget, CPM and performance.
– Advertisers and agencies tend to purchase below-the-fold and other sub-premium inventory for their performance campaigns, which Adform see as a mistake. The combination of strong CTR and relatively modest price premium for above-the-fold inventory more than justifies the extra cost.
– Newer eye-catching banners will attract an increasing amount of ad spend. Consumers, inured to the standard formats, can't help but notice Megaboard. The proof: two times better CTRs.
You can download the full report here.