ExchangeWire Lifts the Lid on ATS 2015 Series 
by Ronan Shields on 14th Jan 2015 in News


ExchangeWire is priming itself for a busy 2015, with its ATS event series consisting of six confirmed events taking place across three continents, where it will help chart the progress of the programmatic advertising sector, as ad tech becomes the underpinning technology of the entire advertising industry.   
The programmatic advertising sector has undergone an overwhelming 12 months, with the sector advancing from a relative fringe technology that was the subject of an elite few, to one of the key phrases that was on the lips of almost every C-level exec in the advertising industry.
To mark this trend, ExchangeWire broadened its horizons in 2014; expanding its conference programme, intensifying coverage in key geographies, and doubling its efforts to increase market data through primary research. All of this will continue in 2015.
ATS Paris
ExchangeWire's ATS 2015 series will kick-off with a return to continental Europe with ATS Paris, taking place on 22 April, hosted at Palais Brongiart.
Here, leading luminaries from the French media sector will discuss the intricacies of the market; in particular, the day's series of discussions will focus on issues faced by publishers there.
This includes: The Future of the Publisher Consortium – a look at the role of Publisher Consortia and how they are helping publishers shape strategies for data and technology; plus the rise of private marketplaces (PMP); as well as the conflict between media and ad tech, and what it means for the French market, plus much more. Those interested in attending ATS Paris can learn more by clicking here.

Ad Trader Berlin
ExchangeWire's event series moves ahead with a return to Berlin in conjunction with Adzine on 2 June for the joint AdTrader Berlin, hosted in the Kosmos Cinema, where attendees will debate the automated media trading sector in the DACH region.
Notable efforts to establish Berlin as a tech development hub on mainland Europe, most notably the opening of IPONWEB's Berlin office, as the German market becomes a key area of focus for ad tech firms' European operations.
Germany, Europe's largest economy by some distance, has historically lagged behind the rest of Europe when it comes to ad tech, but participants at last year's Ad Trader Berlin conference indicated the market there was poised to transition to one that will adopt a less risk-averse approach.
In anticipation of these events, ExchangeWire's popular TraderTalk TV series will also take to the road in anticipation of these events to provide further context to the charting the progress of ad tech in these markets.

ATS in APAC
From here ExchangeWire will take the the ATS conference series to the APAC region, beginning with ATS Singapore to be staged on 6 July, at the Marina Mandarin Hotel, followed by ATS Tokyo, taking place on 21 October, at the Westin Hotel Tokyo.
ExchangeWire has made APAC an area of renewed focus and appointed Eileen Yu as

regional editor. Already an established journalist in the region, Yu's focus will cover the Southeast Asian and Australian markets, with a focus on programmatic, advertising tech and marketing technology related content. She joins Wendy Hogan, who will continue as ExchangeWire contributing editor, APAC.
At these events ExchangeWire will also debut region-specific studies conducted by the company's bespoke research division, headed by Rebecca Muir, head of research and analysis, a key market requirement that was identified by earlier ExchangeWire research studies there.
ATS London


Following from these events, ExchangeWire's Autumn series will commence with its flagship ATS London event taking place on 14 September, at Queen Elizabeth Hall South Bank, where several-hundred professionals from the UK-based data and marketing industries will debate the latest goings-on in the industry. For those who have attended previous events, the ATS London Twitter wall will return this year, allowing all attendees to have their say on the day's proceedings.

From here, the 2015 series of events will wrap-up with the second annual ATS New York event, on 3 November, at the SVA Theatre, NYC, following on from last year's debut event there, where several of the most high-profile companies in the ad tech business, including Facebook, IPONWEB, AppNexus debated the latest industry developments.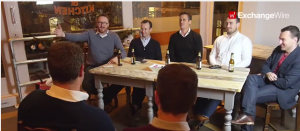 ExchangeWire will also have a presence at several other key industry events throughout 2015, such as Cannes Lions and Dmexco, and also intends to make its panel-based TraderTalk TV event series (see image left) a more regular occurrence, after debuting in December 2014. Here, discerningly selected attendees will be able to engage in cutting edge debate with some of the leading companies and personalities in the ad tech industry in an informal setting.
Those interested in participating in any of the above events can learn more by emailing: info@exchangewire.com
See the graphic below for a full rundown of the schedule.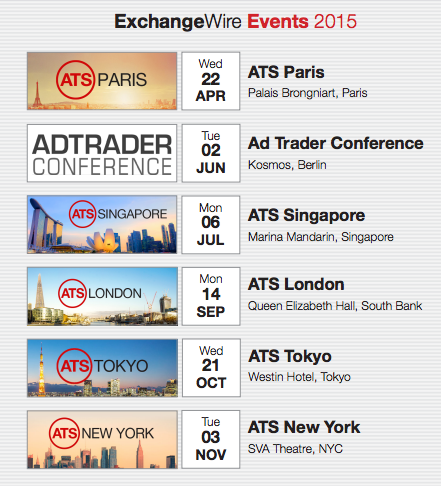 Ad NetworkAdvertiserAgencyAPACATSBrandingDACHDataDigital MarketingDisplayEMEAExchangeLocationNorth AmericaProgrammaticSingaporeTraderTalk TVTradingVideo