Automated guaranteed, the next evolution of the private marketplace, has actually been around longer than you think; but it has experienced a popularity surge in recent months. Steve Wing (pictured below), vice president, mobile & marketplace international, Rubicon Project, explains to ExchangeWire where the growth has come from and what potential automated guaranteed has in the future.
The recent confirmation by Google of its plan to roll out programmatic guaranteed to publishers and advertisers, globally, is further proof of the general shift towards the automation of digital media planning, buying and selling in all its forms. It also emphasises the increased appetite for guaranteed solutions from media owners and buyers alike to compliment and extend their existing programmatic activity.
It's not hard to see why. Automated guaranteed solutions provide buyers and sellers of all shapes and sizes with a powerful new way of automating their direct sales processes, from discovery, to RFP, to negotiation, to delivery. All in one place. Automatically. It's a tool that can quickly make the time-consuming, error-prone, and entrenched manual processes a thing of the past.
But automated guaranteed is much more than just a simple solution to an antiquated process – it's a powerful addition to what's already working very well in programmatic advertising across both open auctions and private marketplaces, activity that has, until now, always been non-guaranteed.
To understand both the power and future potential of automated guaranteed, it is important first to consider how it evolved to this point – not simply as a solution to the challenge of how to improve direct sales, but as a link in an ongoing chain of technological innovations that have disrupted then re-shaped advertising as we once knew it.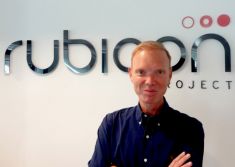 While online advertising grew rapidly throughout the late 90s, digital media buying was, ironically, a non-digital process, more or less identical to traditional ad sales. RTB fundamentally changed marketplace trading by enabling advertisers to use behavioural data to target specific audiences, rather than simply reserve inventory on a particular site.
While programmatic has continued to grow rapidly, making the marketplace far more efficient, it has become clear that one size does not fit all. Open exchanges are not for everyone. Some premium publishers preferred private exchanges, some wanted a more sophisticated mix of solutions to meet their unique sales needs.
Enter automated guaranteed, which has changed the game in a number of ways. First, by guaranteeing inventory. Advertisers can now purchase forward-reserved, guaranteed premium inventory and custom formats at a predetermined CPM; and publishers can, for the first time, guarantee campaigns for any point in the future. This inventory could be next week, next month, or even next year. Second, by improving efficiency, through facilitating centralised buying. And, third, by offering buyers premium audience segments through advanced targeting options that can be layered on top of inventory with a premium publisher.
Just last month, we released a global mobile advertising research report with ExchangeWire Research that revealed the development of automated guaranteed within mobile, as part of the overall mix. This year, 89% of EMEA mobile buyers predict they will spend their mobile budget in private marketplaces (PMPs), and almost a third of agency respondents would be spending more than 40% of their mobile budget in PMPs as well. Pioneering agencies and advertisers are moving budgets into automated guaranteed, where they can automate private deals similar to a PMP, but on guaranteed inventory at pre-negotiated pricing. We are sitting at the intersection of two distinct trends — consumer adoption of mobile and the rise of automated and programmatic advertising.
What's more, the potential of automated guaranteed goes far beyond the 'traditional' digital advertising world. Automated guaranteed is more than just a workflow efficiency tool for digital advertising, it is an innovation that can revolutionise media trading across the entire advertising ecosystem the world over.
For example, Rubicon Project signed a strategic partnership in September with the UK's largest out-of-home media trading platform, BitPoster, bringing the benefits of automated guaranteed to their network for the first time. More recently, we've extended this to linear TV audiences by partnering with Media Properties Holdings division AdMore in the US to give advertisers access to more than 100 million highly targeted, Nielsen-monitored TV homes. This convergence of linear advertising with automated technology is a sequential evolution for all media types; and, in terms of the opportunity it brings, we've only just scratched the surface.
As more and more marketers seek cross-device and second-screen engagement with consumers, the opportunity today to target, negotiate, and buy audiences across diverse media formats – out-of-home, desktop, mobile, and linear TV – within automated guaranteed platforms, is a true game changer for the industry.
Automated GuaranteedDisplayPMPProgrammaticTrading