The Real Reason Vista Bought Marketo
by Rebecca Muir on 8th Jun 2016 in News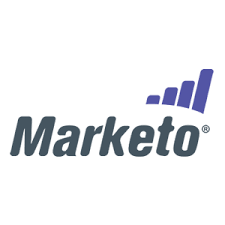 Last week (31 May) Vista Equity Partners added Marketo, Inc. (NASDAQ: MKTO), to their stable of marketing automation, CRM, eCommerce and advertising software technology. In this piece, we delve beneath the surface of Vista's acquisition strategy and unveil the potential to view end-to-end media buying and selling both on and offline. We also speak exclusively to Julie Langley, partner at Results International.  
Vista Equity Partners ('Vista') paid USD$1.79bn (£1.24bn) for Marketo; shareholders will receive USD$35.25 (£24.43) in cash per share, representing a 64% premium to the unaffected closing price as of 9 May, 2016.
Marketo was the leading, independent marketing automation technology available for acquisition after Oracle bought Eloqua, Salesforce bought Exact Target, IBM bought Silverpop and Adobe bought Neolane.
Many industry stalwarts have expressed surprise over the high price tag attached to the deal. Julie Langley, partner at Results International (pictured below) told ExchangeWire: "Marketo has demonstrated incredibly strong market momentum and this – alongside the capacity it has shown to drive profitability – would have dictated why Vista was willing to pay the premium it did for the company."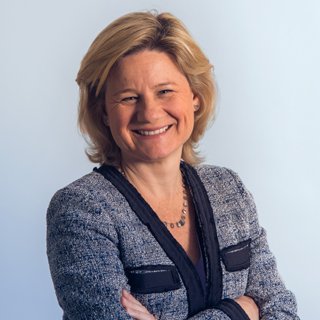 According to Datanyze, Marketo has a market share of 30.8%, followed by Oracle, who hold 16.2% of the market, trailed by Salesforce, which has 14.5% market share, less than half that of Marketo (based on Alexa's top 10K websites).
Langley said: "I strongly suspect Vista will use [their] expertise to transition Marketo into more of an enterprise-level offering to compete directly with Eloqua at Oracle and Unica at IBM. At the same time, it will also focus on moving the company into profitability. This will then make Marketo an even more attractive target for the likes of Microsoft or SAP when Vista decides the time is right to exit."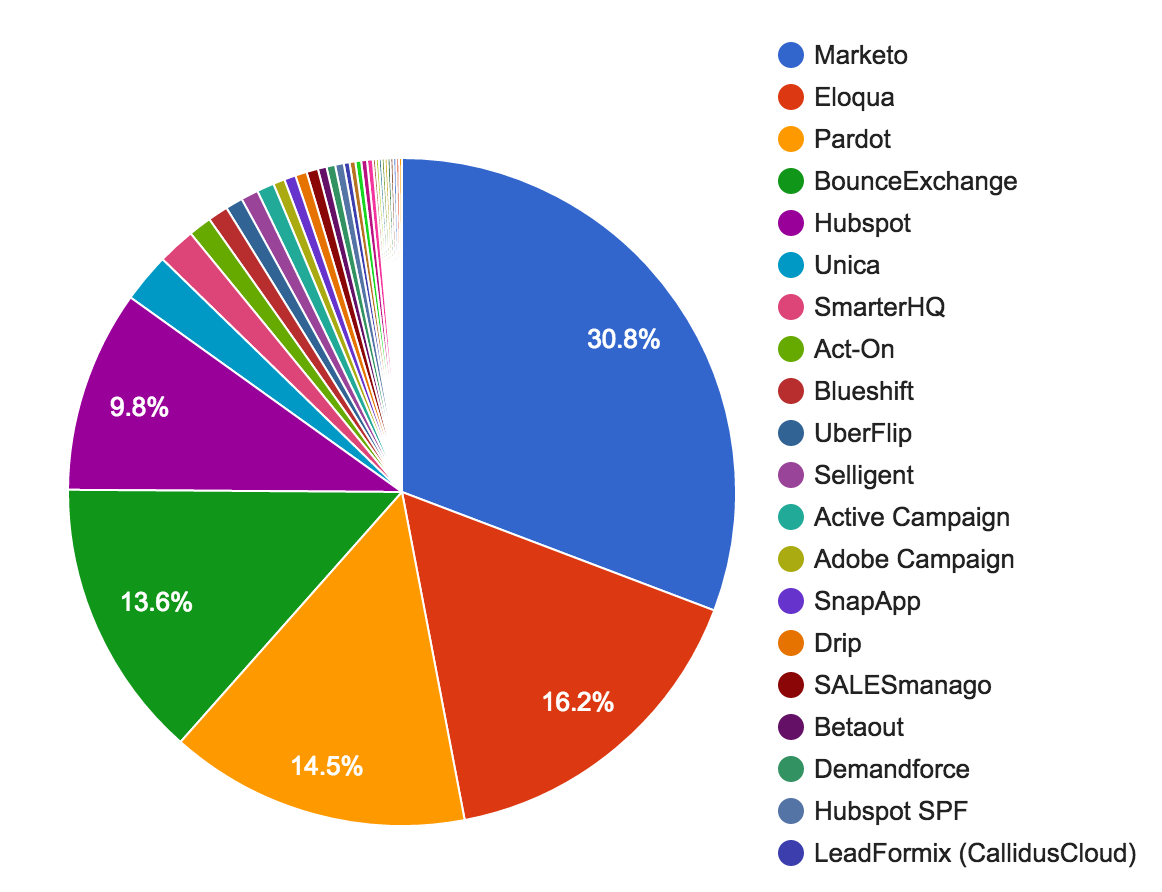 Source: Datanyze
Vista has been operating somewhat under the radar for some time now making strategic ad tech, CRM, and point of sale acquisitions since 2012.
In chronological order:
– Bullhorn (January 2012) a provider of cloud-based CRM solutions
– DealerSocket (May 2014) a provider of SaaS enterprise relationship management solutions
– Mediaocean (June 2015) a provider of advertising software that powers over USD$108bn (£74.3) of global media buying
– Kibo (January 2016) a provider of e-commerce tools, including distributed order management and mobile point-of-sale solutions
Perhaps the most important of these acquisitions, from an ad tech point of view, is Mediaocean, which helps media agencies take control media management – from TV, Print, and Radio, to Display, Mobile, and everything in-between. The company also claims to help customise tech stacks to include preferred partners and providers within a single workflow. Mediaocean has a deep partnership with Rubicon.
As a result of these acquisitions, Vista has a view of the entire media buying to sales and CRM process.
For example: Mediaocean powers the buy, Rubicon tracks online performance for both publishers and advertisers. Media buyers and sellers use Bullhorn as their CRM to manage customer marketing. Assuming a unique ID exists across Bullhorn and Kibo, Vista will be able to track and attribute both online and offline sales to ad impressions.
Time will tell whether Vista will choose to integrate the various platforms, a notoriously difficult mountain to climb, or improve them and sell them on at a higher price.
When the Mediaocean/Rubicon partnership was announced, Ryan Polley, senior VP and head of product management at Rubicon said: "This directly gives us a massive amount of media dollars going to our sellers that we didn't see before because those dollars are already flowing through the Mediaocean system." He continued to point out that the missing link is the connection to the sell-side, he said: "It hasn't been connected to a seller's system, but now all dollars are flowing to sellers."
It wouldn't be surprising if Vista has PubMatic, Adform, or DataXu, in their sights.