Header Bidding: The Next Trend for Brazilian Publishers
by Lindsay Rowntree on 5th Oct 2017 in News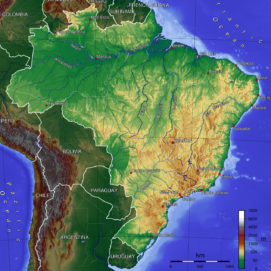 Header bidding has been transforming the digital advertising industry as it replaces the legacy waterfall system, which has been dominating media trading since the dawn of programmatic. By allowing the publisher to connect inventory to multiple ad exchanges at the same time in a unified auction, header-bidding technology offers myriad opportunities for both the buy and sell sides.
In its early days, header bidding promised publishers fair and transparent competition for their inventory, resulting in increased revenue in the open market. This has led to a paradigm shift, enabling publishers to expand revenue by exposing inventory to all demand sources.
By adding a piece of JavaScript code to the header in the browser, the publisher can understand how much media buyers are willing to pay for a real-time impression. The technology then offers publishers an alternative to dominant platforms, such as Google's DFP, giving them back some of the control they have lost since programmatic became mainstream.
When it comes to transparency, header bidding can guarantee a fair auction, says Patrizio Zanatta, managing director LATAM at Rubicon Project: "The future of the industry depends on justice and independence; and we have seen that it has particularly caught the industry's attention this year."
The second promise of header bidding was to offer buy-side access to 100% of a publisher's inventory, as opposed to the scraps and remnants available from ad-server waterfalls. "Buyers could now start to move premium, high-CPM campaigns from traditional, insertion-order-based buys into programmatic platforms", ​​said James Prudhomme, managing director EMEA, Index Exchange.
This paradigm shift is driving the growth and adoption of header bidding in leading markets such as the US and UK. Media agencies and buyers, looking for efficiency, alongside other benefits, are continuing to adopt header bidding. In Brazil and Latin America, adoption is in early stages, while knowledge levels continue to improve.
Header bidding expansion
For Rubicon Project, the initial success of header bidding deployments in the US and UK opened the way for 20 of its leading Brazilian publishers to embrace the technology, with immediate impact on their revenue. Index Exchange does not yet have operations in the LATAM region, but has been approached by Brazilian publishers interested in its header-bidding offering.
Criteo was one of the first companies to launch its header-bidding offering in the country, announced late last month. According to Fernando Tassinari, managing director Brazil, Criteo, the publishers that have adopted Criteo Direct Bidder, such as Webmotors, BibliaOnline, Buscapé, Climatempo, and Webedia, have already seen clear and positive results. Webedia has activated header bidding on its tudogostoso.com.br website, with plans to expand to other websites like IGN, PureBreak, PurePeople, and AdoroCinema. The expectation is that new publishers will activate the solution in the coming weeks.
"Executing a unified auction means greater transparency and a possibility for publishers to maximise inventory value, raising revenue by an average of 20%", said Tassinari. This is possible because the solution allows you to receive real-time bids directly from the publisher's website, which makes it possible to understand the price of each impression and eliminate third-party fees. In addition, he emphasises the focus of the Criteo platform on native formats and the monetisation of impressions blocked by ad blockers. Better campaign performance and ROI is also achieved through more efficiency in media buying, transparency, and access to available inventory.
For Rodrigo Lobato, country manager Brazil at RTB House, the big advantage of header bidding is the increase in eCPMs, due to the democratisation of auctions through direct integrations. On the other hand, when observing markets where RTB House operates, including Brazil and Latin America, Lobato highlights a potential barrier to header bidding technology: the existence of publishers prioritising global volume rather than increasing eCPM value within the ad network. Currently, RTB House meets bidding requirements in more than 10 countries, including Brazil.
Client side or server side?
An important issue, when it comes to developing and consolidating header bidding, is in the choice of application format by the publisher. There are two options: header bidding on the browser side (with the auction running on the client page), which means more transactions and a more transparent system, or server side (with the auction running on the server), which is less transparent to the buyer and seeks primarily to protect the seller's businesses, explains Lobato.
Coming straight to the point: header bidding on the browser side solves the liquidity problem, by making it easier to add more buyers to the unified auction, and simplifies setup. In practice, header bidding inserts a special JavaScript tag into the web browser that runs on the web page. To avoid too many third-party scripts running in the browser, which can detract from the user experience with ads that make page loading slow, you can use special container tags to mitigate latency in the header. The choice should be made according to individual business models.
Education, infrastructure & standardisation
The lack of knowledge that exists in the Brazilian and Latin American markets about the benefits of header bidding technology is still the main barrier to increased adoption and implementation. Other obstacles to header bidding consolidation include infrastructure and standardisation, highlighting the role required of ad techs, and the IAB, in-market education, and setting standards and best practices.
Based on Index Exchange's deployments in the American and European markets, EMEA managing director James Prudhomme believes that the biggest challenge to the mass adoption of header bidding is the requirement for servers and other infrastructure to be deployed close to the major population centres of the key Latin American economies: "Simply using public cloud infrastructure is not good enough. To win in header bidding, an exchange has to be fast and reliable." Prudhomme believes speed, latency, and the impact on user experience to be the main concerns publishers have when they consider which header-bidding partners to deploy.
To ensure an open and fully competitive advertising environment, another important point is standardisation. As each publisher that started header-bidding operations had a different API integration, the result was the opposite, making the flow complex, and hampering democratic and competitive access to inventory. Hence the importance of the project proposed by the IAB Programmatic and Data Tech Lab, which predicts that standard header-container templates will be integrated with ad servers, allowing integrations of new partners to publisher header bidding APIs to be optimised.
In addition to the IAB movement, Rodrigo Lobato of RTB House also highlights two other important elements on the header-bidding horizon: header-bidding support in OpenRTB 2.5, that will allow an indicator to identify header bids in the bid stream, thus increasing transparency, and Google's move to open dynamic allocation from DFP to external partners, which is still being tested and it's not known how it will impact header bidding. Google, however, has reassured the industry that open dynamic allocation will not negatively affect the technology.
RTB House is currently working on a fully dynamic, direct-bidding model, compatible with well-known header-bidding APIs, to solve the standardisation problem.
Rubicon Project advocates the decentralisation of wrapper solutions, both on the client and server sides. "Open-source technology will bring rapid evolution to the header-bidding innovation required to expand the digital advertising industry – and that's why we are working to create a global, independent consortium", said Rubicon Project managing director in Latin America, Patrizio Zanatta, comparing the positive effects of header bidding with the development of the OpenRTB protocol ratified by the IAB a few years ago.
Where to start
Header bidding is able to solve many common issues in the programmatic universe, such as transparency and latency, as well as enable publishers, advertisers, and technology companies to participate in fairer distribution.
For Rubicon's Patrizio Zanatta, companies thinking of adopting header-bidding technology need to assess whether they are ready for it and how it could change business operations. Zanatta shares questions that should be asked to guide the assessment: What is your percentage of direct versus programmatic sales? What does your current technology stack look like? What are the conditions and maturity of the buy side in the markets in which you operate? What is your inventory is made up of, i.e. is it predominantly mobile, video, desktop, or all three?
Following business compatibility analysis, the choice of technology partners is the next critical step; and this starts with an analysis of potential vendors based on the following points: Do you use an independent open source technology solution for header bidding? Do you have client-side and server-side header-bidding capabilities? Does header bidding open the inventory for all demand sources? Are your servers capable of taking this level of volume? Does your header-bidding technology extend beyond desktop display (video, mobile app, etc.)?