Retrospective Industry Views on MWC 2018
by Sonja Kroll on 22nd Mar 2018 in News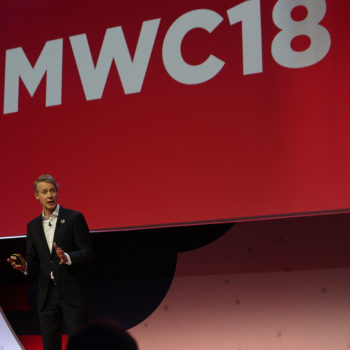 Before Mobile World Congress 2018 vanishes into the ether, ExchangeWire took the opportunity to ask attendants Fyber, Blis, SpotX and LoopMe for their take on themes and trends of MWC 2018. Among the key takeaways from the event were insights into publisher attitudes to ad tech, trending technologies such as Connected Home, and the rise of OTT. 
Ad tech has been unnecessarily controversial over the past few years, with issues like ad fraud and brand safety reaching into the mainstream media. These themes also made it into the conversations that app monetisation specialists Fyber had with attendants at MWC, says Ziv Elul, CEO, Fyber. "We've come to the conclusion that things are far more complicated than they should be, and that a lot of publishers don't actually know how to make the most of the technology available to them. This has had a knock-on effect in slowing down even the most minor developments and allowing those in the know to maintain an unfair advantage – through first looks for example. This is something we heard again and again in the halls at Mobile World Congress, with so many publishers looking for answers to these endemic problems. MWC gave us the chance to discuss a range of interesting solutions, and we had some really productive conversations with clients about how we might make a start on cleaning up the ad tech space."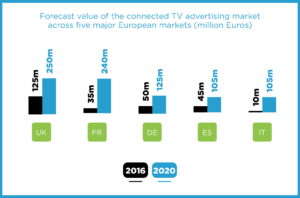 "Mobile World Congress is a great opportunity for us to meet up with our global partners and clients to talk about mobile video advertising as well as with our clients in Barcelona, Madrid and the rest of Spain", agrees Ed Wale; Senior Director, Platform Services, SpotX. "A lot of our clients at the show were asking about OTT (over-the-top) advertising. We have seen huge growth in this area across Europe and expect revenues to grow substantially this year." In fact, the video advertising platform forecasts the connected TV advertising opportunity in Europe to be worth up to €825m by 2020, with individual markets like the UK and France garnering spends of €250m and €240m respectively, and some markets experiencing exponential growth.
Talking about trends, Blis noticed how emerging technologies are embracing anything from cars to fridges to doorbells, providing new touchpoints where advertisers can connect with consumers, including USB sticks that use eye recognition to unlock personal/private documents, doorbells replacing keys that  use fingerprint technology to unlock the home, to fridges that detect when your food is going off. Charlie Smith, MD UK, Blis: "All of these technologies are driven by advances we've seen in mobile. We use our fingerprint, and more recently, eye recognition to unlock our mobiles (iPhone X) which are such personal devices. Today, this technology is being extended to items in our home and work life – such as USB sticks and our front doors! With this influx of new technology, we are getting closer and closer to a fully connected home, the next step for marketers will be to understand how we can effectively utilise these data points."
Mobile continues its conquest, Fyber-CEO Ziv Elul  also finds: "Another thing we've noticed is a clear movement of 'traditional' desktop and web players into the mobile app space – whether through building their own SDKs or building partnerships with others. We're excited to see investment in the app environment, and can't wait to see the developments that lie ahead and where the industry will be a year from now!"
For Stephen Upstone, CEO, LoopMe, MWC has proved that advertisers and creatives need to rethink their strategies, especially with a view to new platforms and formats: "Advertisers and creatives have been discussing advertising video formats for years and have decided that 30-seconds is the ideal length for their ads", he says. But with developments in technology, it's time for advertisers to explore new formats. "In an era where brand messaging is now seen across multiple screens, its time to re-think creative strategies, to take advantage of in-app advertising and explore shorter formats. Ultimately it's more valuable for advertisers to use shorter videos to connect with consumers at the right place and time - even if that means crafting more video ads - instead of telling the full message in the wrong moment and to the wrong person. If advertisers want to drive engagement, they need to understand that storytelling relies on consumer behaviours, not just visual assets."
Ad FraudAd TechBrand SafetyMobilePublisherVideo