Ad Spend Grows for 8th Consecutive Year – The Industry Reacts
by Hugh Williams on 1st May 2018 in News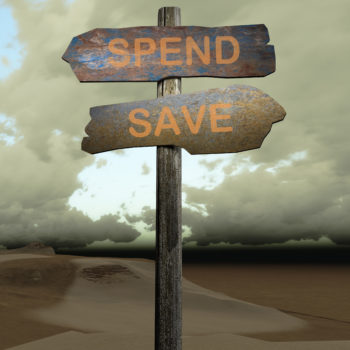 UK ad spend grew 4.6% to reach £22.2bn in 2017, the eighth consecutive year of growth, according to the latest Advertising Association/WARC Expenditure Report.
The final three months of 2017 saw expenditure grow 6.2% in Q4 2017 over the same period in 2016, with ad spend pushing past the £6bn barrier for the first time in a single quarter.
The full year advertising growth forecast for 2018 has also been upgraded by 1.4 percentage points to 4.2% growth; and a further rise of 3.8% is expected for 2019.
If the forecast proves true, this will complete a decade of continuous expansion for the UK ad industry.
Digital formats performed well during 2017, up 26.3% for digital radio, 19.3% for national digital newsbrands, and 7.1% for broadcaster video-on-demand. Print suffered, however: national news brands saw a 5.6% decline in 2017 and magazines were down 11.5%.
However, including digital revenues for news brands, magazine brands, TV, and radio broadcasters, growth remains strong. Within this, spend on mobile formats (+37.3%) was particularly robust during 2017.
ExchangeWire spoke to some of the online advertising industry's top thought leaders about what the latest report means:
John Antoniades, Managing Director, Global Business, Spark Foundry says that "the trend for yet another year of growth in advertising spend is set to continue. With consumers set to feel richer, following low unemployment, inflation heading towards 2%, and interest rates looking increasingly likely to either stay put or increase by 0.25. This growth will only be compounded if the advertising sector continues to strive for greater transparency and governance in the digital supply chain".
Mark Holden, Global Strategy Director, Starcom feels that the report is "a testament to the strength of the advertising industry, and to the value of advertising to growing businesses, that ad spend continues to grow in the UK despite recent headwinds – the uncertainties of Brexit negotiations, a challenging high-street retail climate, and inflationary pressures on discretionary spending.
"It is also a reflection on how the sector has evolved over the past decade. Driven principally, but not exclusively, by digital platforms. The barriers to entry for advertisers of all sizes and shapes has come down.
"The combination of self-serve ad platforms, shared-risk advertising models for new advertisers, new solutions like AdSmart that bring traditionally expensive forms of advertising to niche or local brands, and the blurring of trade activation budgets into e-commerce advertising, has helped to open up the sector to new sources of revenue that have had the net effect of sustaining a healthy and vibrant sector in the UK."
This sentiment is echoed by Simon Harwood, Head of Strategy, the7stars: "This record-breaking run of spend growth points to a remarkably robust and resilient UK ad industry.
"After a relatively sluggish start to the year, the Q4 year-on-year growth is particularly eye-catching, with the astonishing 6.2% growth surpassing all forecasts and confirming that the Christmas ad season is the UK's 'Super Bowl' point in the year.
"Beyond TV's recovery from an especially challenging first half of the year, the main story is one of continued digital growth driven by mobile, as ad pounds follow incremental media moments delivered into the hands of consumers.
"However, it is also noteworthy to see how digital spend for news brands is offsetting some of the decline in print spend, and that the overall decline in news appears to be bottoming out as we look ahead to the next year's forecast and beyond. There are also some unsung heroes, with radio and cinema looking very strong into 2018, and OOH reporting ongoing steady growth."
Celine Saturnino, Chief Commercial Officer, Total Media praises the ad industry for its continued performance in the face of turmoil: "It's great to see digital advertising revenue continue to perform strongly in light of some significant and persistent challenges within the digital ecosystem. Brands continue to favour digital as it continues to deliver on performance metrics, which is often valued more highly in a climate of shrinking marketing budgets, but also because investment will always follow eyeballs – and mobile usage shows no sign of slowing down.
"Meanwhile, growth in formats such as in-feed and outstream advertising points to a continual shift in budgets towards less interruptive formats. We expect this to continue as the industry seeks to further balance the requirement for cut through and optimal customer experience.  
"The ongoing growth of mobile follows consumer behaviour and sends a clear message to all advertisers to focus on their end-to-end customer experience in mobile, from creative output to mobile web delivery. The continual rise of programmatic investment, the growth of digital news brands and growth of digital audio all reflect the growing requirement for high-quality ad experiences, which lead to more effective business results for brands."
Carl Erik Kjaersgaard, CEO, Blackwood Seven, highlights: "The record ad spend of £22.2bn not only points to greater industry expansion for 2018, it also suggests that an increasing number of organisations perceive advertising as critical in broader business success. Now more than ever, CMOs are required to demonstrate accountability for spending and how this will positively impact revenue. In order to ensure that this growth remains in 2018, marketers should embrace real-time modelling tools available to them that demonstrate transparency in media effects and accountability, allowing marketers to show marketing as a revenue-driver rather than a cost. This will ensure that the power of traditional and digital ad channels to connect with key audiences is understood across all organisations – ultimately, safeguarding this highly dynamic market that continues to strengthen."
Which channels are performing best?
Ian Reynolds, Managing Director, KBH On-Train Media, also points to the performance of OOH: "The impressive figures reported for 2017 by AA/WARC demonstrate the UK ad industry's enduring strength and resilience over the past eight years. The bright future forecast by the report is particularly encouraging and highlights an ingrained appreciation of the importance of advertising in the UK.
"Looking more closely at performance by sector, it's unsurprising to see growing spend in internet and mobile. But, as digital advertising gets to grips with a number of immediate challenges, there is evidence of a renaissance in traditional media as brands rediscover the benefits of these for delivering targeted communications at scale.
"Projections for continued year-on-year growth for OOH reflects the medium's proven ability to adapt in line with changing consumer behaviour. It's one of few forms of media that can engage hard-to-reach audiences, particularly as they spend more and more time out of the home. As a key – arguably vital – component of integrated ad campaigns it has a distinct role to play. I don't see this changing any time soon, particularly not as the sector further enhances its capabilities through digital and provides businesses with ever-improving audience measurement metrics."
The strength of OOH is something that also jumps out from the report, according to Stuart Taylor, CEO, Western Europe, Kinetic: "These FY 2017 figures make for encouraging reading, with the industry as a whole, and out-of-home as a segment, expanding for an impressive eighth year running.
"The continued robust performance of the out-of-home (OOH) sector only serves to underpin what we already know. Long-term messaging and brand salience remain front-of-mind for marketers and advertisers alike, particularly in an increasingly cluttered media landscape where brands have to compete for share of mind.
"Indeed, just recently, we heard that big name brands including Tesco and Sky were doubling down on their investment in traditional media, of which OOH is a key component. This is again reflected in the AA/WARC's figures, with OOH one of just three traditional channels that grew over the course of 2017, and are also forecast to continue to grow in the year ahead."
There is also promise in the ongoing growth of mobile spend according to Josefine Vinberg, Head of Product, Widespace: "The industry is continuing to grow, despite various forecasts and predictions saying otherwise, with these latest figures clearly showing the resilience of digital advertising in particular – despite turmoil faced by both Facebook and Google within the past year or so. It's promising to see spend on mobile formats staying strong as well during 2017, as its role at the centre of the customer journey is better understood. However, to continue that growth and ensure that digital advertising continues to thrive, we still have some way to go in terms of viewability, fraud, and transparency. GDPR will also bring new challenges for the industry; but it will also offer a huge opportunity for the industry to be more responsible with consumer data."
Abby Carvosso, Group Managing Director of Advertising, Bauer Media, focuses on radio, saying that while "digital revenue continues to stand out, radio digital really shines. Q4 2017's figures, compared to Q4 2016, show radio's digital ad spend increased by 17.9%. With the rise of usage of new digital audio listening devices, we can now offer advertisers innovative, relevant, and impactful advertising solutions using voice-activated devices and podcasts. Digital audio advertising is deeply personal, it fits into our listeners lives and complements activities, making it a highly engaging media for advertisers. It is a great way for advertisers to have a direct conversation with listeners. Digital audio advertising is becoming more and more appealing, due to its targeting and agility. The demand for radio from consumers and advertisers continues to grow and shows no sign of stopping. We announced last week that Bauer is launching the Hits Radio which will be the first major national commercial digital radio station to broadcast out of Manchester, which we believe will be a genuine alternative in UK radio for the family-focused audience".
Ruth Manielevitch, Director of Business Development EMEA, Taptica, feels that "each category has fared well this quarter, even with digital radio increasing in spend. However, once again, the increase is dominated by internet spend, with mobile at a record high at 37.3%. With so many of us now glued to our mobile devices, this impressive hike in mobile expenditure is unsurprising. For advertisers, there are so many opportunities now available on these devices to get your brand noticed. This includes creative placements in-app to engaging formats like video, and the popularity of mobile is only set to increase. Overall, it's encouraging to see that marketers are investing their spend in the right direction, and despite the upheavals of Brexit and GDPR, it's great to see that the UK advertising industry is set for a healthier outlook for 2018."
Cross-device tracking has never been more important, says Tom Rolph, VP, EMEA, Tapad: "Given the mix of spend across everything from mobile to TV, the report highlights the importance of a cross-device identity strategy. Advertisers simply have to have a clear, privacy-conscious, and comprehensive understanding of the audiences in which they are investing so much money, including what devices they are on and how they interact with ads on each device."
Priorities going forward
Katherine Munford, Managing Director, Data2Decisions, says that: "The growth in ad spend for 2017 reported by AA/WARC demonstrates the strength of the UK's ad industry and reflects an ongoing recognition of its importance for businesses. The fact that the industry is on course for a decade of continuous growth is hugely encouraging – in a complex and constantly changing world, advertising remains a powerful force for growth. This is particularly the case if businesses know where to focus.
"While there is still growth in ad spend, measuring advertising effectiveness should remain a top priority for brands. The growing spend in digital points to the weight companies already give to efficiency and performance marketing. That being said, brands should still strive for the right balance between brand-building media and sales activation strategies.
"Going forward, effectiveness should be measured in a holistic and connected way, to deliver both long- and short-term business growth. The future will be to obtain this information in real time, giving advertisers the chance to dynamically optimise their media campaigns to ensure the best use of spend."
Eric Visser, CEO, JustPremium, stresses the importance of the report, saying that "the UK ad market provides a good barometer for assessing the health of advertising globally, so it is extremely positive to see eight years of consecutive growth and a record spend of over £22bn – despite the difficult macroeconomic conditions and the lingering uncertainty of Brexit. The relentless growth of internet advertising continues to drive the surge in ad spend. This is a testament to the ever-increasing quality of what we are able to produce in online media and also of the appeal of clear metrics – such as viewability and in-view time – which better allow marketers to prove the ROI back to the business.
"As a member of the Coalition for Better Ads, it's heartening to see that efforts to improve the quality of online advertising are having a positive impact. Championing initiatives that are dedicated to providing the best experience for consumers, advertisers, and publishers alike, is good for the health of our industry as a collective and paves the way for further future growth."
Ad TechAdvertiserAudioBrand SafetyInvestment