Amazon's Could Represent 10% of All Retail by 2020; Walmart Beats Amazon to Flipkart Deal
by Hugh Williams on 11th May 2018 in News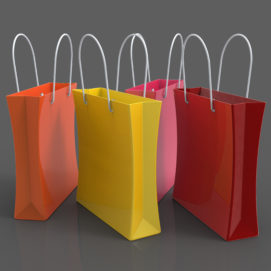 RetailTechNews' weekly Amazon Watch brings you some of the company's biggest moves from the past seven days, analysing how the giant is revolutionising the retail space. In this week's edition: Amazon's Could Represent 10% of All Retail by 2020; Walmart Beats Amazon to Flipkart Deal; and No More Google Shopping.
Amazon's Could Represent 10% of All Retail by 2020
Amazon is set to capture nearly 10% of total retail sales by 2020, according to Telsey Advisory Group. The growth is going to be driven by an "ongoing consumer spending shift to e-commerce and greater share of wallet via expansion in new and existing categories, such as apparel, grocery, home, healthcare, and media".
That spending shift will put Amazon's retail industry market share at 9.6% by 2020, the Telsey analyst wrote, saying that much of the growth will come from its investment in the grocery business following the acquisition of Whole Foods Market in 2017. Its share at the end of 2017 was 5.6%.
These figures come on the back of exceptionally strong earnings from the retail giant, as well as their recent increase to the cost of Prime membership, from USD$99 (£73), to USD$119 (£88) a year. Given that there are over 100 million Prime members worldwide, this move alone will generate an extra USD$2bn (£1.5bn) in revenue (although this is assuming no customers choose to leave because of the price hike).
If Amazon is to account for 10% of all retail sales by 2020, then this puts them in an even stronger bargaining position with other retailers looking to sell goods through their platform. This will result in these retailers taking a smaller share of the product sale than they are currently doing, as they continue to sell their goods on the platform rather than risk sacrificing their customer reach.
Walmart Beats Amazon to Flipkart Deal
After nearly two years of speculation and talks between the two companies, Walmart has finally acquired Flipkart for USD$15bn (£11bn). The deal will give the American retailer a 75% stake in the Indian business.
The deal represents a blow to Amazon's business in India, especially given that only last week, Amazon reportedly made a bid for 60% of Flipkart. However, that deal always seemed less likely than the eventual Walmart deal, given that Amazon (India's second-largest e-commerce player) acquiring Flipkart (India's largest e-commerce player) would raise eyebrows around competition in the market.
Instead, the deal will enable Flipkart to solidify its presence as market leader, tapping further into India's blossoming e-commerce market. However, by no stretch of the imagination does this mean Amazon's business in India is doomed, with Bezos and co investing a further USD$5bn (£4.2bn) into their business in the country at the end of last year. In fact, the Walmart-Flipkart deal should ultimately help drive competition in the space, leading to better choice and better prices for consumers.
No More Google Shopping
It looks as though Amazon has stopped bidding on product listing ads, after a year and a half of running these.
According to data pulled by the digital marketing firm Merkle, Amazon's shopping campaigns had begun to slow down near the end of Q1; and then they completely disappeared from Auction Insights reports on 28 April, with no Amazon PLAs (product listing ads) reappearing since then.
The online retail giant's most consistent (and strongest) presence within Google's Shopping campaigns was in the home goods product category, although they also ran PLAs in other categories like furniture, office supplies, and novelty gifts.
While no one knows if Amazon is stopping its Shopping campaigns for good, the disappearance of their ads – and bidding power – will offer an opening for smaller retailers in the same product categories that lack the AdWords budget Amazon possesses.
This content was originally published in RetailTechNews.
TagsAmazonDataE-CommerceIn-storeInvestmentTechnology