A Million Ads Launches Studio:Podcast; IAB UK Demands Higher Standards from Ad-Tech Ecosystem
by Romany Reagan on 5th Apr 2019 in News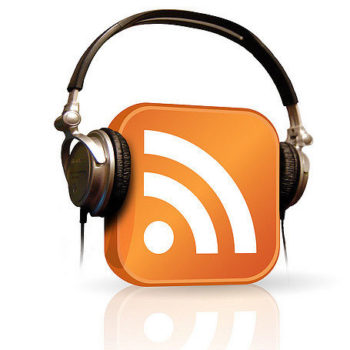 A Million Ads Launches Studio:Podcast; IAB UK Demands Higher Standards from Ad-Tech Ecosystem; DoubleVerify Expands Mobile App Brand Safety Protection to Over 75 Content Categories; and Act-On Software Introduces 'Marketing-as-a-Service' Solution Act-On Accelerate
A Million Ads Launches Studio:Podcast
A Million Ads announced today (5 April) the launch of Studio:Podcast, a targeted release of their world-leading dynamic audio personalisation tool, built specially for podcast advertisers. Studio:Podcast enables brands and advertisers to create dynamic and personalised digital audio adverts that are delivered to users while they listen to their favourite podcasts.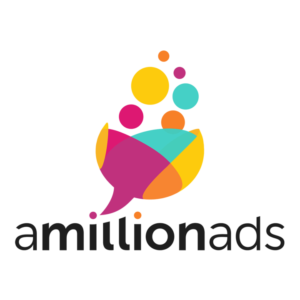 Podcasting is rapidly gaining traction with listeners; and therefore getting more attention from advertisers. The environment for advertising in podcasts, however, is different to other forms of entertainment – it is more intimate and personal, and often consumed with headphones – so the majority of today's podcast ads are delivered via host-read sponsorships, which take advantage of the unique relationship between the listener and host.
The latest offering from A Million Ads, Studio:Podcast, combines the scale of broadcast adverts with the intimacy and effectiveness of host-read sponsorships by contextualising the creative with the name, genre, or category of the podcast, the type of device the listener is using, their location, and how many times they have heard the message. This brings scale and efficiency to the creative process, and results in better performing, more effective campaigns.
Over the past few months, Acast, the world's largest podcast company, has been pioneering the use of Studio:Podcast as the first pilot partner, running campaigns for iD:Mobile and NatWest in the UK. Acast has over 100 million listeners now tuning into podcasts each month; and recent research revealed that podcast listeners are consuming more than 3.5 hours of shows a week, which opens up a vast opportunity for brands to monetise through this route to market.
Oskar Serrander, chief commercial officer, Acast, comments: "Podcasting is so unique because listeners are more engaged than any other medium. Making ads fit that super-intimate experience is crucial for advertisers to be successful, whilst keeping the environment as true for listeners as possible. Studio:Podcast from A Million Ads is truly solving this problem and we are proud to be a pilot partner, offering personalised ads in a way that podcasters, advertisers, and listeners will love."
Steve Dunlop, founder & CEO, A Million Ads, concludes: "Podcasting is such an intimate and personal medium, so ad experiences in this environment need to be, too. With Studio:Podcast, we've built a tool and designed a creative approach that enables advertisers to respect the listener by personalising each ad to them. Acast are a great pilot partner and I look forward to driving innovation in podcast advertising together."
IAB UK Demands Higher Standards from Ad-Tech Ecosystem
IAB UK, the trade association for the digital advertising industry, announced on Wednesday (3 April) a series of updates to the criteria that must be achieved to receive IAB UK Gold Standard certification.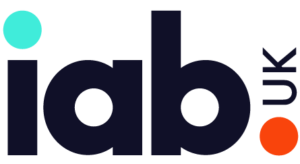 Where previously companies needed only to be registered with JICWEBS and to complete an audit within six months, it is now a requirement that companies are fully certified under the JICWEBS Digital Trading Standards Group (DTSG) for Brand Safety before they can receive Gold Standard accreditation.
New thresholds have also been introduced for support of both ads.txt and the Coalition for Better Ads principles and the 'Better Ads Standards'. It is now a requirement for both buy-side and sell-side platforms to ensure 90% of the traffic they deliver includes a valid ads.txt file. In addition, there is a new criterion to demonstrate a minimum of 99% of the domains platforms work with conform to the Coalition for Better Ads standards. Demonstration of how noncompliant inventory is filtered will need to be provided as part of the Gold Standard Certification audit.
Further updates include a requirement for companies to undergo IAB UK Gold Standard training, which the IAB will be supporting through the launch of a dedicated training platform, and for companies who trade in-app inventory to raise awareness and encourage adoption of the recently launched app-ads.txt protocol.
Commenting on the updated standards, Kiessé Lamour, managing partner, digital best practice & brand safety, Omnicom Media Group UK, said: "We welcome the more stringent criteria required to receive the IAB UK Gold Standard certification. These higher standards encourage companies to thoroughly review their processes and take action where required, working with the IAB's support, ensuring that we will continue to collectively improve the entire ecosystem for all stakeholders (consumers, publishers, brands, agencies, tech companies) against industry wide benchmarks. We are passionate advocates of the IAB UK Gold Standard and JICWEBS DTSG and Anti-Fraud initiatives and have started working actively with all of our partners to encourage them to become certified. We're pleased to say that every company we have spoken to so far has now started the process."
Tim Elkington, chief digital officer, IAB UK, continued: "In its first year, the IAB UK Gold Standard has been embraced by every part of the digital advertising value chain, with over 100 companies registered or certified. However, to support a sustainable future for digital advertising, standards must continue to be raised and the progression to IAB UK Gold Standard 1.1 adds benchmarks that must now be achieved. Whilst I am confident the industry will rise to meet these new standards, it will be incumbent upon us all to ensure the IAB UK Gold Standard continues to evolve to meet the demands of this dynamic industry."
The IAB UK Gold Standard aims to drive up standards in the digital advertising industry by encouraging companies to commit to best practices that reduce ad fraud, increase brand safety, and improve digital advertising experiences for users. Compliance criteria are tailored to each part of the value chain and companies that are successfully certified commit to upholding these best-practice guidelines.
To support its members' transition to the new certification requirements, IAB UK is investing in its first dedicated Standards Manager, who will be responsible for driving these quality thresholds throughout the UK digital advertising industry.
Companies that have already achieved current IAB UK Gold Standard certification will be supported through their transition to the new standards.
DoubleVerify Expands Mobile App Brand Safety Protection to Over 75 Content Categories
DoubleVerify ('DV'), a leading independent provider of marketing measurement software and analytics, announced on Wednesday (3 April) the launch of its expanded mobile app brand-safety solution, augmenting quality coverage within this high-priority channel.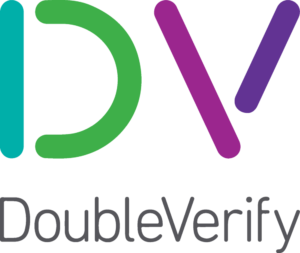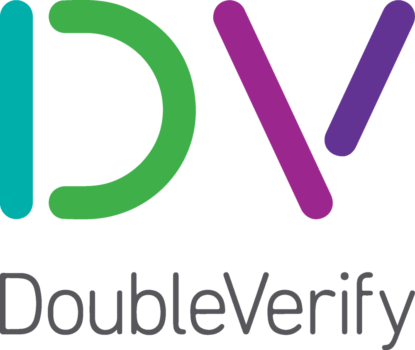 Matt McLaughlin, COO, DoubleVerify, comments: "DV innovated mobile app brand safety in 2017, and has continued to build our coverage within this important channel. DV's expanded solution lets advertisers apply unified brand-safety parameters across digital advertising environments, including mobile app – strengthening brand protection and driving superior campaign performance."
Seamless Protection
DV's expanded mobile app brand-safety solution provides the most comprehensive protection available to advertisers today – with over 75 content-avoidance categories that address both brand-safety concerns and brand relevance. DV's solution also provides extensive language capabilities and customisation options to address brand-specific requirements. Users can now target, monitor, and block apps based on app store category – in addition to other app-specific criteria, such as target age rating and star review.
For qualifying, content-rich mobile apps, DV has implemented enhanced classification techniques that apply brand safety criteria at the content level, in addition to the overarching app level. This granular classification provides deeper advertiser protection and also opens potential scale, by allowing ads to run within apps with diverse or dynamic content. In addition, clients can leverage keyword blocking within enhanced classification apps, to quickly pivot away from breaking news.
"It is critical to have a comprehensive set of criteria to ensure brand safety in this channel", added McLaughlin. "For example, according to our own data, nearly two-thirds of mobile apps that have been designated as a potential brand-safety threat have a user star review of 4.0 and higher. Leveraging multiple parameters to support quality coverage is key, as in-app content becomes more robust and sophisticated."
Superior Performance
DoubleVerify's brand safety controls for mobile app inventory can be implemented through DV Authentic Brand Safety targeting. Authentic Brand Safety targeting maximises programmatic buying effectiveness by ensuring that a consistent set of brand-safety criteria is applied across channels, before media is purchased. This alignment results in a hyper-efficient circuit that lets advertisers optimise for DV Authentic Impressions®, reducing post-bid reconciliation and make-good processes, and boosting performance. To be counted as 'Authentic' by DV, an impression must be fully viewed, by a human, in a brand-safe environment.
Act-On Software Introduces 'Marketing-as-a-Service' Solution Act-On Accelerate
Act-On Software, a leading Adaptive Marketing provider that drives personalised and purposeful multichannel marketing, has announced its new Marketing as a Service solution that uniquely solves today's biggest marketing challenges by bridging the gap between technology and strategy execution. Too often, marketers purchase technology with the promise that all of their problems will be solved, only to then see this valuable asset under-utilised or, even worse, transformed into 'shelfware' — Act-On is ending this practice.
Act-On Accelerate, the industry's most cost-effective bundled offering, delivers the fastest time-to-value in the market. It was born of listening to and working with thousands of customers over the years – resulting in a comprehensive solution designed by marketers for marketers. It combines Act-On's industry-leading marketing automation platform with critical implementation services (such as in-depth training on the platform, key integrations, and email deliverability) and premier customer support, along with customised 'Accelerators'. Accelerators combine strategic and tactical guidance for specific marketing use cases with Act-On's best-of-breed technology. Use cases include Gated-Content Conversions (Inbound), Funnel Stage Nurturing (Outbound), Sales Productivity (Sales), Customer Upsell/Cross-Sell (Loyalty), and many others.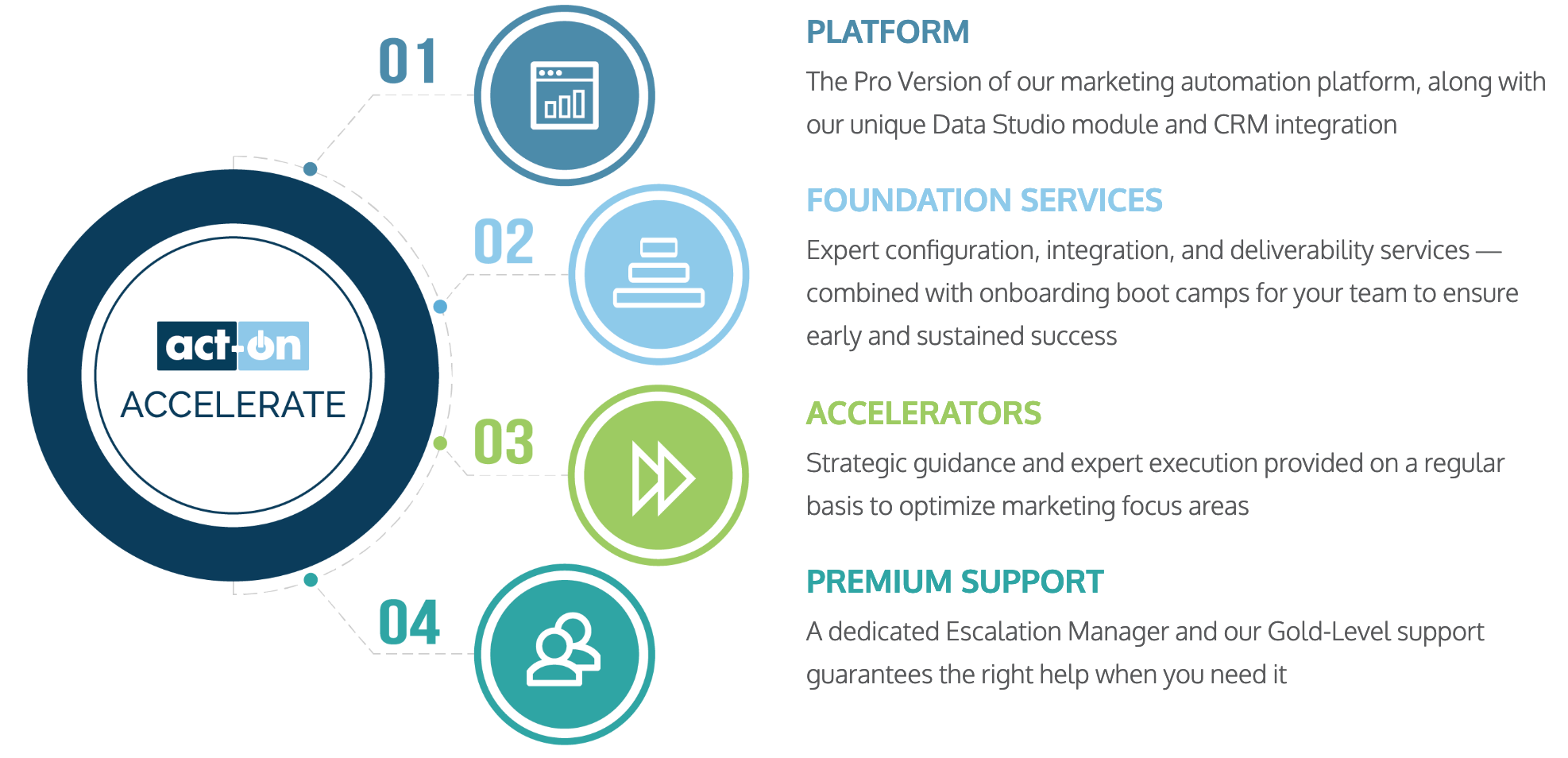 Nina Church-Adams, senior vice president of marketing, Act-On, comments: "We are excited to launch Act-On Accelerate and deliver this proven formula for marketing success to our customers. Marketing technology in the absence of services is simply not enough to obtain the return that our customers expect. Ultimately, strategy, execution, and support are driving factors that dictate results; and that's why we're especially thrilled to introduce this end-to-end solution that enables turnkey marketing."
Many marketers are unable to obtain ROI from their marketing automation as quickly as they had expected, due to a lack of in-house expertise and resources needed to turn plans into action. In fact, a recent marketing automation analyst report found that 72% of companies plan to invest in new lead management software in the next one-to-three years, with half looking to replace their current existing system due to lack of results. With Act-On Accelerate, customers are seeing fast time-to-value and are realising the powerful capabilities of a robust solution.
Chad Kiser, digital marketing manager of Centra Credit Union, adds: "Act-On makes advanced segmentation and complicated marketing automation easy to do; and combined with expert guidance, we were able to hit the ground running. In our very first meeting, they made automation easy to understand for everyone, as we learned how to use our existing customer data to automatically deliver relevant messages based on behaviour. During our training, there were so many 'ah-ha' moments and connecting of the dots – I learn something new every time I talk to them."