Setupad Releases Redesigned New Client UI with Extensive Reporting Interface and New Features
by ExchangeWire PressBox on 27th Oct 2020 in News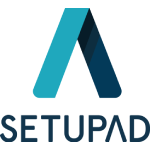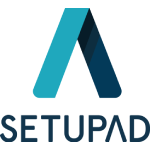 Setupad, a monetisation platform for publishers, has released a new client UI after almost a year of development. The finished product surpasses the previous reporting interface with new features, more extensive reporting interface, which helps publishers keep up with the industry's needs and standards.
"The main aim why Setupad built this new reporting platform is to show publishers not only how much revenue we can generate, but how exactly we do it. With the new, revamped version of Setupad Client Interface, we try to answer the main questions our publishers keep asking–how, why, and from where the revenue was generated, and, most importantly, how to improve the yield continuously. It's not just an analytical platform but also an educational one for publishers to use daily. We want to show our publishers that we found the best ways to monetise users' behaviour besides just website's page views." Povilas Goberis, COO of Setupad
New design features
Setupad used the best industry standards to build a sophisticated, user-friendly, and intuitive design for the new platform. The whole design focuses on data accessibility and an easy to use navigation.
The Navigation menu allows publishers to access the information they are looking for easily, like 'Reporting,' 'Billing,' 'Ads.txt,' 'Tools,' 'Ad Reports.' Clients with multiple websites can easily see the overall account performance or select the specific domain they would like to analyse. It is also possible to connect a Google Analytics account to reveal additional section of metrics in the reports.
Reporting Interface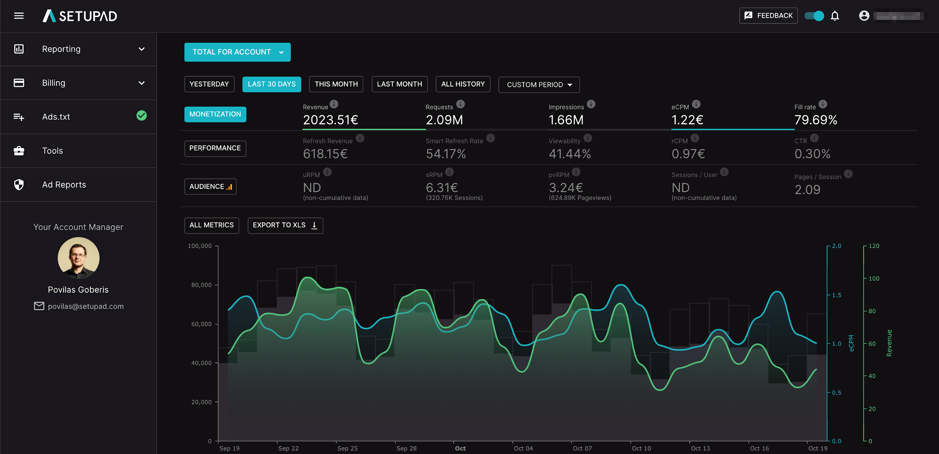 Enhanced reporting interface with 3 sections of metrics:
Basic monetisation metrics
The most important metrics publishers tend to check daily – Revenue, Requests, Impressions, eCPM, and Fill Rate.
Performance metrics
Here, to improve transparency, publishers can find detailed information about Smart Refresh Revenue, Smart Refresh Rate, Viewability, rCPM, and CTR. It's worth noting that Setupad Viewable Bid Optimisation (known as smart refresh) differs from competing solutions because it takes into account a more restricted approach to how refreshes are done, thus not diminishing the price of the publisher's ad inventory. With Setupad Viewable Bid Optimisation, several conditions need to be met: minimum bid floor price, user's activity, and the ad container needs to be visible according to IAB standards to run a smart ad refresh.
Performance metrics provide more in-depth analysis and give insights into improving the whole inventory or individual ad placement performance to enhance the overall yield in the long term.
Audience metrics (Google Analytics integration)
If publishers connect their Google Analytics account, they can access an additional third section for metrics. Here, publishers can evaluate how valuable website visitors and page views are in relation to monetisation. By connecting Google Analytics, Setupad calculates the revenue per thousand users, revenue per thousand sessions, and revenue per thousand page views.
Google Analytics based metrics helps publishers better understand how valuable the audience's loyalty and engagement is. With this data, Setupad enables publishers to further analyse and understand how they can improve the value generated by each user visiting their websites.
Additionally, a revenue distribution section divides eCPMs by deciles and allows publishers to evaluate their ad inventory's worth by looking beyond the average eCPM. Publishers can filter the results per demand partners. We can now communicate with publishers that merely 20% of their inventory can generate half or even up to 80% of their total revenue if sold properly in the open RTB.
This clearly shows how important it is to optimise monetisation techniques through competition, either with direct sales or by letting advertisers, regardless of the sales channel, compete for every ad request in the auctions that Setupad run.
Ensuring the best programmatic quality standards for publishers
Ads.txt checker
Instead of checking the ads.txt file manually, publishers can use Setupad's automatic checker to see if the ads.txt is up to date for each domain. If any information is missing, the checker will inform the publisher which entries have to be added to the publisher's ads.txt file.
Ensured ad quality
Setupad provides a handy Google Chrome extension that helps publishers immediately report unwanted ads by clicking on the 'Report ad' button. The publisher can then check the reported ad's status in the Setupad Client Interface under 'Ad Reports'.
When a publisher reports an ad, Setupad receives information about it– the URL of the campaign's landing page, URL of the advertiser that has to be blocked, placement of the banner, information about the SSP that served the banner, and the print screen of the reported ad. After a thorough review, Setupad blocks the domain and includes it on the publisher's blocklist, preventing the ad from appearing again in the future.
Moreover, this extension helps Setupad continuously improve the blocklist through its network and ensure premium ad quality for users.
Upcoming updates
Over the next few months Setupad will be releasing more new features:
Publisher's yield health formula
This part of the UI will notify publishers about specific actions they can make to improve their websites; it will also share insightful predictions about how much these 'actions' will increase the ad revenue.
More dimensions
We will also add more dimensions to help publishers better understand where their revenue most often comes from. New dimensions will be used to slice up ad revenue into more granular and detailed reports. This will help publishers optimise their traffic acquisition strategies.
Mobile supported version
Last but not least, we will build a design dedicated to mobile users. The mobile interface will be a simplified version of the reporting
AnalyticsIndustry InfrastructureMeasurementMonetisationRegulation