What the Streaming Wars Mean for Advertisers
by Hannah Dillon on 17th Apr 2023 in News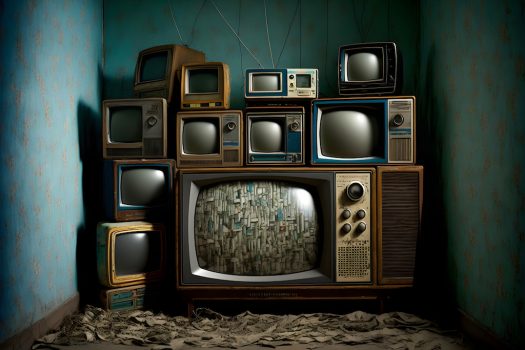 The popularity of streaming services, coupled with CTV's capabilities to collect detailed data on their users, make them an exciting landscape for advertisers to reach a vast audience with well-targeted and highly relevant ads. By 2020, the global number of subscribers to video streaming services exceeded 1 billion, and by 2022 more than 85% of American households had signed up to at least one video streaming service. Confidence in the medium remains strong among advertisers, with the global market for streaming services projected to hit USD$233bn (~£187.5bn) by 2028.
The burgeoning growth of streaming services does, however, have its pitfalls. In a few short years, the number of platforms offering affordable and convenient streaming has brought the market close to saturation. In fact, 72% of consumers believe there are "too many" streaming services available, and as living costs around the world remain elevated, households are now whittling down their subscriptions to save money.
With the war for consumers' subscriptions raging, streaming giants are redrawing their battle plans to gain the upper hand in the SVOD scene – but what do these strategies look like? And what do they mean for advertisers?
Netflix Basic with Ads
Despite insisting as recently as 2019 that remaining advertising-free was "a deep part of [its] brand proposition", Netflix conceded it may need advertisers after haemorrhaging 200,000 subscribers in Q1 2022. The company announced it would develop an ad-supported tier. The turnaround was swift, with "Basic with Ads" launching in early November, albeit to mixed responses. While the opportunity to advertise to the company's 230 million-strong subscriber base proved tantalising for Nyx, L'Oreal, and Budweirser-owner Anheuser-Busch InBev, Netflix's noticeably high CPM gave media agencies reason to pause. Despite a sluggish start, however, Netflix's ad-supported tier appears to be picking up steam. Research from Antenna found that subscribers to "Basic with Ads'' jumped by 10% in January of this year, hitting one million last month. Although this growth is ostensibly good, it is arguably not enough to endear Netflix to advertisers – the company's CPM of USD$45-$50 (~£36 - £40) remains a bugbear for many and, although Netflix has forged strategic partnerships to measure the impact of its ads, the company has offered limited targeting capabilities so far.
Elevator pitch: Netflix's shift to AVOD is reminiscent of Friends spinoff Joey: although it makes sense in theory to supplement a popular property with an additional money maker, the reality is confusing and underwhelming. While Netflix's subscriber base for its ad-supported tier is on the rise, it will undoubtedly take a lot of time for advertisers' investments to pay off – if they ever do.
Disney+
Also a relative newcomer to ads, Disney+ has run where Netflix could merely crawl; within the first month of launch 20% of new subscribers chose to sign up to Disney+ with ads. At USD$50 (~£40), Disney's CPM also ran the risk of driving advertisers away, however, it appears to have benefited significantly from its existing brand identity, launching with over 100 major advertisers on its roster, including Marriott and Mattel.
That isn't to say that the streaming giant has experienced a frictionless transition to AVOD; despite amassing new subscribers relatively quickly, the platform bore the brunt of household cutbacks at the beginning of the year, potentially weakening its appeal. The mouse house also made the bold decision to veto certain brands from advertising on its ad-supported tier, staving off alcohol or political ads in the name of brand safety. Whether Disney can afford to be so picky is yet to be fully determined; despite gaining noteworthy traction at launch, scepticism has remained over whether Disney+ Basics is actually worth paying for. That being said, the firm's move to enhance its clean room's capabilities at the end of 2022 should keep brands and advertisers interested by providing them with a clearer picture of how their ads have performed on the platform and sidestepping privacy issues associated with third-party data.
Elevator pitch: Like The Mandalorian, Disney+ Basic is a new spin on an old classic which will undoubtedly benefit from an in-built audience. Certainly, there are legitimate concerns over the platform's viability as an AVOD platform in an already saturated streaming market which, coupled with a high CPM and Disney's own pickiness may put some advertisers off. That being said, Disney's status as an entertainment powerhouse has paid dividends to its streaming service, making Disney+ Basic a strong contender in the streaming wars.
Amazon Freevee
Unlike Netflix and Disney, tech titan-turned-entertainment powerhouse Amazon has divvied its attention between SVOD and AVOD for much longer, offering Amazon Freevee (the artist formerly known as 'IMDb TV') alongside its Prime subscription service. Entirely supported by, as Bloomberg described it, "a colossal number of ads", Amazon Freevee is unburdened by the need to sustain a paying subscriber base currently plaguing Netflix and Disney. On the flip side of that, however, the number of people actually watching Amazon Freevee is difficult to gauge – aside from impressive reports that the service experienced a 138% jump in viewers in 2021, the company is yet to detail how many eyeballs are actually on its ad-supported service. When you compare this to ad-supported heavy hitters Roku and Pluto TV, which report 80 million and 68 million monthly viewers respectively, Amazon Freevee may have an uphill battle to secure its place as a real contender in the AVOD scene.
Elevator pitch: Amazon Freevee is a perfectly serviceable AVOD offering, with a fairly comprehensive catalogue of programming (g'day Neighbours reboot) and the benefit of Amazon's powerful presence in media and entertainment, making it a worthy option for advertisers to consider. When held up to rival platforms Roku and Pluto TV, however, I can't help but compare Amazon Freevee to Ozark which, although a well-made and watchable TV show, is not quite Breaking Bad.
Apple TV+ (well, sort of…)
Okay, so Apple hasn't entered the streaming ad wars yet, however, rumours that the tech giant will integrate ads into Apple TV+ have circulated for months. The firm's hiring of TV and digital advertising executive Lauren Fry in February only compounded speculation that an ad-supported content is en route.
Should Apple take ads to its video streaming service, it could cause a major shakeup of the SVOD/AVOD playing field. The platform saw subscribers jump 29% from mid-2021 to mid-2022, and now owns a 6.2% of market share in SVOD. Although not a significant hold on the SVOD market, Apple's ownership sits hot on the heels of competitor HBO Max's 7%, indicating its potential for advertising to a substantial audience. Apple TV+'s growth could also pose a major threat to Netflix and Disney, both of whom have seesawed between gaining and losing subscribers. This threat, however, may never be realised, with Apple's attention seemingly focused on live sports streaming following its deal with MLB indicating plans to develop an ad network instead.
Elevator pitch: Much like a surprise announcement of a fifth season of Atlanta, Apple TV+'s entry into the streaming wars would prompt a lot of buzz – if it were to come to fruition. Due to its significant growth over the past 18 months, Apple TV+ could be well placed to woo advertisers away from Netflix, and possibly Disney. Without confirmation from the company, however, one can only speculate on how Apple TV+ could fit within the AVOD landscape and potentially reshape it.