ATS London 2023: Exploring the Intersection of Web3 and Law with Flavia Kenyon
by Mariam Ahmad on 7th Jun 2023 in News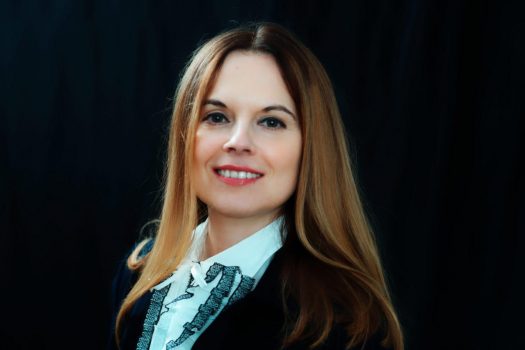 As ATS London 2023 fast approaches, we sat down with Flavia Kenyon, head of legal at the Big Innovation Centre, to talk about all things Web3, and some of the complexities that lie ahead, as well as what we can expect to hear from her at the upcoming event.
Integrating her wealth of expertise in advocacy and law with a comprehension of her clients' digital initiatives, Flavia Kenyon is somewhat of a legal trailblazer. The first British barrister of Romanian origin to practice in the UK, Flavia now heads the legal consultancy at the Big Innovation Centre in London, with a particular focus on disruptive technologies: blockchain, AI, Web3, digital finance and crypto-assets, and decentralised autonomous organisations, ('DAOs').
In 2015, Flavia took her initial foray into the realm of cyber law by defending a coder and malware creator in what is the largest phishing and malware-as-a-service trial witnessed in the UK to date. With an unwavering passion for law that is perhaps only matched with an enthusiasm for Web3 and its vast capabilities, Flavia Kenyon's advocacy marries the two.
We took an incursion into Flavia's world, hearing about all things concerning Web3's adoption and its potential legal ramifications, as well as what we can expect to hear from her as a speaker at next week's ATS London.
What motivated you to specialise within the areas of blockchain technologies, Web3, and cybersecurity?
My motivation, principally, is personal. My father was a software engineer and a coder, but unfortunately, he lived under a dictatorship - he was working with cybernetics at a time where free speech was not allowed. I didn't understand this at the time as I was a little girl growing up under this same dictatorship. I was fortunate enough to leave this behind and come to England, where I became a barrister and really understood the power of speech. In 2015, I was involved in a fascinating case where I represented a coder, so this is when everything really converged for me. I realised that blockchain technology and coding was now a part of my professional life, as well as a really important part of my personal life.
As ad tech increasingly adopts Web3 technologies, what legal ramifications do you believe are crucial to consider within this process?
If we think of the internet as a way to communicate value, peer-to-peer, Web3 triggers a fairer, more transparent and more equitable way of sharing and distributing control and power amongst stakeholders. And the focus is very much on the individual. So, empowering the individual to own and control his or her personal data. It's a complete shift from what we currently have - the dominance and power of big tech.
From a legal perspective, the onus is now on brands and advertisers to ensure consumer protection in the evolving Web3 ecosystem. The closer relationship between participants necessitates a consideration of what is being communicated through code, the concept of private ownership, the transfer of rights, and the shared obligations with customers. This shift is particularly complex in the blockchain-based metaverse.
For example, navigating NFTs can be complex. While collectible NFTs are not covered by current regulations, fractional NFTs or large digital collections may fall under regulatory frameworks such as the EU's Markets in Crypto-Assets (MiCA) regulation. This ambiguity can create confusion for brands and advertisers, who need to carefully analyse whether they are advertising financial instruments or other types of offerings.
The advertisement's content becomes crucial as well, as promotional advertising for financial instruments may require regulation by authorities like the Financial Conduct Authority (FCA) in the United Kingdom. Therefore, a comprehensive analysis of the technical and legal aspects of what is being offered for sale or advertised becomes necessary for both brands and advertisers.
How do you see IP law evolving to accommodate the unique challenges posed by decentralised systems and digital assets?
The key question for individuals and brands to consider within this is: do rights in the physical world - IP laws and trademark laws, for example - carry across the blockchain into the virtual?
I suppose for IP laws, the challenge in the digital world is what does ownership mean in the Metaverse? Legally, this is a very convoluted question and there is no one answer. It's dependent on what the digital asset is, and going back to NFTs, there has been a lot of confusion - when people purchase an NFT, what do they actually own? You have the right to possess a copy but may not have the right to make derivative work from the original. It's the idea of control over ownership. There are so many differing aspects that need to be understood between consumers and brands.
Given the fast-evolving nature of Web3, what strategies do you recommend for staying updated on the latest legal developments in the field?
There are not enough hours in the day! People have to become more aware of the consultations that the government publishes - these consultations are for the public. The whole process of learning new information and keeping up-to-date requires a lot more education. It requires a lot of reading, and keeping up-to-date with bills that are being proposed both here and in America, for example, where a lot is happening within this space. I attend conferences and webinars - lawyers give a lot of talks, go and attend one of those talks that is about a topic that is important for your business. Long gone are the days of silos, we need to have an open dialogue as stakeholders. If you want to be part of Web3, how are we making sure that we are all benefitting from this?
I'm learning a lot personally from working with coders directly on projects and how I can get the law to work hand-in-hand with coders and talk directly to them.
We're eagerly anticipating ATS London. Could you provide a sneak peek into the topics and discussions you'll be focusing on during the event?
I'm hugely looking forward to speaking at ATS London. It's a first for me and I think it's a great audience - I'm really looking forward to meeting them and finding out what their specific challenges are. I'll be talking about what a company is going to look like in Web3 and the Metaverse. I will also be talking a lot more about legally binding smart contracts that enable us to transact safely.
---
Don't miss out on hearing Flavia talk at ATS London 2023 on June 13th and 14th at Central Hall, Westminster. Final tickets available now.
AdvertisingATS LondonBlockchainDigital MarketingMarketingStrategyWeb3