Company details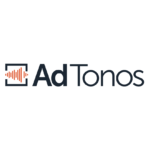 AdTonos
Categories:

Website:

Email:

Geography:

Location:

Specialism:
AdTonos has raised the benchmark for audio engagement with the launch of many innovative solutions and we're excited to be working with them as they transform the future of radio ads
AdTonos changed our perception as it offers all we would expect from a digital native environment that we didn't get before from traditional radio offers
Company description
AdTonos is a programmatic audio advertising platform that connects advertisers with publishers. The marketplace offers multiple ad placements from well-known pre-rolls, through to mid-rolls and real-time ad replacement for live streaming. This provides advertisers with vast reach across digital audio channels, while radio stations, podcasters or music streaming services profit from the use of an effective tool that supports them in growing their revenues from online advertising. Brands have, at their fingertips, an easy-to-reach audience of more than 15 million unique online audio listeners from the UK and worldwide and a potential of at least 200 million ad playouts a month. AdTonos is supported by the UK's Department of International Trade, helping the company to scale globally, and is a member of IAB UK, IAB Europe and the European Association of Commercial Radios, which represents commercial radio at the European Parliament.