ADFOX Report: Russian RTB-market in H1 2013
by Romany Reagan on 5th Nov 2013 in News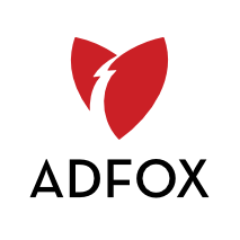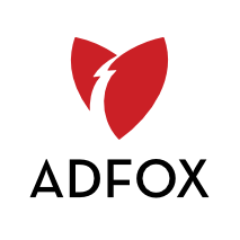 According to an AdEx Benchmark 2012 study, published by IAB Europe, Russia ranks fourth in Europe in terms of its online advertising market (€1.6 billion in 2012). The Russian market has grown at an impressive annual rate of 34%. The development of programmatic buying has been a significant driver of this growth. Last year, the main players in the RTB market were identified, which included almost all of the major internet companies. European and American companies are now looking at the Russian market with great interest, and this promises to be an important impetus for further development. While the major RTB markets are already fully mature, the Russian market is now on the threshold of it.
Lagging several years behind the US and Europe in terms of development, we now have every opportunity to rapidly close this gap. Our products and experience mean that we can now work at full throttle. It is up to the Russian publishers, which are still wary of putting their traffic up for auction, and advertisers who need to get used to the new buying model.
According to experts, in the first half of 2013 the RTB market in Russia broke the 0.4 billion rubles mark ($12-13 million), and with each passing quarter the market is continuing to grow strongly. At the end of last year, while discussing the forecasts for the RTB market in Russia in 2013, experts gave an average estimate of $50 million. They based this on the fact that revenues from RTB advertising could reach around 5% of the display advertising market. Will these estimates be correct? What changes have we seen in the market in the last six months, what are the trends and which Western players have turned their attention to the Russian RTB market? We have tried to answer these questions in the second RTB Market Watch in Russia.
In preparing this review, we drew upon our own experience of using the ADFOX SSP product, foreign studies and reviews, materials from the media, and the comments and opinions of the players on the Russian market. We want to thank experts of online advertising market for participating in the study, and in particular Sergei Zhuravlev, founder of "Kavanga" company, Oleg Nazarov-Bruni, CEO of HubRus and Dmitry Cheklov, CEO of Targetix.
In 2013, three new trends have come to the forefront in all western RTB markets:
-- The consolidation of the major players in the market that hold user data
-- The use of RTB in mobile advertising
-- The use of RTB in video advertising on the Internet
Publishers team up to sell to users via an auction
In the West, where RTB technology is not an experiment but rather a proven revenue stream, publishers are increasingly creating in-house solutions, sometimes teaming up to do this. As we remember, AOL has its own network Ad.com. It sells, for example, The Huffington Post and TechCrunch traffic.
In Russia, despite the fact that growth in the Russian internet video segment has slowed somewhat in recent years, the video advertising market is continuing to grow fast. According to Gazprom-Media Digital and the Video International Analytical Center (ACVI), in the first half of 2013, video advertising expenditures increased by 60-75% to RUB 0.9-1 billion. The forecast for 2013 remains unchanged: advertisers will spend RUB 2.5-3 billion on video ads in Russia.
Russia. Numbers, facts, forecasts
What is going on?
According to comScore estimates, in Russia today there are more than 61.3 million unique internet users aged 15 and older. According to the Public Opinion Foundation, in the fall of 2012, the monthly internet audience in Russia is 61.2 million people over 18 years-old, which is more than 52% of the entire adult population of the country. Three-quarters of them (47 million people) go online daily. The Russian Association for Electronic Communications (RAEC) estimates that each user spends 100 minutes a day online. IAB Europe has called Russia the fourth biggest market in Europe in terms of investment in online advertising.
In 2012 in Russia the internet advertising market began using the RTB model. Almost all the major players launched their own RTB service, the prospects for new technologies were discussed at conferences, journalists worked to figure out the intricacies of online bidding, and advertisers started asking their agencies: Is it worth a try? But despite this widespread interest, not everyone took action. It is clear that at this starting point of the new scheme to sell traffic it is inevitable that there will be problems.
The Russian market is very different from that of Europe and the US. The leading positions are occupied by local players, who typically work with the familiar model of fixed price advertising. Websites are used to selling ads directly, and to know in advance how much they will earn in the next month. Advertising agencies are used to directly buying ads by booking space in advance. To grasp the financial benefits of online bidding and adopt the new advertising scheme, some time is needed. 2013 will focus on this adoption process.
RTB in Russia is now working and bringing in money. According to expert estimates, this was about 0.4 billion rubles ($12-13 million) in the first half of 2013. However, so far only a few of the premium publishers are putting their traffic up for auction, and few advertisers are spending large amounts of money on algorithmic purchases. The only exceptions are retargeters, which as of now constitute the majority of advertising budgets in this market. In addition to local players, major foreign retargeters are interested in Russian traffic: for example, myThings and Sociomantic have already opened offices in Russia.
Who is buying?
According to Google, in Russia retargeters buy more than 75% of the traffic in AdX, advertising networks buy 15%, and DSPs and advertising agencies buy less than 10%. At the same time, in the US DSPs buys about 40%, networks — almost the same amount, and retargeters — a little over 20%.
The DSP market in Russia is represented by several major local players, some foreign platforms and a large number of small buyers.
DSPs operating on the Russian market:
o Adnologies
o AdSniper
o Appnexus
o Begun
o Crimtan
o Criteo
o Doubleclick bid manager
o Hubrus
o Kavanga
o Konverta
o MediaMath
o Mythings
o Rutarget
o Soloway
o Sociomantic
o Targetix
o Turn
o Video International
Large advertisers, as in the US, are on the path towards creating their own technologies for purchasing pay-per-click traffic. The platform Data Mind was created from such in-house technology, which was originally unveiled as an independent DSP, but a year later became a division of TCS Bank. Major online retailers such as Lamoda are independently procuring goods. We can say that a new In-house DSP segment is emerging on the market.
In-house DSPs on the Russian market:
o Lamoda
o DataMind (ТКС)
o Xplosion (Otto Group)
The Russian market is saturated with solvent users, and is attracting the attention of foreign players. According to the study Data Insight, in 2012 Russians made between five and eight million purchases in foreign online stores, worth a total of $1.3 billion.
Among the key drivers of growth of the RTB market, experts point to advertising agencies, which must soon move in this direction. As the head offices of many major network agencies are located in the US or Europe and already fully enjoy the benefits of programmatic buying, the active dissemination of algorithmic purchases in Russia is only a matter of time. RTB has benefits for agencies. Now agencies can easily purchase a single target audience on websites with different advertising platforms. Yet today, even when buying visitors from a DSP, they try the old trick of "keeping the audience for themselves" and buy a bundle of impressions won at auction.
It is the lack of qualified professionals on the part of advertisers that is largely inhibiting the development of the RTB market in Russia. The problem could be solved by holding training sessions for employees of agencies to teach them about the basic principles and specifics of automated purchasing. Regarding advertisers who are already experimenting with programmatic buying in Russia, according to agencies and DSPs, cars, real estate, finance and e-commerce advertisers dominate.
Who is selling?
Publishers are also very apprehensive. While in the US traffic is sold by premium content sites via RTB, in Russia many sites are worried about data security. Of course, you do not have to give full details of the impressions put up for auction, but it's a double-edged sword, as anonymous traffic has a much lower value, and by concealing information about the destination page, publishers run the risk of having significantly lower purchases. At the eTarget conference Artem Parshentsev said that the share of anonymous traffic to Google sites in Russia stands at about 60%, whereas in the US this figure is less than 20%.
At the same time, ADFOX is offering another approach to the sale of traffic through auctions, in which information about the impressions put up for auction is given in full, and anonymous traffic is kept to a minimum. Through SSP exclusively premium traffic is sold with a fairly high minimum purchase value. High minimum prices are used by websites to reduce the risks of loss of income. Site owners have the leverage to optimise revenue by targeting buyers, and by setting a minimum price and the level of transparency of the traffic.
In the Russian market the following companies have their own SSP service:
o ADFOX
o AdRiver
o Begun
o Between Digital
o DoubleClick AdExchange
o OpenX
o Republer
o Yandex
Players provide a total volume of about six billion impressions available via RTB, a week. In the near future, a few more players plan to launch their own SSP solutions, such as Kavanga with its SSP-service Republer.
The Russian market of automated sales traffic has huge potential. It is estimated that today the Russian ad-serving systems provide at least three billion impressions per day, a not insubstantial part of which can potentially be put up for auction. The market leaders of external technologies for advertising management are AdRiver and ADFOX, and the largest online projects such as Yandex, Odnoklassniki and Vkontakte have their own technology.
Where does the data for targeting come from?
In Russia, as throughout the world, data is collated by major internet services and social networks, such as Yandex, Google, Rambler, Mail.ru, VK and Facebook. Other players have extremely limited access to this data, as user profile data is used by the companies themselves, which last year entered the RTB market.
Other players use the services of existing suppliers to get third-party data. These suppliers can be divided into two groups:
1) companies that possess data that provide it for targeting advertising (Data Suppliers)
2) companies that aggregate the data of suppliers to generate aggregate profiles based on several sources (DMP).
The companies that provide data for targeting advertising include:
Data Suppliers:
o AddThis
o Adex
o Liveinternet
o Pluso
o uLogix
o Visual DNA
DMP:
o Aidata.me / Loger
o Auditorius
o Lotame
o Visual DNA
What sells well and for what price?
The most popular format in Russia is 240x400, and as expected it is also the most popular format in RTB auctions. Almost 70% of impressions won through auctions were sold in this format. The next most popular formats are 728x90 and 300x250, which are the leaders in the European RTB market.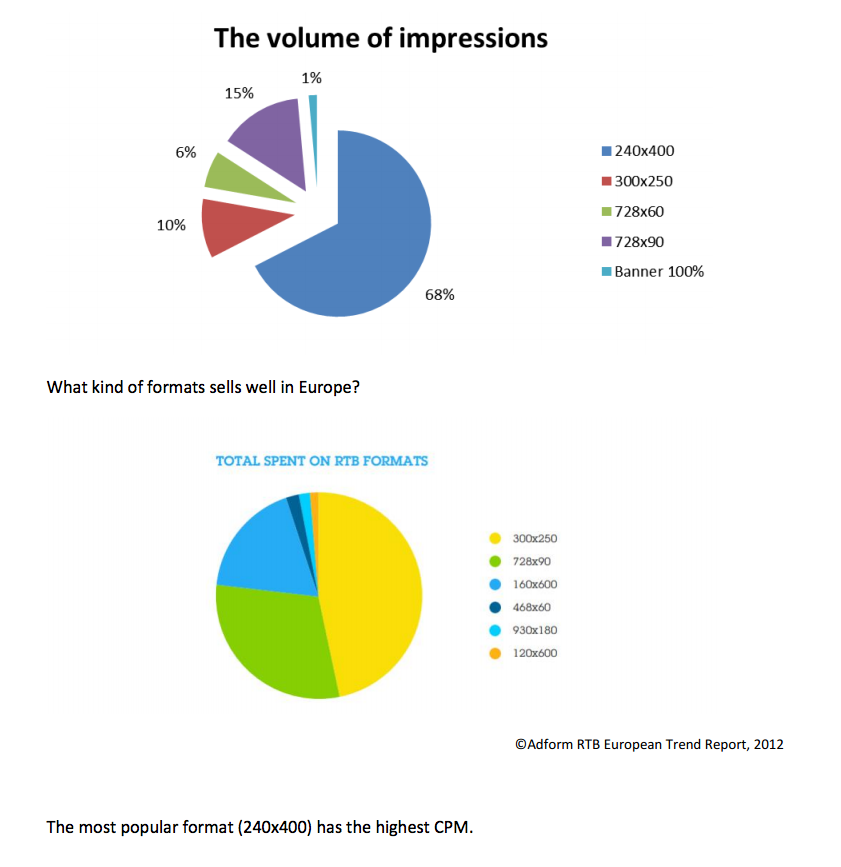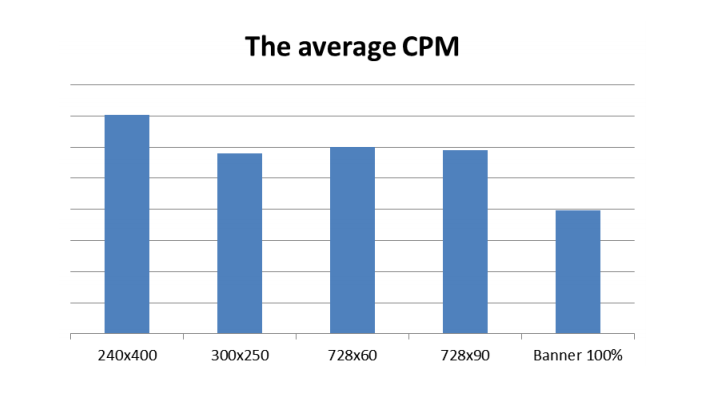 What are the problems?
Today, with the high growth rates of the RTB market in Russia there are still certain factors that are inhibiting growth. The main ones are:
o Publishers are concerned about their data
o It is profitable for agencies to continue working in the old way
o Buyers are only just beginning to experiment
o It is not clear what kind of data is going to be supplied, and by whom
o The pricing models, standards and quality verification mechanisms are not yet fully determined
What does the future hold?
Experts predict that in 2013, RTB will constitute 2-5% of the display advertising market. This year is the time for both advertisers and sites to gain a full understanding of the advantages of the new purchasing schemes. Technically, the auction system in Russia can already be put on full throttle, but market participants are not eager to abandon conventional models in favour of unfamiliar schemes with a non-guaranteed income.
The short-term forecasts are much more optimistic. The founder of Kavanga, Sergey Zhuravlev, believes that in 2014 the share of RTB in the display advertising market will jump to 10%. After the first year of growth, which saw the new market segment starting out from point zero, growth will increase rapidly.
The CEO of Hubrus, Oleg Nazarov-Bruni, agrees with this. He is confident that the Russian market will grow faster than the US market because it will 'skip' a few steps. All the required products have been invented, and Russian specialists just need to promote them to their customers. According to Oleg, in two years the Russian market will grow as fast as the US did in five years, and 30% of media budgets will be spent on RTB.
The international company Aegis MediaMore gives more cautious forecasts. This year the company launched a Russian technology platform for the purchase of digital advertising via the RTB model AMNET. The CEO of AMNET, Kirill Chistov, speaking at a Russian Internet Forum in the spring of 2013, forecasted that in 2015 the Russian RTB market will constitute 15% of the total display advertising market.
In 2013 and 2014, along with an open auction among multiple DSPs, the Russian market will begin the first steps on the use of programmatic direct. This technology involves the sale of traffic to a single buyer outside the auction, but using the same technology and standards, and at RTB-auction. Programmatic direct allows agencies and DSPs to use the RTB-procurement scheme, working under a direct contract with the sites.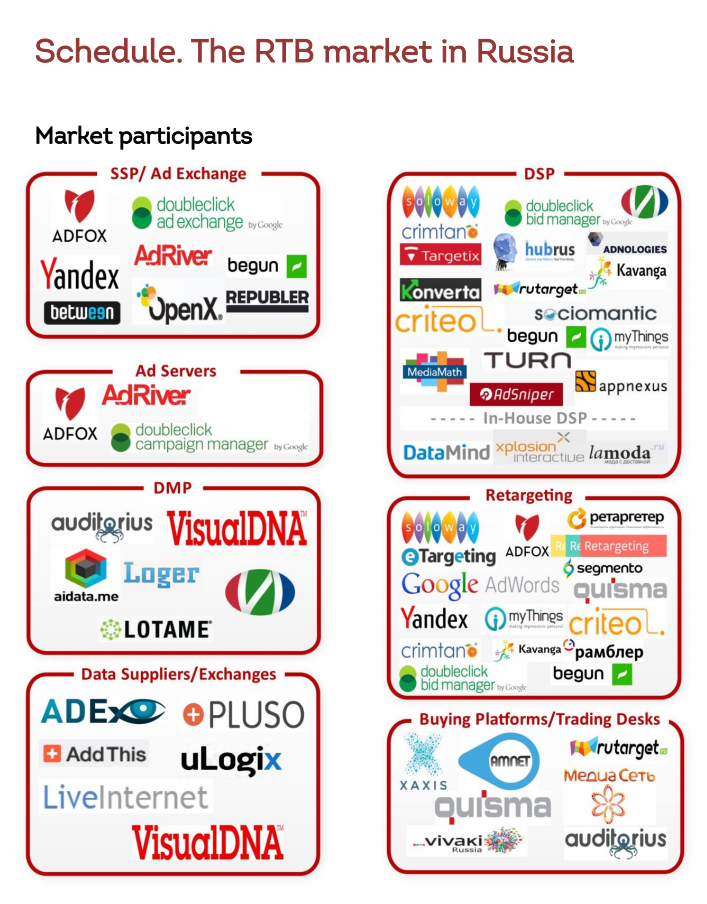 AgencyDSPEMEAProgrammaticPublisherSSP