Microsoft Underlines its 'Cross Screen' Credentials & 'Unique' Pitch
by Ronan Shields on 2nd Oct 2014 in News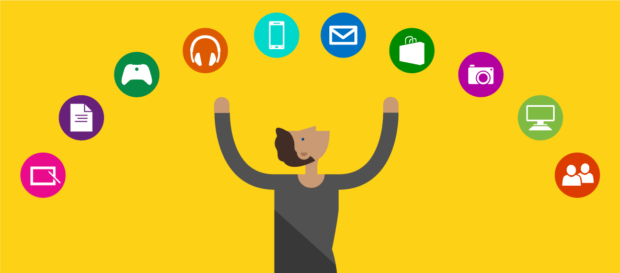 Facebook and Google reign supreme for cross screen advertising, but desktop behemoth Microsoft contends the battle for ad dollars in a 'mobile-first' world is far from over.
This week it unveiled its latest operating system (OS) Windows 10, and overhauled MSN in the UK, building on the recent addition of Windows Phone and Windows 8 Ads-in-Apps inventory to the Microsoft Advertising Exchange (MAX) as it attempts to underline its ares in the cross screen environment. ExchangeWire speaks with Simon Halstead, Microsoft Advertising, director, exchange and channel partner management, EMEA, to gauge Microsoft's approach to the market.
As the industry looks to Ad Week, New York for some of the biggest announcements of the year, Facebook's relaunch of the Atlas targeting platform (which it actually bought from Microsoft 16 months ago) has taken the lion's share of the week's press coverage.
The newly rebuilt platform promises advertisers "people-based marketing" opportunities, and also proposes an alternative to the fast-diminishing cookie as a means of targeting users across screens, primarily based on its user log-in data. Meanwhile, Google too used the week's proceedings to announce its latest cross screen offering to advertisers.
Microsoft's cross screen vision
However, not to be silenced by the pair, Microsoft also unveiled its latest OS Windows 10 (yes, it skipped version 9, and went straight to 10) which will serve as the de facto OS for all devices running on Windows upon its release in the new year.
In addition to this, Microsoft has also announced a new version of its desktop portal MSN, which it claims combines the "engagement of an app, with the reach of the web", in its eagerness to convince advertisers of its "cross device storytelling capabilities".
With 10 content verticals – News, Entertainment, Sport, Money, Lifestyle, Health & Fitness, Food & Drink, Travel, Cars and Video – Microsoft Advertising has convinced brands including Sony Mobile, Nissan and The Potato Council to take part as initial launch partners of the new MSN. This is in addition to MSN's "content partners" Sky News, The Telegraph, the Guardian, CNN and The New York Times, as well as The Financial Times.
In the latest series of launches, Microsoft is keen to highlight how its wares can be accessed across screes, with the press release announcing the new MSN claiming it will sync across the mobile apps, offering integrated access to Office documents, and sites such as its email service Outlook.com, Facebook, Twitter, OneNote, OneDrive and Skype.
This adds to the recent announcement that Microsoft is now serving Ads-in-Apps – inventory for Windows Phone and Windows 8 – which are available on its ad exchange MAX for the first time, in the UK, as well as several key markets across Europe and the Americas.
In a blog post announcing the launch, Esco Strong, Microsoft Advertising, director, programmatic advertising, said: "Buyers who are familiar with RTB now have even more Microsoft screens than ever, bringing campaigns together is as easy as the way they're purchased.
"For developers and publishers, the availability of Windows 8 and Windows Phone Ads-in-Apps inventory on MAX means that ad inventory is now connected to a new and scaled source of advertiser demand."
'Unique' offering 
Speaking with ExchangeWire, Simon Halstead, Microsoft Advertising, director, exchange and channel partner management, EMEA, said the stringent measures the company goes to vet inventory on MAX is what sets it aside from alternative exchanges (an issue which has become increasingly high-profile due to several gaffs from firms such as Facebook within the last year).
Halstead also pointed out that inventory in the newly launched version of MSN has been available in beta for some weeks. He added: "We want to refresh it [the Microsoft offering] as an opportunity, and again we are trying to provide premium inventory with quality content across major verticals."
He added: "Where the consumer is, we want to monetise that as efficiently as possible… This strategy has also included bringing our increased premium inventory to bear. For instance with [Microsoft's VOIP service] Skype, we have had a real increase in volume and scale. Also from Outlook."
Balancing act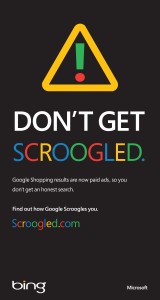 In its bid to prove a point of differentiation in the market, Microsoft has been positioning itself as the ecosystem that respects users' privacy, unlike alternatives, especially Google (see its 'Don't get Scroggled' campaign). A message that has become all the more pertinent in light of the phone hacking scandals, and NSA privacy tapping headlines which have hit the headlines, arousing public awareness of such issues.
However, this could prove a difficult balancing act with advertisers, whose priorities are more focused on consumer targeting, whose interests would appear to be at odds with such messaging. Halstead explained the company's position to ExchangeWire.
"We're trying to give advertisers what they need, but still by keeping respect for our users."
He added: "We're pushing out things like Device ID in the apps and Windows Phone space, and we're also supporting other targeting capabilities such as lat/long."
MAX gives advertisers access to users' device IDs, as well as the AppNexus ID (the ad tech firm has been a core partner of Microsoft since its inception in 2011) in order to improve targeting. But it is not providing advertisers with a "Microsoft ID", according to Halstead.
"Where a buyer has a solution in place to track from web to mobile, we should be able to help them complete that process. But we're not being the matching agent," he added.
Leading a cross screen ID consensus? 
As mentioned above, Microsoft is keen to use its unfamiliar 'underdog' status, to position itself to the digital industry's leading lights (and in ad tech, you'd have to finger Facebook and Google as such).
ExchangeWire readers and audiences have been debating the possibility/likelihood of the industry consolidating into a few ecosystems as the cookie becomes an increasingly redundant way of measuring engagement with ads, as we enter a cross screen world.
Some of the more dystopian of forecasts envisage a scenario where the likes of Facebook and Google dominate the ad tech world due to their scale and reach (this at the expense of smaller companies).
Some advocate the industry collaborating to come up with an industry standard methodology to measure advertising effectiveness to prevent such domination by the few. Given Microsoft's apparent eagerness to position itself as a more palatable 'third way' to more established market players, could it possibly lead such a charge?
Microsoft's Halstead played down any such notion when asked by ExchangeWire, emphasising that it doesn't want to be the industry's "matching agent". He further lists the complications making this a near impossibility.
"Microsoft has incredible reach to identify users across screens and devices. But I think the question of a common currency is challenging for everyone," he said.
"We're not looking to be that matching agent for the industry, especially as you get into the Balkanisation question [where the one industry fragments into different parts].
"When you use computational tracking, which is what we do in this industry, it's very hard to come up with de facto standards. You are talking about a lot of data that's important to consumers and advertisers. Plus a lot of people have a lot of assets they don't want to release as they want to have a point of differentiation."
AdvertiserCross-ChannelDigital MarketingExchangeTargeting