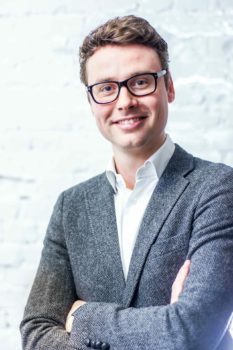 Gareth Davies, Adbrain, CEO, and ExchangeWire columnist, discusses the benefits of establishing an industry standard way of targeting audiences in a mobile-first world, as well as an alternative scenario where the industry is controlled by a few vested interests. 
Programmatic players are enjoying their time in the industry spotlight as they continue to attract large investment rounds, or eye potentially lucrative public listings. But this quest for investment returns means that every tier of the market must attempt to alter the industry landscape, drive growth and secure their futures.
However, despite the promised growth of programmatic, all is not rosy. The transition to 'ad tech 3.0' – a concept I will introduce and explore in more depth below - means many 'traditional' ad tech players are feeling the burn as they lose sight of consumers who are rapidly moving to mobile.
Not so the monoliths of the digital advertising world. Google and Facebook alone own 75% of the total mobile advertising pie, the future of consumer internet access, and a good chunk of wider digital ad dollars. They and other 'walled gardens' are armed with rich first-party, cross-device data and preferential access to premium inventory at scale.
The potential for true audience insight and multiscreen user targeting, frequency capping and attribution to understand the full consumer path to conversion, and ultimately what ad to show to whom, on what screen and when, is enormous.
This brave new world is what I call 'ad tech 3.0'. It's a data-rich, mobile-first, cookie-less, audience-centric world where premium inventory and first-party data rule supreme.
It no longer matters who owns the pipes, but who owns the data. And who knows more about your customers than the 'walled gardens'?
The big questions are these:
'In a world where the Walled Gardens increasingly own the end-to-end ad tech stack, what are the implications for advertisers and marketers – and let's not forget the agencies?
Will digital advertising remain open, or will the tech giants increasingly own it?
And what happens if open RTB ('ad tech 2.0') becomes closed RTB ('ad tech 3.0')?
Who are the winners and losers, and why should we care?
How we got here
Before we attempt to answer these questions, allow me to quickly recap the last 15 years of ad tech.
'Ad tech 1.0' was the infrastructure phase, when the industry focused on building the pipes to serve ads and deliver cross-publisher targeting, frequency capping and last-click conversion reporting, all tied to our friend, the desktop cookie.
'Ad tech 2.0' is the stage we all know and love, the open RTB era, where the bidding pipes were laid, and fortune favoured those with liquidity and scale. The true winners of this open world were companies like AppNexus (and let's not forget Google) who recently secured a $1.2bn valuation thanks to its focus on innovation and openness on both the supply and demand sides.
But as such milestones are met, widespread consumer adoption of mobile and advertiser demands for audience insight across devices, premium inventory, brand safety, first-party data and more are shifting the sands, ushering in 'ad tech3.0'.
What will be required in an 'ad tech 3.0' world?
Firstly, we'll need solutions that are mobile-first, as the world truly enters the post-PC era.
However, we can't stop there, as we'll need solutions that unify the user across devices, as our 'online lives' increasingly take place across a number of screens, and even begin to extend into connected TVs, wearables and cars.
Marketers will demand to control – translating into ad targeting, ad delivery, frequency capping and post-impression conversion attribution (death to last click!) across all devices and user touch points. And they won't stop there – easy access to premium, brand safe inventory and data at scale will be next.
All this will be performed through a central decisioning platform. After all, who has time to log into 15 different platforms anyway?
And what about the publishers? They will want the ability to truly understand their multiscreen audiences, whether they log in or not (let's figure that unless they are a walled garden, Facebook looks after their login needs), increase on-site engagement and critically, increase advertising yield.
The (attempted) rise of the walled gardens
As the industry changes into third gear, we are starting to see walled garden companies building, having built or buying as we speak. Think Facebook with LiveRail and Atlas, or Google with its phenomenally large buy- and sell-side stack - amassing hooks into the entire data flow. This gives them huge influence on brand spend, as well as (arguably) ownership of brands' and publishers' audience data.
How the worst could happen
Three years from now we could be facing a situation where the major tech players (let's add Yahoo, AOL, Microsoft, Apple and vertical players like Amazon, Tesco, Alibaba, etc. into the mix) buy or build their own point solutions to offer full end-to-end stacks. They could then make these tools (such as demand-side and supply-side platform facilities) free, or close enough to free, to both advertisers and publishers alike in return for ad dollars to flow through their media. It happened during 'ad tech 1.0' after all.
As a further incentive for advertisers to spend more of their dollars, they are also likely to bundle-in their own first party, the best kind - mobile rich, cross-device audience data, which will doubtless increase targeting accuracy of the advertiser's media buy, plus solve a lot of operating headaches for brands and publishers alike.
Expect the 'walled gardens' to aggressively step-up their efforts to also close private marketplace (PMP) agreements with premium publishers, creaming off the best inventory to inject with their data, yielding great returns for brands and publishers alike.
Short-termism
The risk of course is short-term benefit, at real long-term cost, as both marketers and publishers risk giving away insight into just whom their audience is.
By relying on 'out-of-the-box' ad tech stacks from 'walled garden players', brands and publishers risk ceding control of their audiences to third-parties.
And what about the fate of open exchanges?
It wouldn't take a huge leap to imagine the flow of these impressions funnelled to 'walled garden', data rich PMPs, never to re-emerge on the other side.
Who would blame those who buy in? When you think that the average tenure of a CMO is 45 months, according to a recent Gartner study, it's possible to see how they would elect to work with 'out-of-the-box' solutions to drive results.
Plus it's also easy to see why premium publishers (which are under horrific pressure to reverse their historic decline in revenue) would be willing to take such short term measures.
How ad tech 3.0 can stay 'open'
Now I may be all wrong, and I hope I am.
Three years from now my dystopian nightmare could just as easily be a utopian dream where brands, publishers, agencies and the 'walled gardens' collaborate to drive open innovation and scale.
To do this we need alternative operating models, and an industry-wide consensus on how to devise open statistical IDs (namely best practice on which data points are the best to collect) so that brands and publishers can own and take advantage of their own data in order to find their audience across devices and media environments (open and closed), without having to rely on the data of the few.
Just who is best placed to achieve this harmonisation remains to be seen. It may require a single trade body, or an alliance of forward looking companies to galvanise the ad tech sector and act in unison.
But it is certainly something we all need to look out for over the next three years as we truly shift gears and welcome in the era of 'ad tech 3.0'.
Gareth Davies will be participating in a panel discussion on 'Building Statistical IDs' at this year's ATS London.
AdvertiserATSAutomated GuaranteedBrandingCross-ChannelCross-DeviceDataDigital MarketingDisplayDMPExchangeFacebookMartechMedia SpendMobilePerformanceProgrammaticPublisherTargetingTechnologyTradingTrading Desk