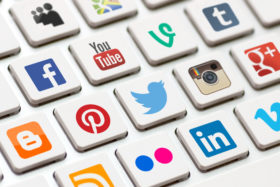 Instagrammers are posting over 80 million pieces of content every day, with the platform boasting 300 million daily active users (DAUs). Snapchat isn't far behind, with 100 million DAUs and a grand total of nine thousand snaps posted every second. The popularity of content sharing platforms means brands must have a strong presence on each of them. This edition of ExchangeWire's Now & Next feature examines what brands must do to strengthen engagement on content sharing platforms, how strategies must evolve, and the future of these platforms.
Why so popular?
Content sharing platforms have realised huge increases in ad revenue this year, with Instagram's figures increasing 196%, from USD$630m (£500m) in 2015, to USD$1.9bn (£1.5bn) in 2016. Why are media professionals investing so heavily in content sharing platforms?
– The next generation: Advertisers are obsessed with building loyalty among the next generation of consumers – namely millennials and Gen Z. Therefore, it's no wonder advertising on platforms such as Snapchat and Instagram is so popular. Nearly nine in every ten (86%) Snapchat users in the US are under 35, with 58% of American Instagrammers falling into the same age bracket
– Consumers' lack of trust in traditional advertising: This means advertisers are having to look elsewhere to connect with consumers. Only 6% of those aged 16-49 in the UK trust traditional advertising, while over three-quarters prefer looking at user-generated images, according to a survey by Olapic. Over half (56%) of respondents are more likely to click on an ad that features a user-generated photo, and the same amount are more inclined to buy a product after seeing this kind of ad
However, Instagram and Snapchat aren't the only content sharing platforms out there, and others attract very different audiences. This means having one overarching social media strategy will not engage the full spectrum of audiences across content sharing platforms. So, if the type of user varies by site, how do advertisers segment their social strategy?
Demographically
'Social seniors' are much more active on Facebook compared to any other content sharing platform. More than half (56%) of this group use Facebook – only 6% use Instagram. Nearly two-thirds (62%) of LinkedIn users in the US are over the age of 35, while 82% of Pinterest users are female. While it's easy to be drawn into investment in this area by the promise of huge exposure in front of millennial audiences, advertisers need to take a closer look at exactly who will be viewing their content before forming a content strategy, to get the most out of their target audiences.
Geographically
Geographical variations in the type of content being posted mean that marketers from different regions need strategise in line with the prevailing social culture. For example, Japan has adopted Facebook as a tool for professional communications. The social media giant has a 'real name system' in place, and encourages users to report people who are using aliases. This is something Japanese audiences aren't comfortable with. However, this feature is useful when making new business communications, allowing users to initiate and cultivate business relationships. On the other hand, 43% of US female Facebook users say they use the site to view funny videos, rather than build professional relationships.
Anonymity is also the reason Twitter is more popular than Facebook in Japan, combined with the fact the in Japanese you can say almost double what you can say in English with 140 characters. If advertisers want to optimise their social strategy, cultural variations must be understood.
Metrics, miscalculations and mistrust
If advertisers can perfect their global social strategy, potential revenue and engagement benefits are vast. However, does this mean ever increasing investment in advertising on content sharing platforms is a forgone conclusion? Not necessarily. The levels of money flowing into social ad spend, could lead to oversaturation of content on these platforms. This would create irritation among consumers, decreasing the ad effectiveness and causing advertisers to re-direct their spend. The social sharing platforms are going to have to carefully balance monetisation with user experience.
The main concern among advertisers centers on measurement and hitting KPIs. Facebook in particular has been criticised over faulty measurements, which included:
– A miscalculation on Facebook Instant Articles content, whereby the average time spent on a post had been over-reported by 7% to 8% on average since August 2015
– Miscalculations in referrals in its analytics for apps by around 6% for its most frequent users
– The overstating of average video viewing time by between 60-80% for over two years
There was already skepticism around metrics before these issues arose, with 44% of firms saying they haven't been able to show the impact of social media spend. Now incorrect figures have been unveiled – figures which dictate whether or not brands invest in Facebook – advertisers may choose to invest their budgets in mediums with greater transparency.
This could be a particularly pertinent challenge if Facebook continues to buy other successful content sharing platforms. With their acquisition of Instagram in 2012, for USD$1bn, and their attempted purchase of Snapchat for USD$3bn, it is clear Facebook sees these platforms as crucial to their future revenue. However, advertiser's misgivings about the company's metrics could easily spread to new Facebook purchases, limiting ad spend to the social network's new acquisitions. The only solution here is to have cross-platform consistency around how campaigns are measured, giving advertisers total transparency. This needs to be installed promptly if trust is to be re-built.
Inevitable investments
The coverage advertisers can gain from positioning on content sharing platforms means that realistically ad spend will continue to rise, especially if competition is bolstering its presence here. But what will the future of these platforms look like?
Research, research, and more research
Advertisers committed to allocating budget towards social will need to research how different platforms are being used. This will help ensure they are placing pertinent collateral on each format to boost engagement. It will also help support data-led creative to increase the relevance of ads.
Despite the benefits of research for more effective targeting, it is not something which will be an industry wide phenomenon. Only earlier this year, for example, P&G cut spend for targeted ads on Facebook, saying they had become "too narrow" in their approach, and instead focussed on a broader reach. For similar size brands, research to support better targeting may not be adopted. However, brands that don't have big budgets like P&G must conduct demographic and geographic research, in order to minimise wasted spend.
Consolidation?
We predict that Facebook will continue to invest in new content sharing platforms to further build their dominance in this area. Instagram represents around 11% of Facebook's quarterly revenue, meaning future forays into this space are guaranteed, given the success of this acquisition. The social giant's re-branding of itself as a 'video' company (think Facebook Live), again hints at future acquisitions.
When it comes to making these purchases, Facebook will be looking to buy quirky new apps which offer innovative ways of sharing content, that offer advertisers a platform to engage the next generation.
In Spring 2015, only 13% of US teens considered Snapchat the most important social network, compared to 32% who considered it to be Instagram, 24% Twitter, and 14% Facebook. By Spring 2016, Snapchat had risen to 28% and overtaken all of its closest rivals. Although Instagram is trying its best to match Snapchat (largely by copying its features), it is only a matter of time before Facebook decides to buy a possible solution to Snapchat's dominance of the millennial.
TagsDisplayFacebookIndustry InfrastructurePublisherSnapchatTargeting