Increase in Publisher Revenues; Sizmek & PubMatic Join Forces
by Sonja Kroll on 13th Apr 2018 in News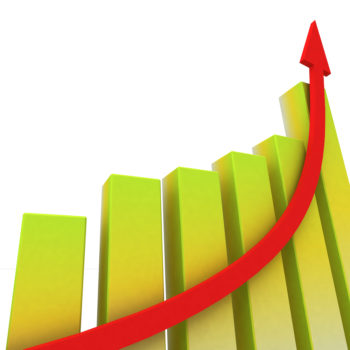 ExchangeWire rounds up some of the biggest stories in the European digital advertising space. In this week's edition: Publisher Revenues Increased by 5.6% in 2017; PubMatic & Sizmek Join Forces for Supply Path Optimisation; Ligatus Partners with Le Monde; European Acquisition for Velocidi; Sublime Skinz integrates into TabMo's Hawk DSP; Sovrn Receives Gold Standard Certification from IAB UK; and TVSquared Gets USD$8m Funding.
Publisher Revenues Increased by 5.6% in 2017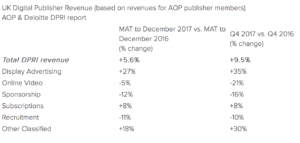 According to the quarterly Digital Publishers Revenue Index (DPRI), publishers' total digital revenue grew by 5.6% year-on-year in December 2017. The increase is mainly driven by display advertising, the report finds. The growth resulted in a total digital revenue of £365.5m. The increase was fuelled by a 27% annual revenue increase from display advertising. Display advertising in 2017 grew from £148.9m to £189.2m, with subscriptions representing a significant revenue stream for digital publishers, contributing £34m.
"Total digital revenue grew in 2017 driven by very healthy income from display advertising", says Richard Reeves, managing director, AOP. "Additionally, innovation and collaboration across the industry has resulted in fresh approaches to publisher revenue streams – with the marked rise in subscription payments being a testament to the value people place in sources of trusted content."
Looking at 2017, B2C publishers recorded revenue growth to the tune of 8.1%, while B2B publishers reported a decline of 6.5%, mostly due to declines in revenue from sponsorship (-51%) and recruitment (-13%) during 2017. Revenue from subscriptions now has a share of 45% in B2B publishers' annual revenues, the study claims.
Nevertheless, the AOP is skeptical about revenue prospects for the near future. Reeves comments: "Whilst findings show a dip in optimism in the approach to 2018 – no doubt fuelled by a period of considerable turbulence and uncertainty surrounding the upcoming GDPR – I believe premium publishers should take heart. Reviewing the changes in publisher revenue during 2017 shows some interesting trends. Digital revenue overall continues to increase, still driven by display advertising, but there is an ever-changing focus on alternative methods to generate income such as subscriptions."
PubMatic & Sizmek Join Forces for Supply Path Optimisation
Sizmek is integrating PubMatic into its network of preferred publisher platforms, thanks to a new partnership between the two companies. Providing agencies and advertisers with more transparent access to premium inventory, the partnership is also aimed at minimising ad fraud risk.
"With this partnership, our advertisers experience access to in-demand audiences in brand-safe environments that ultimately improve their return on ad spend", explains Mike Caprio, chief growth officer, Sizmek, on the idea behind the partnership. Leveraging PubMatic's proprietary machine-learning-enabled technology, Sizmek receives additional impression opportunities.
"Consolidation is inevitable, as the ad-tech industry evolves and more scrutiny is placed on the digital supply chain. At PubMatic, we have invested heavily in delivering quality, brand-safe inventory and efficient infrastructure to our buyers. We are excited that Sizmek is finding value in our platform, and that this partnership helps us extend those benefits to our shared customers", adds Rajeev Goel, co-founder and CEO of PubMatic.
Ligatus Partners with Le Monde
Bertelsmann-owned publisher native advertising specialist Ligatus strikes a partnership with the French Le Monde group. The global co-operation is an attempt to provide a more transparent sponsored content service to its users across a variety of platforms. Ligatus provides native advertising alongside publisher content through a network of publishers. Together with Le Monde, the two companies want to raise industry standards, participating in the Coalition for Better Ads.
"Together, we respect the importance of raising industry standards through initiatives such as the Coalition for Better Ads. By connecting premium publisher content and improved user experience – especially on mobile – we will create a better relationship between the brand and consumer. Brands no longer have to choose between power claimed by social platforms and quality context", Véronique Pican, general manager, Ligatus France, tells ExchangeWire. "As advertising industry standards continue to rise, we are extremely proud to be recognised and selected by Le Monde as a leading premium provider of native advertising. Ligatus has built a successful quality platform that provides a transparent and engaging user experience. This partnership will enable Ligatus to extend its guarantee of brand safety across the Le Monde group's premium media brands, through a variety of native ad formats."
Following ongoing consolidation of its advertising requirements, the Le Monde group will utilise Ligatus' native ad formats across its premium media brands.
European Acquisition for Velocidi
Velocidi buys ShiftForward, a marketing automation and data platform, and integrates the capabilities of ShiftForward into their own customer data platform. For the brand users of Velocidi, the acquisition means that their customer data is kept safe in a private, in-house CDP.
The company also points out that the acquisition is another indicator for Velocidi's commitment to the European markets. Not only is the company complying with the upcoming GDPR, but their newly acquired subsidiary ShiftForward is a Portuguese company, headquartered in Ireland.
"The timing could not be better. It is very rare to find an acquisition that can not only bring cutting-edge technology and deep talent, but also market differentiation, expansion, and new vertical opportunities. ShiftForward is just that", said David Dunne, founder and CEO of Velocidi. "Together we bring the market-leading private CDP to clients."
"Integrating our customer event-level data process with Velocidi's marketing data platform is the foundation for the most innovative product in the market today. By joining the Velocidi team, we give marketers full control of their data, bringing them closer to their customers and potential customers", said Paulo Cunha, founder and CEO of ShiftForward, who now becomes Velocidi's chief product officer. "Today's marketers need to ingest all types of customer, event-based, and media data. Now, they can do just that with Velocidi's private CDP. We look forward to continuing our outstanding work together for brands and agencies."
Sublime Skinz Integrates into TabMo's Hawk DSP
A partnership between TabMo and Sublime Skinz is to make the latter's mobile ad formats available on TabMo's DSP. Thanks to the collaboration, agencies and trading desks will be able to access Sublime Skinz' programmatically traded mobile ad formats for campaigns on Sublime Skinz' mobile web ad network. The integration will allow TabMo clients to access Sublime Skinz' mobile ad units.
"By partnering with TabMo's Hawk platform, which is renowned for its mobile creative DSP video, display, and native ads, we're able to elevate engagement and increased branding opportunities", says Andrew Buckman, EMEA managing director, Sublime Skinz. "Both Sublime Skinz and TabMo are renowned for their technology; and by joining forces we can expand in premium mobile environments, as demand in this area continues to increase."
Hakim Metmer, co-founder, TabMo, adds: "This partnership has further enriched our library of deals by giving access to impactful and non-intrusive ad formats in premium environments. Thanks to this integration via Smart RTB +, customers using our DSP as a self-serve platform will be able to easily access Sublime Skinz' mobile PMP deals programmatically, in just a few clicks."
Sovrn Receives Gold Standard Certification from IAB UK
IAB UK is trying to raise standards in the digital advertising space with its Gold Standard certification. Applying for the certification in the 'support' category, ad-tech company Sovrn has now been awarded certification for the IAB UK Gold Standard. As such, Sovrn meets the criteria prescribed for the certification: participation in the ads.txt initiative, carrying the JICWEBS' DTSG certification for brand safety, as well as following the IAB's 'LEAN' principles, and the Coalition for Better Advertising standards.
Andy Evans, CMO, Sovrn, tells ExchangeWire, "we are delighted to become the first ad-tech company to achieve certification for the Internet Advertising Bureau's (IAB) UK Gold Standard in the 'support' category, and the fourth company to be verified for the seal. At Sovrn, we are passionate about delivering high-quality inventory from independent publishers, and take initiatives such as this very seriously, which is why we are one of the first companies to be already certified by JICWEBS and the Trustworthy Accountability Group, and now the IAB Gold Standard."
How does Sovrn provide transparency to their clients? "Through our 25-step verification, more than 99% of sites that apply to join our portfolio are rejected, and constant monitoring keeps our offering clean. As one of the first companies to already be certified by JICWEBS and the Trustworthy Accountability Group, we are thrilled to be one of only four companies currently awarded with the IAB Gold Standard."
TVSquared Gets USD$8m Funding
TV performance analytics provider TVSquared receives another USD$8m (£6m) funding. The latest funding round was led by private equity partnership, West Coast Capital, and supported by existing investors, including the Scottish Investment Bank.
The new capital is earmarked for further expansion of TVSquared. Calum Smeaton, CEO and founder, TVSquared, tells ExchangeWire: "Closing another USD$8 million of funding supports TVSquared's sustained global growth plans. This latest round enables us to accelerate our expansion into new markets and continue our research and development efforts."
TVSquared is also investing in further research and development to enhance recent offerings such as their audience-level insights and SearchSync for syncing TV spots with paid search. Thanks to their acquisition of wywy, TVSquared recently expanded to Germany.
Ad TechEMEAInvestmentNativeProgrammaticPublisher