Data Democracy & the Support of Meritocratic Online Conversation: Q&A with Tim Wilson, CEO, Qutee
by Lindsay Rowntree on 5th Jul 2018 in News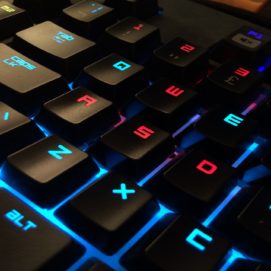 The gaming community is vast, dynamic, and incredibly engaged. However, in many environments, the popular misperceptions of what a gamer is reign. Tim Wilson (pictured below), CEO, Qutee, is passionate about changing this and is an ardent advocate of data democracy and recognising the value the gamers bring to the gaming industry. Speaking exclusively with TheGamingEconomy, Wilson explains that there is a goldmine of quantitive and qualitative data and insight on the gaming industry to be found within these online gaming communities, and why this can bring great value to gaming brands, agencies, developers, and publishers.
ExchangeWire: What is Qutee and how does the platform work?
Tim Wilson: Qutee is a data-driven discussion platform that anyone can use to host more intelligent conversations and research their audience. Our technology platform makes online discussion open, trackable, discoverable, and permanent, so that insights and commentary can be easily identified, categorised, filtered, and analysed by everyone.
It's basically the most advanced comments system and conversational research platform in the world. So, it's a much easier and more powerful way for content publishers – such as media companies, influencers, and brands – to generate meaningful, transparent, real-time insight from within their digital communities, and a much more effective way for digital communities to make their voices heard.
Why did you set up Qutee?
We set up Qutee in recognition that the social internet – which was supposed to be the great leveller of our times – was failing to empower individuals, communities, organisations, and causes. Existing social platforms were designed for broadcasting and advertising, not intelligent conversation. Consequently, audiences were struggling to be heard and community 'owners' – brands, publishers, even influencers – were struggling to listen, while in the background the platforms themselves hoovered up ad dollars and user data in equal measure.
We wanted to create a discussion platform based around data democracy, where every post would contribute to a debate, every opinion would be heard and retained, and every insight would be captured and available for scrutiny. It sounds simple, but from Reddit to YouTube, to the plethora of legacy discussion forums, none of them were built to support this type of meritocratic online conversation.
What kind of data is Qutee able to collect, who is it relevant for, and how can it be applied?
We analyse and organise every comment made within a community, collect poll data and Net Promoter Scores on every discussion started, and provide an analytics dashboard that content creators can use for free to get real-time market research and community insight.
For individuals, the aim is to make every participant in every online discussion feel valued – you can see this in the gaming discussions we've curated to date. The platform is free to use, users can create their own topics and polls quickly and easily, and our natural-language processing technology and intent polling classifies every comment so that others can easily find it.

We combine a level of data and insight that is more accurate than existing social listening tools, while enabling broader engagement than focus groups, with the results delivered in real time. Our goal is to save time and money for games developers who need real-time feedback as a game progresses from beta through adoption and updates.
We've road-tested the platform in the gaming sector because we recognised that there were huge and engaged digital communities in this space relying on social channels that were just not capable of supporting the sort of in-depth discussions they wanted to have.
Why is data democracy so important within gaming communities?
Data democracy is about recognising the true value that gamers bring to the gaming industry. It's not just a financial outlay with a gaming title, publisher, console. or platform – it's the value of the personal information gamers hand over, the value of the digital communities they engage in, the Facebook likes, the retweets, the powerful P2P recommendations they make.
What gamers crave in return is a stake in the industry conversation, such as being listened to when sharing feedback on a new add-on or voicing a complaint because the in-game microtransactions give some players an unfair advantage, or the right to a voice when they are facing a wave of negative public sentiment sometimes bordering on open hostility. The industry relies upon continuously marketing and selling to these gamers to keep up its incredible growth rate – its important that gamers' voices are acknowledged in return for the data that they share.
The gaming industry, and gamers themselves, are often at the forefront of developing and adopting new technology – do legacy platforms have room in this fast-developing and diverse community?
You're right – gamers are super quick to embrace new technology, but there's a big difference between the tech they use to play the games versus the platforms they rely upon to discuss the games and participate in their communities.
For example, YouTube and Facebook serve their purpose when it comes to hosting gaming videos or live streaming. But they don't support long-form comments, analysis, or prolonged and engaged debates. Twitch is clearly making a huge imprint within the sector and has captured gamers' imagination when it comes to quick-fire live chat, but when it comes to analysing the content of the discussion, it's unbelievably tricky, and again, it doesn't really provide an option for gamers who have more to say (which a lot of them do).
So, it was no surprise to find that, as soon as gamers started to become aware of Qutee, we quickly saw people posting pages and pages of in-depth, informed comments about their game of choice. What struck us most was how thoughtful, articulate, and considered these comments were – we were generating a level of insight with huge potential value to the game developers and publishers.
How can data give gamers a voice?
The power of data is that it can force people to sit up and take notice of issues, trends and ideas that may otherwise wash over them. Take the issue of gaming addiction – to many people, it might seem like there's an epidemic right now because we're hearing stories of individual lives that have been negatively affected by gaming addiction.
As a society, we shouldn't be overlooking these tragic individual stories, but people also need to understand that there's a flipside they're not necessarily hearing about. In the case of our 'Gaming & You' report, our data serves as a counterpoint to the conventional narrative that gaming is bad for people, forcing the wider world to pay attention to what gamers have known for years.
Through our data, we're able to show not only that gamers are engaged in the issue of gaming addiction, which is hugely important from the perspective of their own health and wellbeing, but also, that there is actually a host of mental health benefits they're enjoying thanks to gaming.
The gaming community is often misunderstood and gamers have struggled to make their individual voices heard. But if we amalgamate these voices to tell powerful data-driven stories, we can create a collective voice that's a lot harder to ignore.
This content was originally published in TheGamingEconomy.com.