How Marketers Can Benefit From the Digital Out-of-Home Revolution
by Mathew Broughton on 12th Aug 2019 in News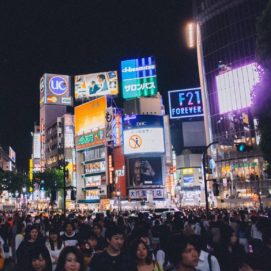 In this article for ExchangeWire, Hannah Thompson, programmatic account director at Tug, espouses the virtues of DOOH, how marketers can remain on the correct side of regulations, and how ads should be correctly contextualised.
No more dirty old billboards plastered with beige ads aimed at unengaged consumers: digital out-of-home advertising (DOOH) brightens up our cities, bringing cutting-edge tech to pavements, escalators, and even taxis near you.
The promise of DOOH is huge, offering innovative and actionable content for consumers – and better targeting for advertisers. As the tech develops into the mainstream and starts enabling more individual targeting – we've put together some top tips for marketers to succeed in the world of DOOH.
Compliance is key
Whilst DOOH doesn't necessarily mean your ads will be blown up to the size of a double decker bus, it does put them right in the public sphere. If you want to avoid shocked grannies and teary toddlers, that makes solid validation and verification particularly important.
Far more than just hurting feelings however, current developments in regulation such as the High Fat, Salt and Sugar (HFSS) taxes mean it's crucial to stay on the right side of the law – and public opinion.
And in the GDPR era, being hot on regulatory compliance has taken on added importance. Out-of-home advertising has previously been uniformly GDPR compliant by default – given billboards were previously as analogue as you could get, and no data actually passed through the system. But as we move towards data-driven, automated OOH, we'll have to keep meticulous track of our data.
That's all the more important for those campaigns which involve innovative tech like eye tracking or those which weave into data on other platforms – like OOH-to-mobile integrations, for example. Remember, whatever you're doing and wherever it's going, permission is the name of the game.
Move beyond the city slickers
Traditionally, ad innovation in the public space has been very much limited to our largest cities. To really make the most of the technology however, it's important that digitalisation and its benefits don't just remain the preserve of London and other big cities.
Whilst the situation is improving, the main problem is that bigger OOH spenders with a more local presence aren't always convinced of the value that the tech can bring to their campaigns. But gaining their confidence, and ultimately their spend, will be key to boosting both adoption and further innovation. So, prove them wrong!
Be creative – in context
Creative is crucial for DOOH, but far more than just the image on the screen, getting it right is also about thinking through the formats you use to broadcast it.
Captive audiences, like those on trains or escalators, will likely spend a lot more time looking at the space around them, so it's worth investing in longer, engaging animations and multiple messages in those scenarios.
But a dynamic location like a tube station, on the other hand, is a more appropriate location for quick, relevant, dynamic messaging, such as weather information or newsflashes. So, make sure you contextualise your DOOH appropriately for maximum impact.
Training needed for programmatic familiarity
Consider where DOOH will sit within your existing marketing structures. Sometimes new technologies are treated a bit like shiny new toys, but all too often a struggle for – or avoidance of – control means these kinds of new technologies fall between the cracks and no one benefits.
But someone within your team will need additional training to master the ropes, so it's best to work this out as early as possible. Of course, if you're already investing in OOH spending, it makes sense to combine the two and encourage familiarity with programmatic and new buying models. But if you're, say, an online-first advertiser trying out DOOH for the first time, then perhaps your display team is best equipped to deal with it. Whatever you choose, keep it neat and tidy, and make sure to back it up with the relevant training and metrics.
Get stuck in
Finally, and most excitingly, don't be afraid to dive in! DOOH technology might be more expensive at the outset, but a calculated risk will pay off. Even if you start with just a small percentage of your budget on the side, the creative opportunities – together with boosted efficiency and enhanced measurement – can really drive return on investment. So what are you waiting for? Dive in, and create something brilliant.
Opportunities within digital out-of-home are set to be discussed in-depth during this year's edition of ATS London, taking place on September 9th at BFI Southbank. Limited tickets for the event are available here.
TagsDOOH