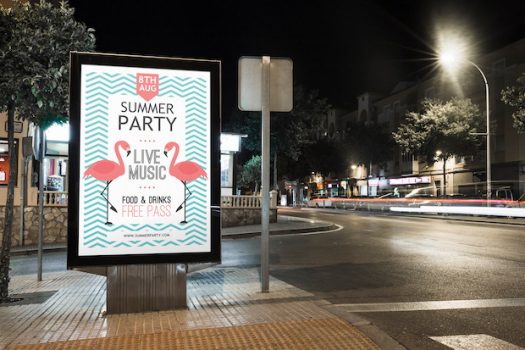 As OOH advertising has shifted towards digitisation in-line with technological advancements, the channel has shown increasing influence over online activity. Research from Nielsen claims that OOH advertising is "the most effective offline medium in driving online activity" and can deliver up to four times more online activity per dollar spent than alternative channels such as radio and TV. This digitisation, which is now seeing the channel surge towards the adoption of programmatic, is reestablishing how data can inform and lead OOH campaigns – but what does this shift look like?
Relevance
The use of data within DOOH campaigns has unlocked new opportunities for brands to execute highly relevant campaigns, with numerous brands already having experimented with leveraging data to deploy creative more appropriate to its current environment. Pimms, for example, used footfall data from partnering pubs to power digital billboards telling passersby how busy their local watering hole was. In a similar vein, Guinness ran a dynamic OOH campaign using digital billboards around Dublin to display the times of fixtures and current, or final, results in this year's Six Nations Championship. The campaign was received well, according to research by PML Group and ipsos, which found that a high proportion of adults considered the creative effective, unique, and more eye-catching than other ads (70% each).
Due to its physical nature, OOH has always afforded greater opportunity for brand safety and suitability – marketers have always been able to outright reject environments that feel inappropriate and select inventory in more fitting locations. The implementation of data, however, has not only given advertisers the capacity to home in on inventory that is more likely to be seen by their target audiences, but also to adjust their creative in-flight to make their ads stand out.
Value
OOH advertising can benefit from a wealth of data from a variety of sources; mobile, spend data, locations, and stock counts from bricks and mortar shops — which still host the majority of retail transactions — just to name a few. While the insights these mediums can provide into consumer footfall, spending habits, and more have always been used to inform OOH campaigns, the development of programmatic digital out-of-home (pDOOH) has repositioned how and when marketers leverage this data. By speeding up the process of buying and selling ads, pDOOH can encourage marketers to engage in audience-based buying, tailoring their ads in line with data collected at any stage of the campaign.
In this way, data can make brands' marketing spend go further. However, it can also be used to make advertisements more valuable to consumers. Heathrow Express is one company who used real-time data to dynamically optimise ads for a specific audience. In 2021, the train operator used digital billboards in Heathrow Airport's baggage reclaim to present arrivals with an estimated cost and time comparison between using their service or a taxi to get to London Paddington. The multi-API campaign also used GPS data to display a real-time traffic map of the route between the airport and central London. This is just one example of how using data to dynamically shape creative can allow companies to use their ads to display relevant and even useful information, providing an additional benefit to consumers .
Not all brands are able to commission as niche targeting as Heathrow, but audience buying doesn't have to be site or format-specific in order to be effective – in fact, buying audiences across all available OOH media is reportedly able to get advertisers in front of their desired audience at a cost of 30% to 50% less than restricting targeting to specific locations. Furthermore, dynamically optimising ads that are being displayed across a broad range of inventory to offer timely information can raise brand awareness, and potentially favourability, by capturing attention and providing a service to passersby.
Bolstering an omnichannel approach
While much has been made of the rise of new channels, such as mobile and video streaming, marketers are increasingly valuing out-of-home as a facet of an omnichannel strategy – research from Sightline found that 35% of marketers use the medium to complement their digital plan.
There are also indications that DOOH can drive greater audience intent, with the medium encouraging 50% more people to make online purchases. JCDecaux found that online campaigns with an OOH counterpart saw a 37% uplift in average view time and a 67% increase in cookieless click-through rates. DOOH's ability to influence consumer behaviour provides an exciting opportunity for marketers to strategise across real-world and online campaigns to create a more cohesive customer journey.
Edmund Mullins, director of inventory partnerships, EMEA at StackAdapt, notes "Leveraging DOOH as part of a multi-channel campaign helps to craft a brand story throughout the entire customer journey, and bridge the gap between the digital world and outside world. By creating seamless coherence across the channels that a campaign appears on, advertisers can consistently remind audiences about their offerings, which will inch them closer to conversion as well as build brand awareness and personality."
DataDigital MarketingDOOHMarketingOOH