Adobe & Publicis Ink Landmark Deal To Move Beyond Last-Click
by Ronan Shields on 10th Sep 2014 in News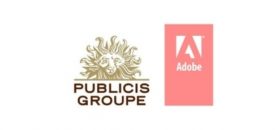 Earlier this week at ExchangeWire's ATS London, enterprise players were invited on stage to explain just how they could affect the ad tech space, and today (10 September) Adode went some way to answering the question with news of its tie-up with Publicise Groupe.

The pair have used the two-day extravaganza to unveil the Publicis Groupe Always-On Platform, which will use Adobe's stack to help improve marketing attribution, and automation, plus improve data sharing capabilities across the group across all channels.
Publicis agencies including BBH, DigitasLBi, Starcom MediaVest Group, VivaKi and ZenithOptimedia, will standardise on the Adobe Marketing Cloud to create content, access marketing intelligence, identify and build audience segments, deliver campaigns, plus track and measure marketing performance, as part of the deal.
Essentially, the initiative will focus on three key areas including increasing how the holding group's agencies can attribute value to media placements – or multi-touch attribution – in order to move away from the (currently predominant ) 'last-click' attribution model.
This is a model that has been much-maligned on this publication, plus one that was identified as one of the main reasons why click fraudsters continue to get away with their nefarious antics at ATS London earlier this week.
In addition, the new platform will also encompass an "always-on data management platform" (DMP) that will let agencies customer profiles, segmentations and vertical insights.
In addition, Publicis' Vivaki – which also houses its Audience On Demand set up – will also develop a data co-op where clients, and ultimately publishers, can opt in and contribute data in exchange for even richer customer insights.
This can then be used to enhance brands' cross-device targeting according to the pair, as Publicis' various entities have come to cross channel campaign management agreements for search and social buy side optimisation using Adobe's Media Optimiser.
As part of the deal, both Adobe and Publicis Groupe will invest in joint sales and marketing, including retaining a dedicated team of strategists and business development specialists to innovate and bring the platform to market.
Shantanu Narayen, Adobe, CEO and president, said: "The massive scale of agency services across the Publicis networks, coupled with Adobe's unique leadership in digital marketing solutions, will enable Publicis clients to develop best-in-class digital marketing capabilities that drive growth."
Click here to watch an episode of TraderTalk where Quantcast's Rebecca Muir explains the shortcomings of last-click attribution.
TagsAdvertiserAgencyATSattributionCross-ChannelTradingTrading Desk