Programmatic Display: A Viable Alternative to Google Search?
by Lindsay Rowntree on 16th Mar 2016 in News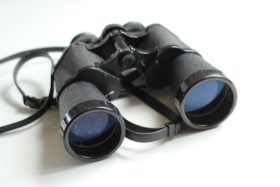 A few weeks ago, Google removed ads from the right-hand side of the search results page, causing confusion and rumours to flourish about what this means for the future of search and advertisers' search strategies. ExchangeWire gauged the industry reaction at the time, and now there is questioning of Google's motive behind the change, with talk about it being the start of a long journey for Google on the road to infinite scrolling. However, before any of that, ExchangeWire wanted to know whether it would cause advertisers to re-evaluate their search budgets in the short- to medium-term and consider moving them over to programmatic display.
Before recoiling at this ridiculous notion, a few things need to be considered. Search is an extremely measureable channel, favoured by many direct response advertisers, who adapt their keyword strategies based on the value and performance of each stage of the consumer purchase funnel. The most effective keywords in an advertiser's portfolio are the brand-based keywords: They have cheap CPCs, as the brand owns the keyword territory; there is generally little-to-no competition; and the consumer has searched for that brand directly, so there is an increased propensity to purchase. This generally yields the advertiser a high ROI and a low CPA.
Moving up the purchase funnel, you enter the generic keyword realm. Generic keywords exist to raise awareness of a brand at the point where the consumer is at the research phase of the potential purchase. Generic keywords vary in length, volume, and effectiveness; but the keywords at the top of the funnel are highly competitive, receive very high volumes of search queries, and suffer from extremely high CPCs (thousands of percent higher than an equivalent brand CPC) and low conversion rates. This yields the advertiser a low ROI and high CPA, when looking at these keywords in isolation, which most advertisers don't. They blend the performance of the different keyword buckets into one big melting pot to justify the performance of search as one channel and not give their CMOs a heart attack when they look at the weekly top line performance report.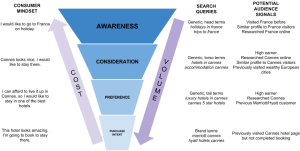 But, if you break down the performance of the different keywords and view brand and generic search as complementary, but separate channels, with separate strategies, you could go as far to argue that generic keyword bidding is the search equivalent of display prospecting, with brand keyword bidding the equivalent of retargeting. That will be considered a stretch by many, as search targets a captive audience, even in the highly competitive generic keyword stakes; whereas display prospecting is targeting an audience using data that infers the audience would be interested in the product.
Performance and measurement of search and display obviously can't be compared exactly side by side. But display prospecting has come an extremely long way in terms of targeting accuracy, due to the proliferation of data; so, it's likely that the data inferring someone is researching a holiday to France is actually as rich as that person telling Google the exact same thing through a search query.
Fundamentally, both rely on the advertiser in question not building a strategy on last-impression or last-click attribution, but instead running an agile, integrated cross-channel marketing approach, which would allow budgets to be tweaked across search and display, as dictated by top-of-funnel performance within both channels.
It would be foolish to claim the simplicity of this tactic, and that every advertiser should be doing it, as some have the ability to develop much more sophisticated strategies than others. But, if advertisers are facing higher costs and reduced share of voice in an already competitive search environment then surely, especially if display is an existing investment channel for the advertiser, it is a viable alternative? ExchangeWire were keen to know the views of experts across the industry.
Advertisers with cross-channel attribution will seek alternatives
"One of the attractions of search is its lower funnel – and thus easily measurable impact – and low barriers to entry for a wide market. That said, search is just one of many channels and tactics available to marketers; but any other tactic viewed in isolation isn't going to be the saviour of those seeking out alternatives to PPC.
"Yes, retargeting can yield for the lower funnel. However, other programmatic tactics, such as prospecting, work in conjunction with other channels and not as a replacement for them.
"Measurement of the assistance given and the interrelationship between tactics is crucial. Without a joined-up, holistic view of media spend impact and subsequent optimisation strategies, marketers aren't going to be able to look at the whole picture and know where to wisely place their media investments.
"The bottleneck the Google restriction is likely to cause – and the subsequent increase in shorttail bid prices – will likely mean that those who have a cross-channel attribution scheme, or at least the ability to analyse how channels and tactics play together, will likely seek alternative channels and adjust their spend and bidding strategies accordingly. Those without one risk being disappointed when their replacement tactic doesn't end up being the magic bullet."
 – Michael James, Managing Director EMEA at Accordant Media
Advertisers need to rethink measurement strategies
"Making programmatic work at the level of paid search is not easy and requires two things: first-party data and creative assets that are varied enough to drive results at scale. Both of these aren't always easily available. With this in mind, advertisers should look to their data to provide clues of where they could unlock potential, whilst being wise to the fact that one-size-fits-all solutions are often a fallacy.
"It's time for advertisers to rethink their measurement strategies. In a last-click world, activities at the bottom of the funnel have inflated incremental value attribution; when, in reality, activity higher up the funnel often contributes a lot more than current conventional thinking supposes. Once we start measuring with more sophisticated tools – evolving from last-click, to advanced attribution, to lifetime value – we'll benefit from a broader holistic view of the digital ecosystem.
"This particular change may encourage some advertisers to spend more in other areas. For example, I won't be surprised if we see greater investment in video or mobile as this fits with the overall trend of more holistic digital media buying, and it is unlikely that Google's profit will suffer as a result. It's such a dominant force across the digital landscape that it's impossible for an advertiser not to spend money with them, be that on search or elsewhere. It's also likely that Google will launch something new for advertisers on the right-hand side of the search page, and so boost its revenues. Whilst the knowledge graph is displaying hyper relevant information for specific terms, it feels like open real estate right now that is ripe for the picking."
 – Niel Bornman, Global Chief Product Officer at iProspect
Increased market share for Facebook
"Removing the right hand ads is symptomatic of the mobile-first audience approach. Google has de-cluttered their page to deliver a better user experience that's consistent and unified across all screens. However, it will have an impact on the search market for SMEs.
"Ultimately, it will spark a major bidding war for the remaining sponsorships; meaning only established brands with big budgets are likely to be able to afford this space. Smaller businesses may instead be encouraged to shift their advertising spend to Facebook, where self-service tools and targeting is easy to implement.
"The question is, by doing this, is Google's goal to drive these SME's and others into display, video, and mobile through programmatic? Or, is this a market recalibration and the first step in an innovative approach to engage brands using search?
"If Google's goal is to usher in a larger pool of programmatic buyers, their work is cut out for them. Creative may not be an issue when it comes to search, but it's a major part of the display, video, and native worlds. Maybe Google has something up its sleeve; but, for now, this creates a great opportunity for Facebook to grab market share."
 – Tej Rekhi, AVP of Mobile Sales at Sizmek
The future is native and video 
"The overall volume of Google search has already begun to stagnate and, in some verticals, decline; with cost-per-click inflation also ensuring that the point of diminishing ad returns is shifting towards a lower volume. All of which is driving innovation in its SERP. However, shifting focus to traditional display banner formats, which have three scale challenges in the market – ad blockers, and both mobile and banner blindness – isn't the right business move. The future of investment for the market is in native and video formats across social and content sites."
 – Ben Foster, Director of Digital Operations at MC&C
Search ROI is apparent more quickly 
"Removing right hand ads from Google could certainly result in higher cost-per-clicks in search campaigns. But, if you've got a savvy cross-channel marketing strategy, this should not be a major concern. Shoppers today use more channels and the customer journey is incredibly complex. Marketers back themselves into a dangerous corner using a siloed approach for their marketing strategy. But, it is important to remember that each channel has different advantages and disadvantages for targeting customers.
"The return on investment (ROI) of paid search is apparent more quickly and often leads to the all-important final conversion click. Our latest benchmark report found search remains the channel with the highest click-through-rate. Therefore, marketers need to tailor their approach to make the most of each channel's strengths and maximise the campaign's efficiency and, ultimately, sales. By using a single platform that can target across channels, marketers can break down silos and run more profitable campaigns."
 – Stephanie Carr, VP EMEA at Marin Software
Search and display are complementary channels
"I don't believe this change will result in advertisers moving budget out of paid search and into other areas, like programmatic display prospecting. The two mediums do not supplant each other, but instead complement each other. Fundamentally, programmatic display prospecting does a fantastic job at reaching consumers higher up the consideration funnel; whilst search continues to be the best channel to reach users towards the end of the funnel and, ultimately, convert them.
"I expect both budgets to continue growing over time. We have seen that Google's recent change has had the impact of reducing impression share, but not necessarily impacting performance. As a result, this presents advertisers with the opportunity to invest more whilst maintaining ROI. Additionally, programmatic's fantastic development over the last couple of years has ensured that display can now deliver a highly attractive ROI. With this technological development showing no signs of letting up it's safe to assume budgets will continue to grow for as long as advertisers continue to see great returns."
 – Paulo Ribeiro, Head of Biddable at Total Media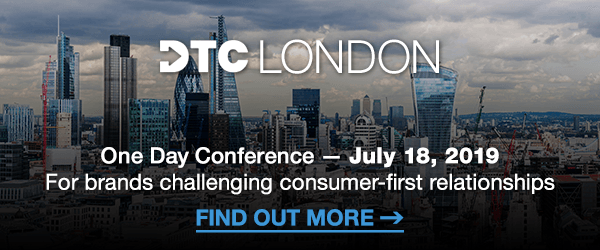 TagsDigital MarketingDisplayGooglePerformanceProgrammaticSearch