Video Ad Views Growing 24% YOY; US Ad Revenues Soaring
by Sonja Kroll on 16th Jun 2016 in News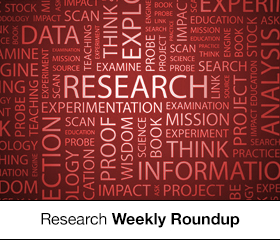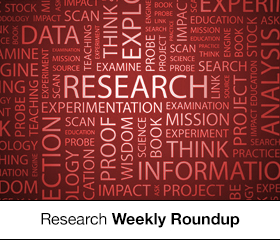 ExchangeWire Research's weekly roundup brings you up-to-date research findings from around the world, with additional insight provided by Rebecca Muir, head of research and analysis, ExchangeWire. In this week's edition: Video ad views steadily growing; US ad revenues spike; and Usage penetration growth fuels retail apps.
Video ad views increase 24% year-on-year
Based on data from over 160 billion annual video views, FreeWheel has found that video ad views, and video views, have consistently grown over the past year. In their latest Video Monetisation Report for Q1 2016, FreeWheel reveals that both video ad and video views increased 24% year-on-year globally.
In Europe, monetisation continues to be driven by Entertainment – nine out of every 10 ads in the UK are derived from long-form Entertainment TV-style content. However, there are still opportunities for growth: short-form and live content currently garner 7% and 1% of ad views, respectively. With better monetisation of these, growth in the immediate term is possible, FreeWheel predicts.
Analysing ad views by device, FreeWheel finds desktop still leading in Europe, with 49% and OTT still at an early stage at 13%. Given that long-form content drives monetisation in Europe, affordable unlimited data plans are likely to contribute to smartphones coming in as the second most used device, with 24% share of the platform marketplace.
Record high for US ad revenues
US internet ad revenues have reached a new first-quarter high, the IAB finds. With USD$15.9bn (£11.2bn) in the first quarter of 2016, the record ad revenue has outpaced the previous record. In Q1 2015, ad revenues had reached USD$13.2bn (£9.3bn).
According to the IAB Revenue Report, the increase of 21% year-on-year represents the sharpest spike in four years, when compared to other first-quarter earnings.
"These landmark revenues confirm the growing importance of interactive for brand marketers to reach consumers who are increasingly spending their time on digital screens", said David Doty, executive vice president and CMO, IAB. "Last year, the industry reached its highest level of investment, at over USD$50bn (£35bn), and this first quarter lays the foundation for what could very well be the biggest year yet for digital ad spending."
The IAB Internet Advertising Revenue Report is conducted independently by PwC US. The survey includes data on online advertising revenues from websites, commercial online services, free email providers, and all other companies selling online advertising.
Retail apps showing most usage penetration growth
With Apple announcing a revamp of their App Store, and promising developers bigger margins, analytics provider App Annie takes a look at the most used iOS apps in their latest report.
In the UK, communication rules: the top three apps, by monthly active users, in April 2016 were WhatsApp, Facebook, and FB Messenger. For comparison: Facebook dominated in the US as well, where Facebook and Facebook Messenger took the two top spots, followed by YouTube.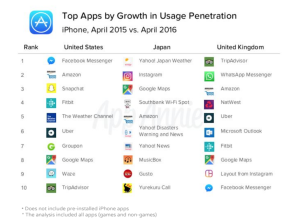 A look at app growth, in terms of usage penetration, reveals TripAdvisor as the winner, followed by WhatsApp, Amazon, and Natwest. For the current report, App Annie finds more diversity among app categories beyond communication than seen in the the top-ranking apps by MAU, and concludes that many of the fastest-growing apps are offering to fulfill tasks that have traditionally been completed offline. However, apps connected to wearables, such as Fitbit, are also on the rise, raking up user growth both in the UK (at number 7) and the US (at number 4). Retail apps are becoming more popular, showing strong usage penetration growth everywhere. In the UK, Amazon rose to number three in the usage penetration ranking, while cab-booking app Uber was also among the top five in the UK.
"Usage is the new currency and will play an increasingly important role in how companies evolve their app strategy across the globe", App Annie concluded.
In Q1 2016, the iOS App Store was still the global leader in terms of app-generated revenue, raking in nearly double the revenue of Google Play.
AdvertiserAppleEMEAExchangeWire ResearchMedia SpendMobileUKVideo