APAC Ad Spend Forecast Revised Down to 3.9%; Programmatic Opinions Differ Amongst APAC Buyers & Sellers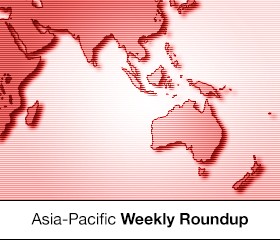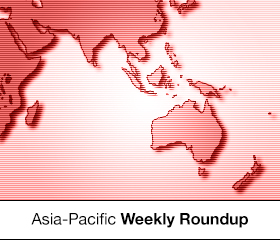 In this weekly segment, ExchangeWire sum up key industry updates on ad tech from around the Asia-Pacific region – and in this edition: APAC ad spend forecast revised down to 3.9%; Programmatic opinions differ amongst APAC buyers & sellers; AU broadcaster offers mobile programmatic ads; InMobi brings video ad formats to India; and IAB AU gets new council chairs.
APAC ad spend forecast revised down to 3.9%
Carat have revised their ad spend growth forecast for Asia-Pacific down to 3.9% this year, from their previous projection of 4.4%; while the 2017 growth estimate also is revised to 4.2% from 4.7%.
The Dentsu Aegis Network agency noted that the region reflected a mixed bag of growth and declines, with India and Vietnam expected to see double-digit growth of 12% and 10.6%, respectively, this year. Ad spend also was forecast to grow 9.9% in the Philippines and 5.4% in Australia.
Hong Kong, however, would see spend dip 11.8%, as well as Taiwan and Thailand, which would clock a 7.6% and 5.2% decline, respectively. Shrinking budgets in these markets were dragged down by weak economic growth and demand, according to Carat.
Australia's higher ad spend this year would be fuelled by strong growth in digital, which was expected to clock double-digit increase year-on-year, as well as campaign activities for the country's federal elections and Rio 2016 Olympics and Paralympics. Collectively, these generated some USD$110m (£82.79m) this year.
Ad spend in China was projected to hit USD$81.8bn (£61.56bn), noted Carat, adding that the world's second-largest ad market was entering a "new normal" era of more moderate growth. The Asian giant was expected to see ad spend grow 5.7% this year and 5.5% in 2017, when TV ad would account for the bulk of ad dollars, with a 53.4% share in 2016 and 51.2% next year.
Fuelled by mobile, China's digital spend would climb 25.9% this year to account for 25% of total ad spend.
Ad spend in India would grow 13% this year, driven by multiple media events, including the T20 Cricket World Cup, state elections, and Indian Premier League. The country's positive growth would continue through to 2017, when ad spend would increase by 13.9%, the Carat report noted.
Unlike most markets, India's traditional media platforms still enjoyed positive growth, accounting for most of ad spend with a 38.5% share this year and 38% next year. TV was expected to grow 12.3% in 2016 and 12.5% in 2017, fuelled by spending from FMCG brands and e-commerce operators.
Dentsu Aegis Network Asia-pacific CEO Nick Waters said: "Australia is showing strong growth, for a mature economy, being driven heavily by the digital market; and this is now becoming the norm across the region.
"The digital economy brings both complexity and opportunities for business. Whilst it is proving highly disruptive for all industry sectors, it is only through digital communications that brands can build engagement and relevance through mass-addressability on a real-time basis", Waters said. "In an interconnected and convergent world, data-led media investments in mobile, social, and video are meeting the demand for high-quality consumer engagement in the right place, at the right, and at the new point of purchase."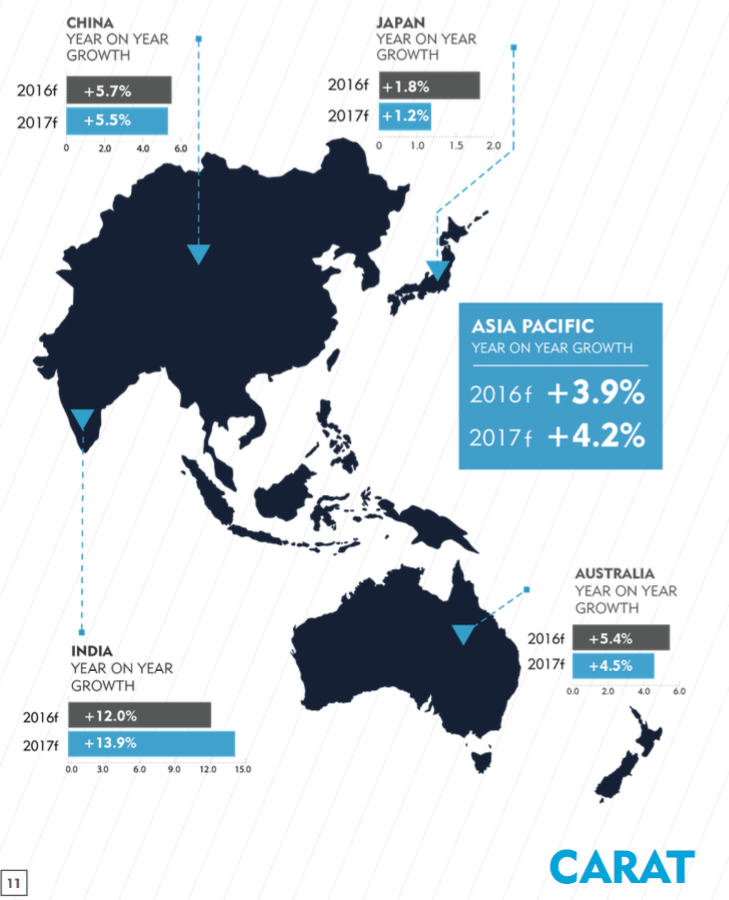 Programmatic opinions differ amongst APAC buyers & sellers
Some 58% of media sellers in Asia-Pacific believe there will be more programmatic players within a few years, despite increasing consolidation in the market. Only 40% of buy-side, however, agree.
Another 85% of sellers felt there were too many vendors, but 60% of buyers agreed, according to a study by ExchangeWire's research arm, ExchangeWire Research. Commissioned by BidSwitch, the survey polled 125 global digital marketing professionals.
The findings revealed a difference of opinions between buyers and sellers, which ExchangeWire Research said was likely the result of the region's nascent programmatic ecosystem. It noted that internet penetration was expected to climb 3% in Asia-Pacific over the next three years, compared to 1% in the US.
It was hardly surprising, then, that sellers in the Asia-Pacific region still were adjusting to the digital revolution.
iProspect Asia-Pacific CEO Ruth Stubbs said: "There is a big disconnect in the Asia-Pacific market between companies on the buy-side and the sell-side. For those on the sell-side, such as publishers, monetising online content is a significant challenge, which means anything that indicates increased complexity isn't viewed favourably.
"On the buy-side, however, a rise in the volume of time spent online, and a broadening of consumer media choices, is creating an opportunity for more vendors to step in and specialise in specific areas", Stubbs said.
Half of buy-side respondents, and 36% of sellers in the region, said market consolidation would have a positive impact.
ExchangeWire Research said: "Programmatic buyers and sellers want the best of both worlds — the efficiency and cost-savings associated with having fewer, more consolidated partners, but also the transparency, access, and single-media view across the ecosystem enabled by a more fragmented, multi-player world."
AU broadcaster offers mobile programmatic ads
Nine have extended their programmatic offering to include mobile platforms, enabling agencies and brands to purchase mobile ad formats on their network.
The Australian broadcaster had expanded their partnership with ad tech vendor Playground XYZ to deliver the new mobile programmatic service. Through this, advertisers would be able to reach more than six million consumers who accessed Nine and Microsoft's digital properties on their smartphone each month.
Ben Gunn, Nine's director of digital sales, said: "Mobile advertising success in 2016 is as much about delivering an engaging mobile user experience as it is about providing a compelling, measureable outcome for the advertiser." He said the new mobile offering would provide "unique targeting efficiencies".
InMobi bring video ad formats to India
The mobile ad platform have launched a suite of video ad formats in India, including vertical, interactive, 360 degree, opt-in, and in-stream videos.
Noting that India saw a 150% growth in video ad plays on mobile, InMobi said consumers in the country were turning to mobile as their first and primary device for consuming video content.
The vendor's network data revealed that 85% of total app installs in India were portrait-locked, making vertical video the de facto choice for engaging consumers with immersive content.
Citing Snapchat data, InMobi further noted that the completion rate for vertical videos was nine times higher than horizontal video and was the "most natural format" for mobile users.
IAB AU get new council chairs
Interactive Advertising Bureau (IAB) Australia have appointed council chairs encompassing video, technology, mobile, and measurement.
Ben Sharp, AdRoll's ANZ managing director, heads the technology council, while MCN's director of digital partnerships and product development, Suzie Cardwell, will oversee the video council.
Celtra's Asia-Pacific regional director Rick Knott heads the mobile council, and News Corp Australia's head of audience insights, Heather White, is responsible for the measurement council.
All IAB councils gathered at the bureau's first-every Refresh event, where they shared and discussed their plans. More than 50 delegates also attended the event, including executives from companies such as Google, GroupM, AOL, and Fairfax.
IAB Australia CEO Vijay Solanki said: "The IAB digital councils are the lifeblood of IAB Australia's activity and it is critical for our future effectiveness that we work collaboratively to produce valuable policy and initiatives that take our industry forward."
TagsAd TechAdvertiserAgencyAPACIndiaMedia SpendMobileProgrammatic