Online Dominates European Advertising; Ligatus Launches in UK
by Sonja Kroll on 26th May 2017 in News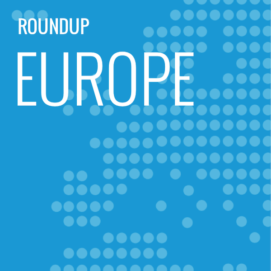 ExchangeWire round up some of the biggest stories in the European digital advertising space. In this week's edition: 12.2% growth for online advertising in Europe; Ligatus expands to UK; Outbrain cooperates with AppNexus; Blis tackles French and Belgium markets; Integral Ad Science partners with The Trade Desk; and TabMo launches in US.
European online advertising continues to trump TV advertising
According to IAB Europe, online advertising in Europe showed double-digit growth in 2016. With €41.8bn in ad spend, online advertising has clearly surpassed TV advertising and thus consolidated itself as the dominant advertising medium in Europe.
The IAB Europe AdEx Benchmark study looked at the online ad market based on three categories: Display, Search, and Classifieds and Directories. Overall, all studied markets recorded growth, with 20 markets growing double-digit. The main growth driver continues to be mobile, with both mobile display and mobile search increasing 50% and more in 2016. In fact, mobile display now accounts for €5.4bn and continues to grow its share of the display market to 33.3%, with a growth rate of 53.3% compared with 2015. Similarly, video is also growing, now holding a share of 18.2% of the total display market.
According to the study, the top three individual growth markets are Romania with 36.9% growth, following by Slovenia (32.2%), and Ireland (31.4%). Overall, the UK leads Europe when it comes to ad spend, recording €14.2bn (£12.3bn) in 2016. Germany sits at number two in the ad spend ranking with €5.9bn (£5.11bn), followed by France with €4.2bn (£3.63).
Search continues to be the largest online advertising category, in terms of revenue with a growth of 12.9% and a market value of €19.1bn (£16.4bn), the study concludes, making it the largest online advertising format, in terms of revenue.
Ligatus expand into UK
German-headquartered native advertising solutions provider Ligatus are increasing their international footprint. A new London office has just been opened, headed up by Alex McIIvenny as Country Manager.
With ten previous market entries in other countries under their belt, Ligatus' move into the UK is the next step for the company, McIlvenny tells ExchangeWire: "It became clear from increasing client demand that we required an on-the-ground presence here in the UK that would enable Ligatus to service both domestic and international campaigns. The quality of our international network means we can utilise our partnerships while accelerating growth opportunities with local partners."
Entering an established, mature programmatic market, such as the UK, is a challenge that McIlvenny is keen to take on: "In terms of the market, I'm particularly keen to explore the growth potential within mobile, building on my recent experience where I developed the business offering of leading mobile advertising technologies. Due to the unique nature of mobile native advertising, this is an area where Ligatus can demonstrate clear value over and above the standard market offering."
Thus, in his new role, McIlvenny wants to focus on extending the existing Ligatus reach to the international hub of agencies, trading desks, and DSPs in the UK, and developing close relationships with local publishers, with the main aim of the development of a Ligatus UK network by the end of the year.
Julien Mosse, Chief Operating Officer at Ligatus, comments: "Our market entry into the UK represents another important milestone in our international business development. There is a fundamental need for many domestic and international advertisers in London to utilise the unique offering Ligatus will bring to the industry."
McIlvenny joins Ligatus UK from a position as Managing Director and Group Sales Director at Mozoo, where he was responsible for growing the company's brand presence, marketshare, and revenues across the UK and France.
Blis and AdMoove partner
After successfully trying out cooperations in other markets, location data specialist Blis is now tackling market entry in France and Belgium. The tried and tested approach of teaming up with a mobile marketing specialist is this time applied to French outfit AdMoove. Together the two companies are hoping to offer more features to their French and Belgium customers – and increasing the number of brands which are trying to expand their audiences.
"Brands in both established and emerging markets are eager to harness the benefits of location-powered advertising. With this partnership, we have an outstanding company to represent us in France and Belgium, providing localised support for our best-in-class solutions", explains Paul Thompson, VP EMEA, Blis. "That means we benefit from increased access to exciting markets; and we're looking forward to having a solid European footprint. The French market is an ad tech hot bed and we've seen growing demand from clients in both France and Belgium for more location-data technologies; which is why this is the perfect time to expand into these markets."
What's in it for AdMoove? "This partnership enables Blis to leverage AdMoove's network of direct publishers. It also empowers AdMoove to expand its services and offer a complete line of solutions based on location data", Vladimir Chou, Director of Ad Operations, AdMoove, says.
Outbrain native inventory available through AppNexus
Outbrain opens up: from the usual availability of their native offerings, via the Outbrain closed marketplace, the inventory is now available via a programmatic marketplace for the first time. Integrating with AppNexus creates a new open native programmatic ecosystem for Outbrain.
"We are delighted to announce that Outbrain Programmatic Access is now available through AppNexus. Outbrain and AppNexus are the two largest and, arguably, most visionary companies in the world of digital advertising and together we offer a true bridge between the programmatic display world and programmatic native world for premium brands" said Yaron Galai, Co-Founder & CEO, at Outbrain. "Through this first cooperation we are able to bring a new premium solution to the marketplace and continue to deliver on our mission to help people discover the most interesting things online – combining respect for the placement and trust of the most premium publishers in the world with true value for users."
This is the first time Outbrain premium native inventory has been able to purchase through a programmatic platform. Why has it taken so long?
"Now is the right time to bring Outbrain Programmatic Access to the market and launch our partnership with AppNexus due to maturity we are seeing in the ecosystem on both the demand side tech and the emergence and growth of dedicated budgets", Gilad De Vries, SVP of Strategy, Outbrain tells ExchangeWire.
According to Outbrain, the company will "aggressively" push adoption of the new offering by marketers and premium brands across their major territories in the coming months.
Integral Ad Science integrates with The Trade Desk
Technology and data company Integral Ad Science expands their integration with The Trade Desk. As part of the collaboration, IAS will provide mobile in-app brand-safety data within The Trade Desk platform, as well as IAS brand safety and fraud reporting directly in The Trade Desk platform for display and video inventory. The reporting integration facilitates log-level data analysis.
"Brand safety is a growing concern, especially for mobile, so we're giving advertisers the data to address it, and the proof that it worked", explains Harmon Lyons, SVP, Business Development and Platform Solutions, Integral Ad Science. "Aligning with the Trade Desk made perfect sense, given their commitment to bringing greater transparency to the programmatic ecosystem."
"We're committed to helping advertisers tap into the inventory that aligns with their brand standards across all channels and devices", adds David Danziger, VP of Data Partnerships at the Trade Desk. "Integrating IAS into our buying platform is a step towards ensuring our clients have consistent control over their campaign with brand-safe inventory, as well as granular, actionable reporting to inform their decisions."
In other news, IAS is also partnering with Adelphic, supplying pre-bid data integration for brand safety, viewability, fraud prevention, and overall ad traffic quality verification.
TabMo launches in the US
Another European-headquartered DSP takes the step across the Atlantic. Paris-based TabMo, are opening their mobile-specific buying platform, Hawk to advertisers and agencies in North America, capitalising on the growth of mobile usage in the US.
Heading up the US operations is new hire Leroy Holland. As Managing Director, U.S. Holland is tasked with developing TabMo's growth and advertiser and agency relationships in the U.S. market. Based in New York, Holland joins TabMo from Kiosked.
"The world of mobile programmatic is still relatively new, but it is becoming incredibly important for media buying all around the globe," said Holland. "As marketers continue to pursue their audiences in these unique environments, they'll need technology that is built around mobile devices and delivery. The current desktop DSPs, while they have scale, are not meeting advertisers' cross-device needs, and as a result, will not last in a mobile-dominant media landscape."
TagsEMEAProgrammatic