Creatives in Programmatic: Q&A with Karolina Faber, Head of Creative Services, Sociomantic Labs
by Sonja Kroll on 9th Jan 2018 in News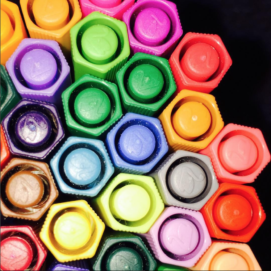 Even though programmatic advertising is primarily about the tech behind the ads, rather than the shape and form of the marketing message, brands should not neglect the creative side of their marketing efforts, argues Karolina Faber (pictured below), head of creative services, Sociomantic, in this exclusive Q&A with ExchangeWire.
ExchangeWire: Creatives aren't normally associated with programmatic trading – how does it fit into the overall ecosystem?
Karolina Faber: Primarily, programmatic trading of media is about the technology that reaches the right user at a time he or she has high propensity to convert. And marketers shouldn't stop there, because the marketing message is also delivered programmatically. Therefore, careful attention should be given to what the user sees – his or her touchpoint with a brand is the banner that pops up on their screen. And this is what's expected for branding campaigns, so why can't the same expectation hold for campaigns with performance goals? Meaning, the way the banner looks and feels gives a direct impact on how the brand and product is perceived by the consumer; and if the creative is enticing enough, it'll attract a click from the customer. Programmatic branding need not be the only campaigns with beautiful, dynamic ads custom-designed to brand specs.
How does it work? How involved does the client get?
The marketers we partner up with are normally juggling 10 plates all at once, so to keep the effort for them as minimal as possible, most client communications are facilitated by a key account manager, who then briefs the creative services team. In general, the client shares the design assets and approves the various stages of the creative process before a campaign goes live. Design assets include high-solution logo files, CI guides, and samples to make sure the banners are aligned with the brand.
Our creative editor tool, built in-house, gives the designers quite a bit of flexibility in designing how the final creative will look live. With this input, the designers can draft a high-quality banner set, including over a dozen banners for all possible formats and, after the client's approval, the campaign can start. A huge benefit is using the option to do A/B testing with two banner sets that compares different metrics to find out which design works best for your brand.
If you want to cut through the noise, work with a vendor that customises its design to your needs, your website, your CI, the product you want to sell, and has the ability to test banner sets against each other.
Why should brands focus on the quality of a creative and what brings quality into a creative?
As said before, brands should focus on quality when it comes to creatives in order to be more appealing to the customer and cut through the noise, as it is a decision of seconds if a banner is clicked.
Bringing quality into creatives is all about following good design principles, such as giving a logo enough margins, the smart use of typography, its spacing and placement, considerate treatment of the client's product image, and in general making sure that a creative not only appeals to the user, but can be read by the user. What's the point of featuring important messages about pricing, discounts, or package offers that transition out too quickly before it's read? On that note, it is also important to create unique CTAs (call to action) that go beyond just adding a 'buy now' button, to really make a difference.
When I started in this business, ad tech companies packed as many products into a banner as possible, but it is much smarter to follow the 'less is more' approach. When you can trust your technology to reach clients with the most fitting product, you can focus on an elegant, skilfully designed creative to make them click on it. At Sociomantic, we additionally add subtle animation elements or transitions, without overloading the creative with too many things going on to make them look fresh and original.
How did you get started in the digital advertising industry?
Well, Sociomantic is actually my first ever advertising industry experience. I had more of a print design background, with a bit of web design experience, when I started here in 2012, as a trainee designer.
At that time, I had very little knowledge of how the programmatic advertising business worked. However, in a few months, I became very efficient at creating banners, and simultaneously Sociomantic was growing and expanding so quickly, we hired more trainees and I was soon training them, managing the design resources, and communicating with various teams regarding all sorts of matters related to the creatives. Over the next few years, the team grew beyond just Berlin. We hired our first local designer in São Paulo in 2013, followed by Singapore, New York, Warsaw, Moscow, London, Amsterdam, and Shanghai.
Making sure they are all up to speed on the processes and tools we are using was my responsibility. Along with the growth of the team, other changes were happening such as implementing new tools, more formats to design, and more flexibility and creative freedom in the banner design. Looking back at the last five years, I have to say, I have not had a dull day, this industry is so dynamic and exciting…
What are the challenges of leading a global team, and what do you do to overcome them in order to deliver success stories to the clients?
Well, I only regret that I don't have the chance to work with the global designers more frequently in person. Not having this immediate, personal opportunity to talk to a designer or work with them directly can sometimes create a feeling of disconnect. To overcome this, we have an annual summit, to get inspired, re-energised, and keep updated about what we're up to.
With each global designer, I check in on a regular biweekly basis, additional to the weekly team meetings we hold, to which the global designers call in and share work for feedback. So, we do our best to stay connected, share our knowledge, and make sure everybody is on the same page when it comes to innovations!
Nevertheless, for client success, it is very beneficial to have a designer supporting an office locally, because they have a better understanding of their market, they work very closely with their local teams, not to mention that due to the different time zones they need to be able to fulfil client needs in real time.
The challenge is more to find these very independent, talented people, but we are doing a pretty good job in this. Honestly, what keeps me motivated, energised, and enthusiastic are the wonderful people I have the pleasure of working with and learning from daily.
TagsDisplay