Why Marketers Need to Focus on the Customer in 2018
by Romany Reagan on 13th Feb 2018 in News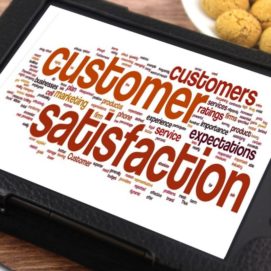 2017 was the year of buzzwords for marketing. It seemed like the bandwagons of 'AI', 'big data' and 'blockchain' were jumped on by a majority of brands – often without any evidence of how they benefited the end user. There's no doubt these technologies have amazing potential. However, Duncan Keene (pictured below), UK managing director of ContentSquare, says that with shiny objects popping up left right and centre, it's easy to lose sight of one of the core aspects of online marketing: the customer experience. Success in 2018 depends not on chasing the latest buzzword for its own sake, but on using technology to do the basics well.
Traditional analytics vs UX analytics
As more and more brands improve their customer experience, it becomes harder to meet – and exceed – user expectations. In 2018, delivering this simple principle requires more than traditional analytics tools. Tools like Google Analytics, although of course helpful, fail to provide a deep enough insight into the hows and whys of customer behaviour. It can also, in some cases, take weeks, months even, to come to one conclusion about why a certain product isn't performing as well, or why customers are dropping off your homepage.
User Experience analytics take it to the next level by providing both the depth and the speed-to-insight that brands and retailers need to make informed decisions about how they design the online experience. UX metrics such as click recurrence, click distribution, and hesitation rate can be used by all teams from website designers, to marketers, to customer-experience teams. Analytics platforms have evolved to a point where they can flag the relevant insights and explain their implications to each relevant team, such as form-field errors, performance of content, or where people are clicking. This means that optimisation decisions are based on data as opposed to gut-feelings, so decisions can be made quickly.
In order to provide a better customer experience, organisations need to look to using UX analytics as opposed to traditional analytics as a means to gain a deeper insight into customer behaviour. Many brands and retailers may know what their customers are doing, but not why they are doing it. Clarks have been using ContentSquare to understand why customers were going through multiple product pages. They found that the colour swatches were driving this behaviour, as customers chose other colours and continued to navigate through the site, but they didn't always find the product they wanted to add to the bag. This has provided a view for a test that surfaces images of alternative colours when people hover over the swatches so they don't navigate away from the page.
UX analytics have been absolutely key in understanding the customer journey better and in a way that prompts action. The implementation of colour swatches across the site is worth between £1.4-2.2m ARR to Clarks.
Actual intelligence
2017 was the year that Artificial Intelligence reached its hype peak. Although there is still work to be done to refine it, AI has cemented itself as being an essential tool for marketers. But it's time for marketers to harness the 'actual intelligence' that AI provides.
Any organisation with a website has access to huge amounts of data, be that customer data, website traffic analytics, or revenue metrics. But this data only shows the 'who' and the 'what' of customer behaviour – not the 'how' and the 'why'. AI-powered user experience analytics can not only provide deeper analysis, but can also accelerate marketing teams' speed-to-insight by suggesting actions and providing data-driven recommendations.
So, what next?
Over the next few years more and more digital teams will be utilising AI bots to automatically conduct site analysis, identifying what page or funnel has the biggest impact on conversion or whether a page is underperforming. With customer acquisition costs 40 times higher than they were five years ago, retailers need to make sure they are getting the right insights to keep conversion rates on target.
Technologies such as ContentSquare's Arti, an AI-powered bot, use a combination of AI-driven expert systems and advanced algorithms to capture and track digital and mobile behaviours and offer personalised insights on how to optimise customer journeys. These sorts of breakthrough solutions can take into consideration users' moods, actions, and locations while on a site, allowing them to have a unique and positive experience.