Diamond Hedge Hopes AR Will Help It Sparkle in APAC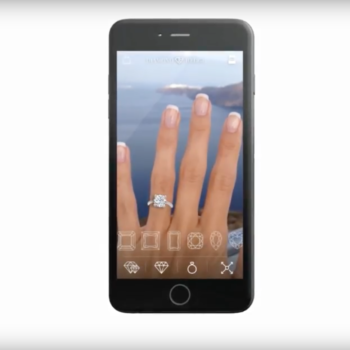 With consumers in the Asia-Pacific region already accustomed to augmented and virtual reality (AR/VR) technologies, one company hopes this means they will be able to more quickly adapt to its own platform.
Launched in 2015, Diamond Hedge touts itself as a price and product comparison site for diamonds, offering an inventory of more than one million from retailers such as Zales, Kay, and James Allen. It lets consumers filter through cut, clarity, size, colour, and shape as well as price.
Wanting to let customers better gauge how a ring looks on their hand, Diamond Hedge's founder Mehul Sompura looked to AR and developed a platform that he said makes them "the first" jewellery company offering a way for consumers to do so, even while moving their hand.
The AR feature is available on the company's website, or via its mobile app, although only for Apple iOS users.
In this Q&A with ExchangeWire, Sompura explains why he turned to AR and how he hopes this would enable Diamond Hedge to carve out a bigger footprint in the Asia-Pacific region.
ExchangeWire: What prompted your move towards tapping AR to feature products on the site? What benefits does it offer that previously were not available?
Mehul Sompura: We are always looking to innovate and push the limits in the diamond industry to improve customer experience. We are the first diamond/jewellery company to allow consumers to try on diamond rings on their actual hand and while they move your hand. Most other jewellery sites have a genetic or computerised hand that doesn't really tell the consumer how the ring will look on their actual hand. Everyone's hand is different.
We also let the consumer try on different rings, so they can change the centre stone, carat size, and setting, giving them many combinations to view.
How did you work to ensure diamonds were accurately represented, such as differences in clarity and cut, and on the various consumer mobile devices?
Via AR, the consumer can't tell the differences in clarity and cut because you need a 10x loop, which is a magnifying glass. With AR, it shows all visual aspects you can see with the naked eye: the shape of the diamond and carat size, which is what we incorporated into the AR feature.
What were some challenges you faced in implementing the AR technology and how did you resolve these?
The main challenge we faced was making sure the ring was able to stay on the base of the ring finger, or any finger, while consumers moved their hand. No other jewellery company had done this before, so we couldn't go by any previous or existing model.
We had to do a lot of trial and error. We then were able to come up with an algorithm to make sure it's able to track the base of the finger, even while consumers moved their hand.
The development process took around six months.
What has been the customer feedback so far? And what other features are they asking for in relation to improving the use of AR?
They like trying on different diamond rings on their actual hand to see how it will look if they purchased the ring. They're asking for more ring options to try on.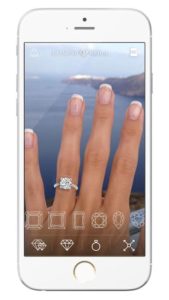 Where do you see room for further improvements in AR technology?
It is going to be future-of-retail shopping. It's only the beginning, but people will expect companies to allow them to try on or try out their products to see how it will look on them or in their homes, before they decide whether to purchase it. There are going to be huge improvements in the retail AR space and we hope to lead in that space.
How do you hope to further tap AR and other technologies to improve customer experience in Asia-Pacific?
The diamond market in this region is growing more and more every year. China will probably be the world's leading consumer of diamonds within the next 10 years. As such, the growth potential of AR in Asia-Pacific will be tremendous. AR technology will get to a point where it's going to look so lifelike that people won't be able to tell the difference between AR and real life.
Currently, only around 20% of our customers are from Asia-Pacific, but we have not started marketing to China and the wider region. So far, sales have been purely by word of mouth and social media.
With e-tailers like Alibaba already tapping AR and VR, and the region accustomed to these technologies, consumers here will be able to adapt more quickly when we start marketing here. We're currently looking into what advances e-tailers have made in AR/VR in Asia-Pacific to see if we can partner with them.
APACAugmented RealityChinaDigital MarketingE-CommerceMobileVirtual Reality