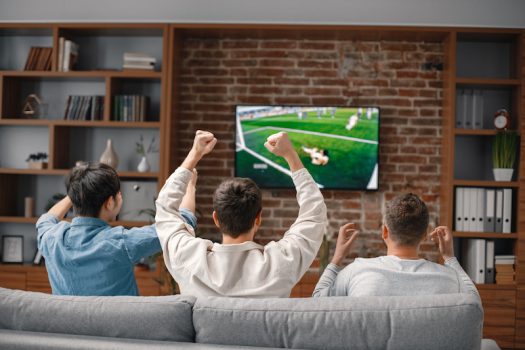 As the competition for sports streaming rights heats up, ExchangeWire's Mat Broughton takes a look at what moves the major players are making, and which companies are still warming up.
In part one, we take a look at the biggest spenders, how their sports plays have worked out so far, and what the future might hold for them:
Amazon: The big hitter
Amazon has undoubtedly been the most active big tech firm in live sports rights investment. Its portfolio of live sports includes:
Tennis (UK - ATP and WTA matches)
Rugby union (autumn internationals)
Football (UK Premier League - 20 matches)
WNBA (16 games)
NBA (Brazil)
MLB (New York Yankees)
NFL (Thursday Night Football)
UEFA Champions League (UK, Germany, and Italy)
These are in turn supplemented by sports-related films and docuseries, including its "All or Nothing" series following domestic and international teams across football, NFL, rugby union, and ice hockey. 
In contrast to reticence from other big tech firms when it comes to live sports, Amazon's CEO has been positively gushing. Speaking at a DealBook conference in November, Andy Jassy commented, "Sports is such a unique asset. If you look every year at the most watched programs, sports often occupies 75% of those spots. And you know, they drive live engagement and they drive Prime subscriptions." Subsequently, in December a report published by The Information suggested Amazon was in talks to develop a standalone app for sports content. 
Unsurprisingly with such a wide portfolio of live sports, Amazon has made a significant cash outlay, for instance yearly sums of £1.5bn for 20 UK Premier League football games and USD$1bn (~£802m) for 15 Thursday Night Football NFL games. While not an immediate concern for a company with USD$36bn (~£29bn) in the bank as of the end of 2022, Amazon may look to pare back its sports investments where they are not demonstrably adding value. In other words, where they are not driving additional subscribers for Prime, nor generating sufficient advertising revenue. This may be coming to fruition already, with reports that the company would not be renewing its £15m per year contract to show ATP tennis within the UK after its current deal expires at the end of this year.
Bottom line: Amazon to remain a significant player in global sports rights, though may consolidate around core audiences. Fewer shots, more on target.
Netflix: Success at the sidelines
Unlike its big tech peers, Netflix has yet to enter the live sports arena, with executives being notably cool on the idea. In December, Netflix co-CEO Ted Sarandos quipped that the firm had "Not seen a profit path to renting big sports today."
That's not to say that Netflix has abandoned sports programming altogether though, with the streaming giant finding success with sports films and docuseries, with these typically focused on providing behind-the-scenes coverage and analysis of sporting competition. Tennis ("Break Point") and Golf ("Full Swing") have both been the focus of Netflix-funded docuseries, with upcoming series focusing on rugby union, football, and cycling. Their most notable success has been "Drive to Survive", a tie-in to Formula 1, which has been renewed for a sixth series. The series has been cited as driving interest towards the sport, especially within the US which has previously been a challenging market for F1, given the lofty presence of domestic series such as NASCAR and Indycar. Data from Netflix indicated that Series 5 of Drive to Survive had been viewed 7.8 million times over the course of its first 10 days of release in February this year.

Netflix reportedly paid USD$5m (~£4m) to F1 for the first series of Drive to Survive, a pittance compared to the USD$85m (~£61m) ESPN pays for live F1 broadcast rights for the US alone, and the multi-billion deals for other sports such as football and NFL. With good value deals like this, it's no wonder that Netflix execs aren't looking to enter the live sports market, right?
Well, not quite. Firstly, despite protestations from Sarandos et al., rumours continue to circulate that the firm is actively bidding on sports, including Formula 1. Secondly, cast your minds back to March last year. Netflix CFO Spencer Neumann pooh-poohed the idea that the firm would ever indulge in entering the ad space, saying  "Never say never, but it's not in our plans. Other folks are learning from it so it's hard for us to ignore that others are doing it. But for now, it doesn't make sense for us." Eight months later, Netflix launched its ad-supported tier. 
The launch of that ad-supported tier makes it all the more likely that Netflix will, eventually, enter the live sports market. While there have been initial teething issues for its ad platform, should user growth continue as forecast, Netflix now has the opportunity to recoup funds from expensive rights deals via advertising and sponsorship revenue associated with live sports, bolster its available advertising inventory, and simultaneously give subscriber numbers a much-needed boost. Score.
As a footnote, Netflix entering live sports may not come until 2024, following the expiration of its contract with Microsoft for ad serving, with rumours circulating that the firm is instead looking to build or acquire its own ad stack. The rationale behind this would be to keep more advertising cash in-house, while allowing marketers the flexibility to select between sports and entertainment advertising as they see fit.
Bottom line: Netflix opposition to live streaming to reach Break Point, ahead of it going Full Swing into sports (I'll get my coat).
Google: Switch-Hitting
Prior to December, Google remained somewhat of a neutral force in the sports streaming arena. Plenty of leagues, clubs, and even international teams host highlights and live broadcasts, via both their own channels and through the YouTube TV streaming platform (within the US). However, this abruptly changed when Google signed a seven-year deal for NFL's Sunday Ticket games, for USD$2bn (~£1.6bn) annually.
The natural question to any company, even on the scale of Google, suddenly changing tack and splurging USD$14bn (~£11.2bn) is: "Why now?".  A first potential answer for this stems from NFL commissioner Roger Goodell last summer, suggesting that Sunday Ticket should move to a streaming service. This locked Google into a bidding war with fellow big tech giants Apple and Amazon, its fiercest rivals, while also reducing the opportunity for traditional cable and linear broadcasters.
Secondly, and perhaps most importantly, YouTube ad revenue fell dramatically in the final quarters of its previous financial year, slipping 7.8% year-over-year in Q4 alone. YouTube's response thus far has been to shuffle its leadership and invest more heavily in its Shorts platform, ostensibly to combat the meteoric rise of TikTok. Investing in sports may be seen as a way of capturing additional viewers and advertisers alike for its relatively nascent YouTube TV and YouTube Premium Channels offerings. Should Google continue broadening its reach into live sports, it remains to be seen whether this will affect the availability of other sporting content on YouTube, with other rights holders potentially hesitant to allow Google to double-dip on highlights while also showing live content.
Bottom line: Expect a bigger sports play from Google, but will this draw the ire of rights holders, and the anti-competition cabal?
AmazonCTVGoogleNetflixStreamingSVODVOD