ExchangeWire Analysis: The ATS London 2023 Lowdown
by Mathew Broughton on 22nd Jun 2023 in News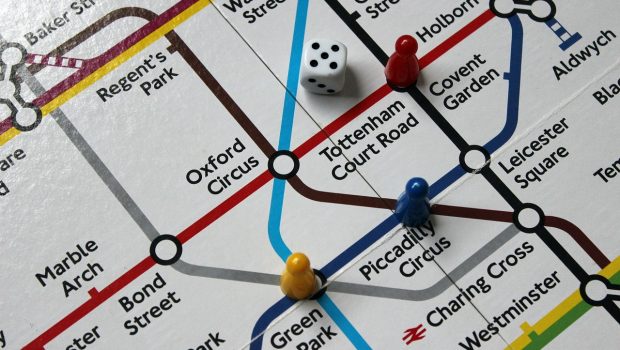 For the first time at ATS London 2023, we asked the diverse audience of brands, agencies, publishers, and technology suppliers, a series of questions during panel discussions, to get their live thoughts on key industry trends.
So who did the great and good of media, marketing, and commerce think should be leading the charge to measure carbon emissions? What are the biggest concerns about the current economic turbulence? And will the martini lunch see a revival? Let's find out.
When do you think contextual advertising solutions will become substantially more scalable?
When it comes to the scalability of contextual, our audience was remarkably bullish. Nearly three-quarters (73%) of respondents believe these solutions will be significantly more scalable by H2 2025, while a further 21% forecast a slightly longer roadmap of 3-5 years. Critically, only 4% deemed that contextual solutions would never become more scalable, underlining its importance within the post-cookie media landscape.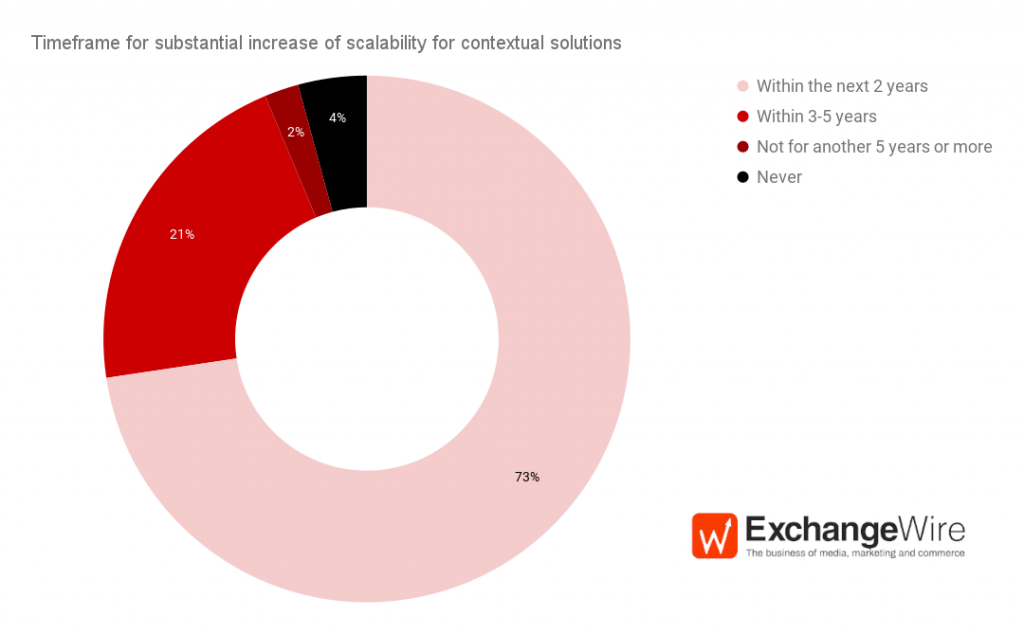 What is the one biggest challenge in implementing a privacy-first data management strategy?
Balancing privacy with personalisation was deemed the most challenging element of implementing a privacy-first data management strategy by the ATS London 2023 audience, as voted by precisely half of the audience. Compliance was cited as the next most significant challenge (19%), perhaps unsurprisingly given the rollout of multiple pieces of privacy legislation in the US and a notable increase in GDPR enforcement over the past year.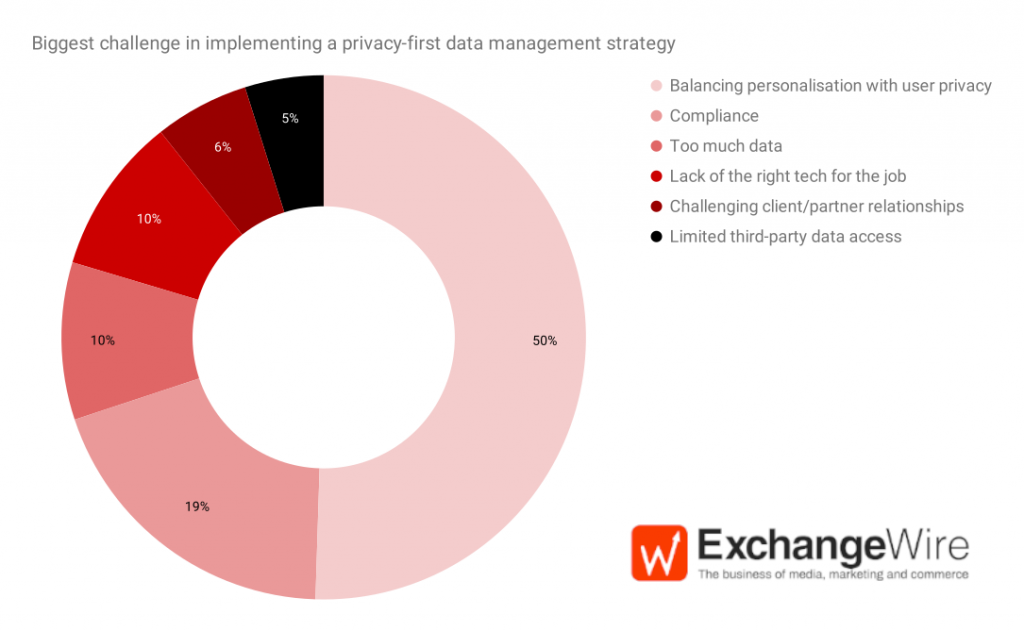 Encouragingly however, the importance of first-party data has been strongly recognised by the audience, with limited access to third-party data the least cited challenge for implementing a privacy-compliant data management strategy at 5%. An increase in collaboration across the industry was also highlighted as one of the overarching themes of on-stage discussion at this year's event, which was supported by the data with only 6% highlighting poor client-partner relationships as the leading challenge to their data management strategy.
Who should be leading the standardisation of carbon emissions measurement across the marketing and advertising industry?
An overriding majority (80%) of the ATS London 2023 audience believe that standardising the measurement of carbon emissions for the marketing and advertising industry should sit outside of individual companies, and should instead be in the remit of either industry bodies (56%) or, to a lesser extent, governments (24%).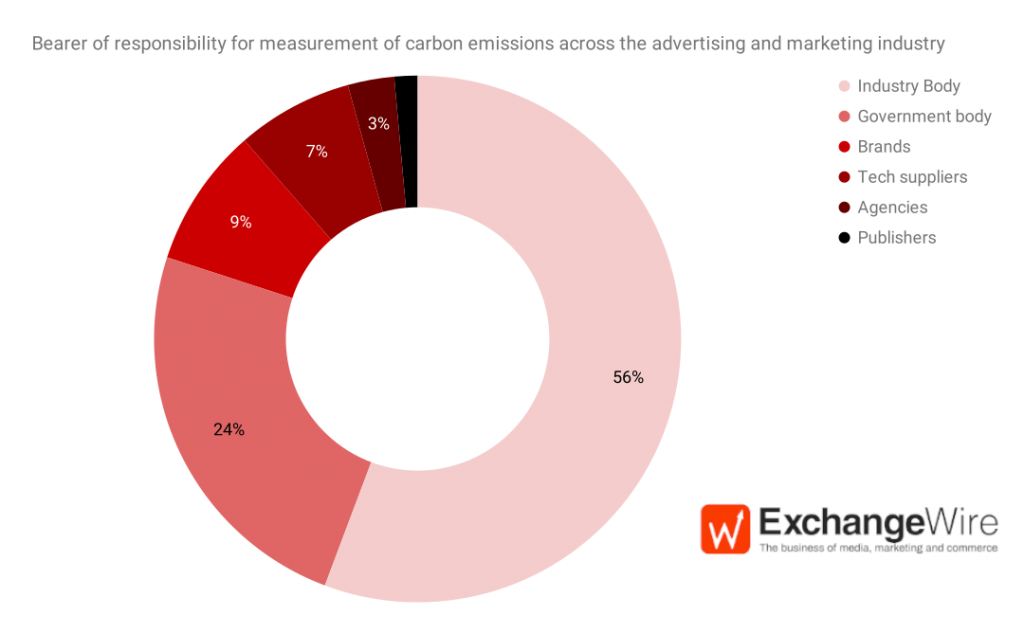 Notably, despite much of the recent action on reducing carbon emissions in the programmatic advertising chain being targeted towards publishers, specifically long-tail or made-for-advertising (MFA) sites, only 1% of the ATS London 2023 audience believe that publishers should hold responsibility for the measurement of carbon emissions.
What do you think is the most exciting opportunity that programmatic outdoor gives?
Within the panel discussion on programmatic multichannel advertising, respondents cited a variety of elements driving excitement around programmatic digital out-of-home (pDOOH). The use of dynamic triggers, such as weather data or on-site visual sensors, is generating the most excitement in the space according to the ATS audience (35%), closely followed by the potential for its use as an extension of digital display (29%) and the fact that it is a cookieless one-to-many solution (18%).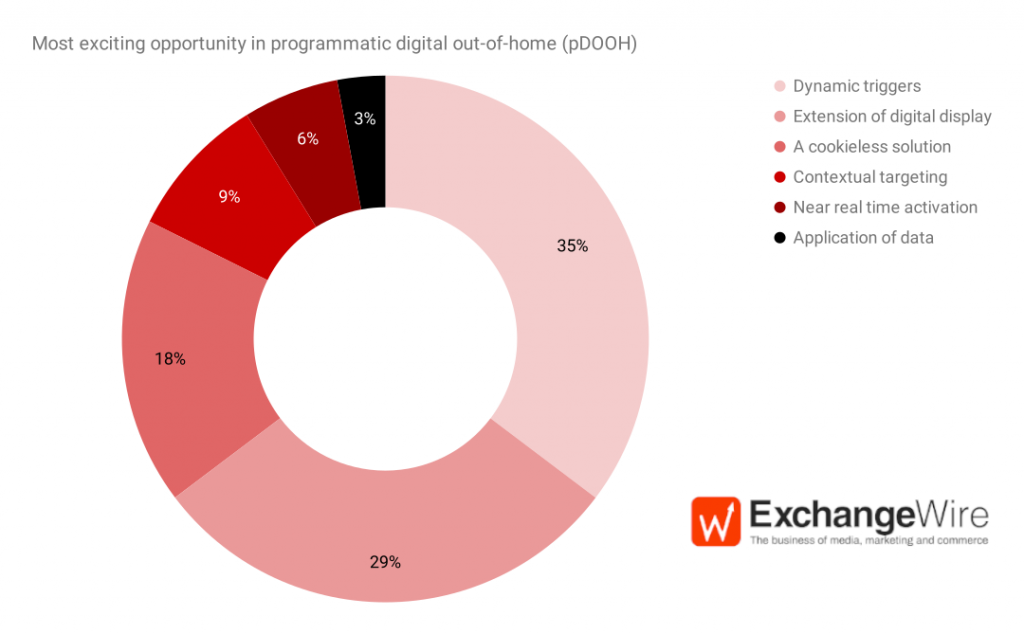 The return of direct sold, part one: Will three martini lunches make a comeback?
In the first of a double question bonanza, Rob Beeler of beeler.tech asked the audience whether three martini lunches, a staple of Madison Avenue media negotiations in years gone by, will make a return as buyers eschew open programmatic in favour of direct relationships.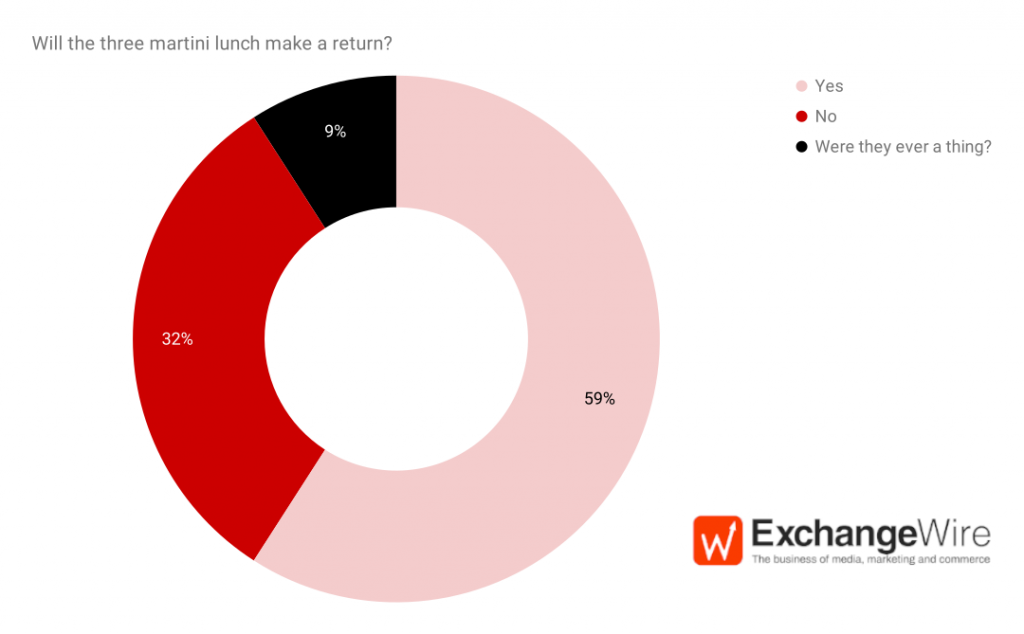 The majority of respondents predicted that such leisurely lunches would indeed make a comeback (14% of these stated they would be partaking of such a beverage after the event at the Westminster Arms - regrettably no further study was undertaken to survey the number of olives in glasses). However nearly one-third of respondents determined that such dalliances would not make a return, a welcome relief to the food markets and Prets of the world*.
*Honourable mention to the Tesco meal deal
The return of direct sold, part two: Will less signal with impressions equal more opportunity for direct sold advertisers?
Thoughts of lunch to one side, Beeler posited a more serious question in the run-up to the deprecation of identifiers across display and mobile environments, as to whether there will be more opportunity for direct sold advertisers once these identifiers kick the bucket.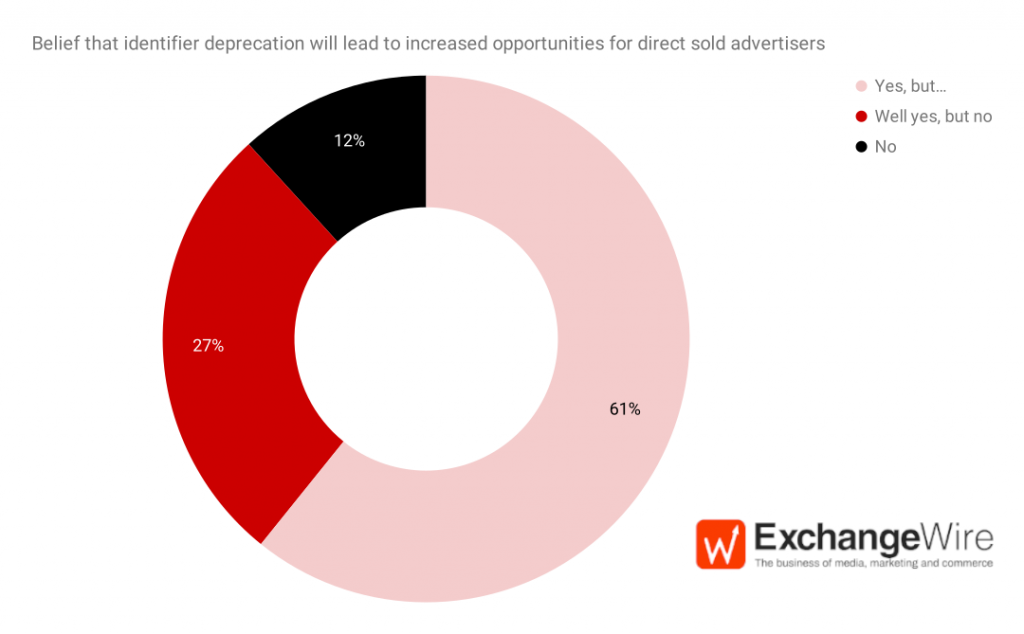 A fairly conclusive sixty-one percent deemed that there would be more opportunity for advertisers operating on a direct sold approach for their media buys, though minor issues would remain. A further 27% believed that these issues, largely relating to scalability, would be more substantial, though greater opportunity for direct sold advertisers would remain.
What do you think is the biggest obstacle to companies forming and trading on the blockchain?
Perhaps unsurprisingly given its nascency as a technology, lack of expertise and uncertainty were cited by 98% of ATS London 2023 respondents as to the most significant obstacles to forming and trading on the blockchain. Within that, nearly half (48%) cited a fear of blockchain technologies due to this lack of understanding, while 31% more specifically referenced uncertainty around potential legal and regulatory implications around Web3.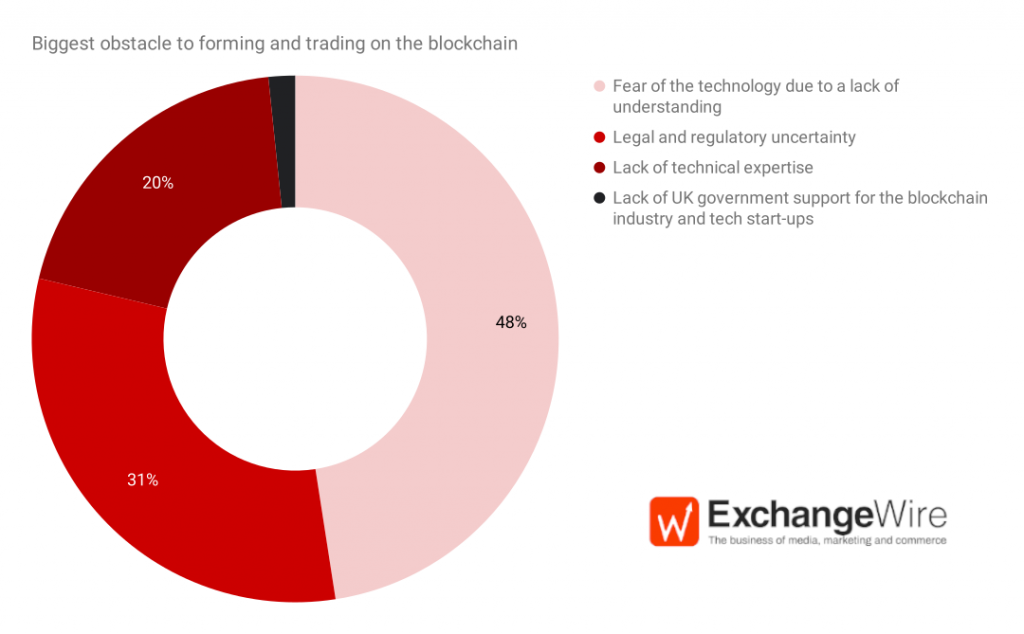 These findings corresponded with an Insights&Attitudes study from ExchangeWire and Alkimi Exchange conducted earlier in 2023, in which one-third (33%) of respondents cited uncertainty regarding future use cases as the leading barrier to Web3 usage.
YouTube sees itself as TV, and wants linear TV budget allocation. Can it start eating broadcasters' breakfast, lunch and tea?
In another ATS polling landslide, 90% of respondents agreed to some extent that YouTube is TV, and will as a result garner some portion of linear TV spend. However, it was deemed that this is mostly as a result of younger audiences equating YouTube to TV, rather than YouTube being a "true" broadcaster (70% versus 20%).
Who should be doing more to drive responsible media practices?
The majority (70%) of the ATS London 2023 audience deemed that responsible media practices need to be driven on a cross-industry basis, rather than one single type of constituent.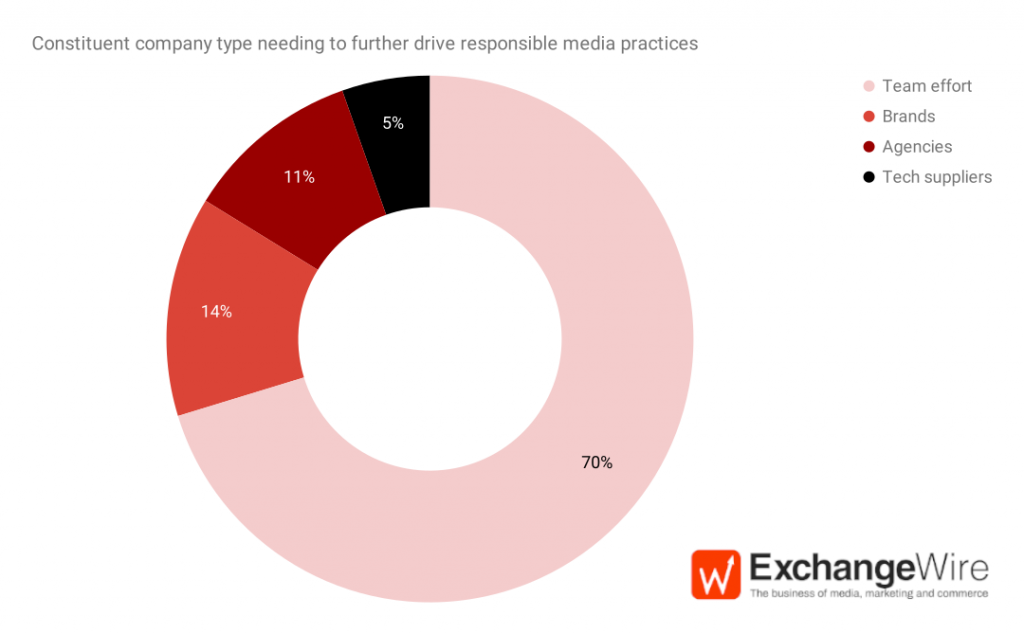 One quarter of respondents believe that responsible media practices need to be driven more by the buy side, while notably no respondent stated that publishers alone should be doing more to drive responsible media practices.
Given cookies and IDs cannot scale, how important will SDA (seller defined audiences) come next July 2024 when the cookie implodes?
A resounding 98% of respondents deemed that seller-defined audiences, a technical specification released by the IAB Tech Lab, would be of some importance by the time the third-party cookie finally crumbles into the sunset.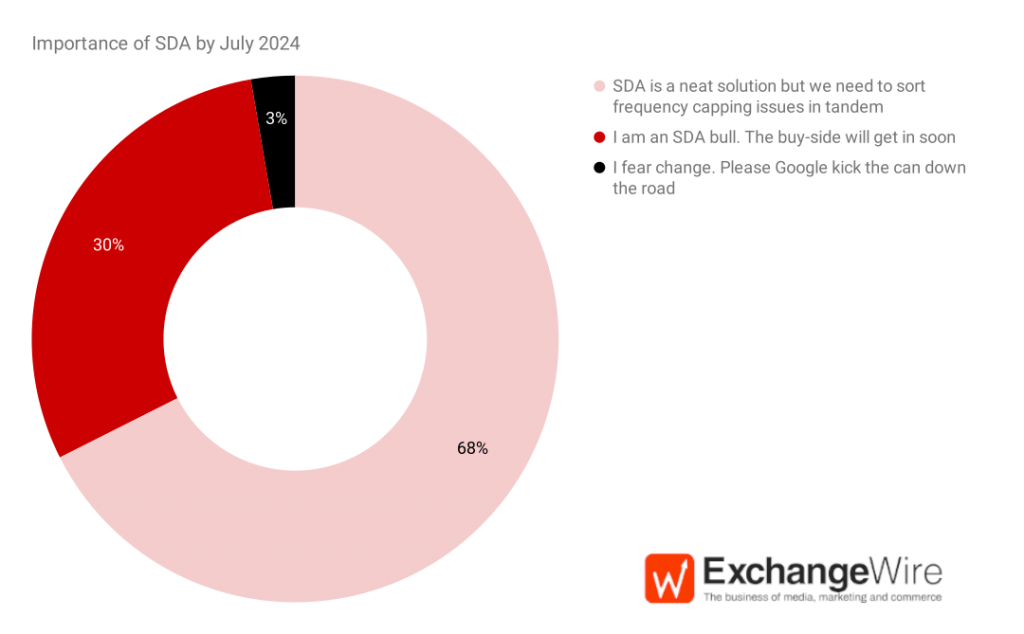 However, over two-thirds of respondents (68%) stated that frequency capping issues needed to be addressed in tandem in order for SDA solutions to scale effectively.
What are your biggest concerns about working in the digital advertising industry during an economic downturn?
Given the recent spate of layoffs across the wider technology industry as a result of the current economic conditions, it is of no surprise that concerns around job security are front-of-mind for over 40% of poll respondents.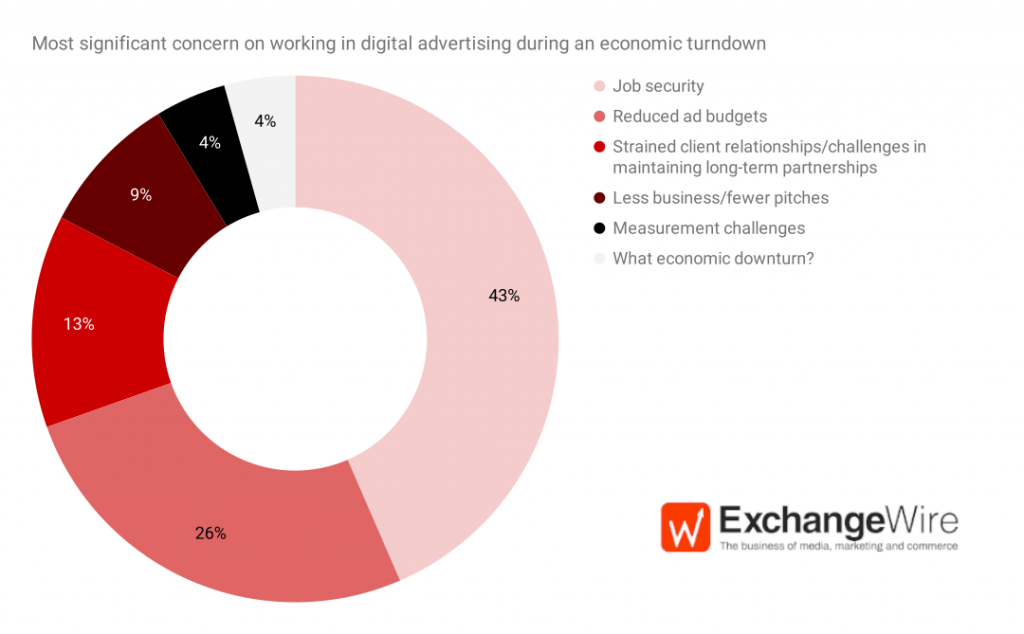 However, it is encouraging to see that only 4% are citing measurement challenges at this time, despite the looming deprecation of the third-party cookie, slated (for now) in H2 next year… Perfect time to head down to ATS London 2024 on 10th-11th September!
ATSATS LondonContextualExchangeWire ResearchPrivacy