AdColony's Ben Holmes on Nuverse, Mobile Gaming Trends in India, and FLoC vs GDPR
by Grace Dillon on 26th Mar 2021 in Podcast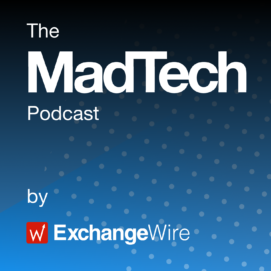 On this week's episode of the MadTech Podcast, Ben Holmes, VP of programmatic and performance demand at AdColony, joins ExchangeWire's Rachel Smith and Lindsay Rowntree to discuss the latest news in ad tech and martech.
Together, they discuss:
– ByteDance are investing in gaming, setting up a website for their gaming business, Nuverse, and upping the headcount of their gaming division almost three-fold as they seek to diversify their revenue streams. Whilst the Beijing-based company will face fierce competition from long-established rivals, their relative youth within the space could prove advantageous. Being late to the (ahem) game will allow the TikTok parent-firm to learn from the mistakes and successes of their predecessors, making them more likely to develop a more honed and healthy offering.
Finding and securing the best talent has proved key to ByteDance's success so far, and the company have shown no signs of deviating from this strategy. ByteDance have invested in 12 smaller gaming companies over the past 2 years, fully acquiring 6 of them, including Moonton studio in a USD $4bn (£2.9bn) deal just this week. The firm are following the tried-and-tested monetisation strategy of distributing third-party games whilst developing their own portfolio, and have already seen several of their original titles reach the Top 10 free games on iOS in China. With millions of MAUs across TikTok and its Chinese counterpart Douyin, ByteDance also have plenty of data to help them market their games to potential players, as well as to offer valuable inventory to advertisers.
– A study into India's gaming landscape has found that 60% of adults aged 45-54 play mobile games regularly. The Mobile Gaming India Report 2021, published by ad tech firm InMobi, found that over 80% of India's mobile users are "committed gamers", meaning that they play their preferred games daily, with the majority of these (84%) playing in sittings that can last up to an hour each.
Further findings include that the smartphone users have 3 games installed on their devices on average, 45% of users picked up the hobby whilst under COVID-19 lockdown measures, and around 72% of Indian women fit into the "committed gamer" group. Casual and arcade-style games proved particularly popular with Gen Z, whilst millennial and Gen X mobile gamers showed a greater preference for action and card or board games.
Importantly for advertisers, who are increasingly recognising the burgeoning opportunity that gaming has to offer, the report found that around three-quarters (74%) of India's gamers watch ads in order to progress through games. More broadly speaking, the report's findings dismantle the stereotypical image that many still conjure of gamers.
– Google won't make their FLoC (Federated Learning of Cohorts) targeting solution available for origin testing in Europe, mooting plans to trial the technology in the region this month. The decision was announced at a meeting of the Improving Web Advertising Business Group (IWABG) at the World Wide Web Consortium this week, where Google engineer Michael Kleber admitted that FLoC, which forms part of the tech giant's post-cookie Privacy Sandbox, may be incongruent with EU privacy legislation.
The areas that could fall foul of Europe's key data laws include a lack of clarity over who will be responsible for controlling and processing data to create the cohorts, as well as the potential use of FLoC IDs and a current uncertainty over whether internet users can give truly informed consent under the technology. However, Chrome product manager Marshall Vale was keen to emphasise that FLoC will make it to Europe eventually, writing in a tweet that Google "are 100% committed to the Privacy Sandbox in Europe."
TagsChinaGamingGDPRGoogleIndiaMobilePodcastPrivacy