DAC Asia's President & CEO, Yutaka Shimizu, Discusses DAC's Entrance into SE Asia Market
by Romany Reagan on 26th Feb 2013 in News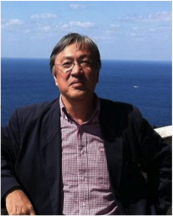 In recent years, Japanese ad technology firms have announced their business alliance in ASEAN markets one after another, revealing a trend of applying their know-how and technological edge, accumulated in the Japanese market, extensively on a global scale. Last year, D. A. Consortium Inc. (DAC) formed a capital and business alliance with Innity Corporation Bhd.(Innity), a Malaysian digital media network company, and announced that the two companies would jointly enter RTB markets in seven countries. We interviewed Mr. Yutaka Shimizu, DAC ASIA PTE. LTD.'s President & CEO, about their strategy in the Southeast Asian market and the background of tie-up with Innity.
What is the background on your company's entrance into the Southeast Asian market?
The online advertising market in Southeast Asia is expected to grow significantly, with an increase in internet penetration in each country in the region, and a rapid expansion of smart devices, boosted by the high economic growth of recent years. Singapore, situated in the center of the region, is home to the Asian head-offices of Google, Yahoo!, MSN, Facebook and many other global media companies.
DAC is one of largest media rep businesses (the mediation service of ad space) in Japan, comprised of 14 group companies, doing business with over 1,000 publishers and over 500 advertising agencies. Since it was founded, we have also focused on technology services, providing leading-edge ad technology to the online advertising market in Japan. Moreover, to strengthen our competitiveness in global markets, we established "Lab +" (lab plus) in San Francisco, a research centre to study the latest trends in ad technology, and DAC Beijing, i-studio Beijing, and Ad-pro Changchun in China to deal with ever-expanding Asian markets. In June last year, DAC ASIA started its operation in Singapore. This operation acts as a foothold for our group to conduct market research and collect a variety of information on the major Southeast Asian economies. It also helps build business relationships with global media companies, and facilitates the entrance of DAC companies into local markets.
In addition, we acquired a stake in Innity, an integrated digital media network company operating one of largest ad networks in the Southeast Asian market, and established a joint venture, i-dac. At the same time, we have launched RTB and other ad technology-driven ad platform solutions and online ad agency services, mainly focusing on Japanese capital advertisers/advertising agencies.
What inspired you to choose Innity as a capital and business alliance partner?
Innity was established in 1999. It is an extensive digital media network company with approximately 150 employees, offering services in nine countries, mostly ASEAN members.
The company operates a large scale ad network in Southeast Asia, with over 10,000 deliverable websites, more than 50 million unique visitors per month, and over two billion impressions per month. It also has remarkable R&D capacity, such as inventing a variety of ad formats, combined with the best features of rich media. It has a broad customer base, covering major European and American advertising agencies, as well as local ones in the Southeast nations, and strong ties with local publishers in the region.
DAC decided to form a business alliance with Innity to promptly put on track the above-mentioned ad platform business and online advertising agency business.
What is the current situation of display advertising in Southeast Asia? How is ad space traded?
MediaCorp and other local leading publishers usually sell their owned media display ads to advertising agencies on a CPM basis.
In the case of ad network companies who put together and sell impressions of different media, they sell targeting menus and rich ad delivery menus on a basis of CPE, CPM, CPC and CPA.
To what extent do ad networks in Southeast Asia cover publisher inventory?
As a rough estimate, it accounts for 75% of total impressions in the South East Asia.
How much appetite for ad technology is there in the Southeast Asian market? Is there data-driven ad technology, such as ad exchanges, or DSP/SSPs, in the market?
Just like in Japan, the level of understanding varies among advertisers and advertising agencies, depending on business segment, territory and type of mission, as well as experience. However, they do know that ad technology has been an effective business tool in Europe, USA and Japan. Advertising agencies and platform solution providers equipped with such technology and insights have been aggressively involved in this business. Therefore, ad technology will quickly spread once it proves to be effective and wins high recognition among players.
How does the display ad market in Southeast Asia differ from that in Japan?
Everyone knows that in Southeast Asian countries, along with their economic growth, advertising and other internet-related markets are expanding at a rapid pace. However, hampered by language barriers and diverse cultural and business practices, their markets have yet to be crowded with many players, as opposed to Europe, America and Japan.
Looking at the supply side, ad network players like Innity have maintained their dominant presence, with the majority of impressions through strong ties with local publishers, whereas DSP and SSP platform operators have a lower profile. Under such circumstances, in October, 2012 DAC group and Innity announced the launch of a platform business that has been active in Japan. Combining DAC's state-of-the-art ad technology with Innity's wide customer/publisher base, the two will work together as a team, under a common business goal, to secure a leading position in the platform market in the region.
In your business deployment in Southeast Asia, what is your priority in terms of ad technology and service support for Innity?
First of all, we have rolled out our proven platform business, MarketOne (DSP) and YIELD ONE (SSP), which have marked a top-level track record and share in the Japanese market. We are also introducing the services that we have offered in Japan, such as ad delivery technology, tracking & analytical tools, and social media solutions, according to local needs.
Under our new vision of, "Empowering the digital future," DAC is committed to contributing to the ad tech society through making continuous efforts in developing the online ad market from global perspectives, while seeking further growth for our group.
Ad Technology Display Advertising Map 2013, ASEAN version: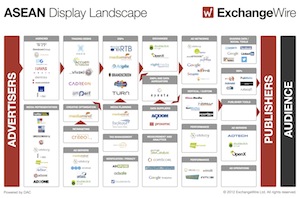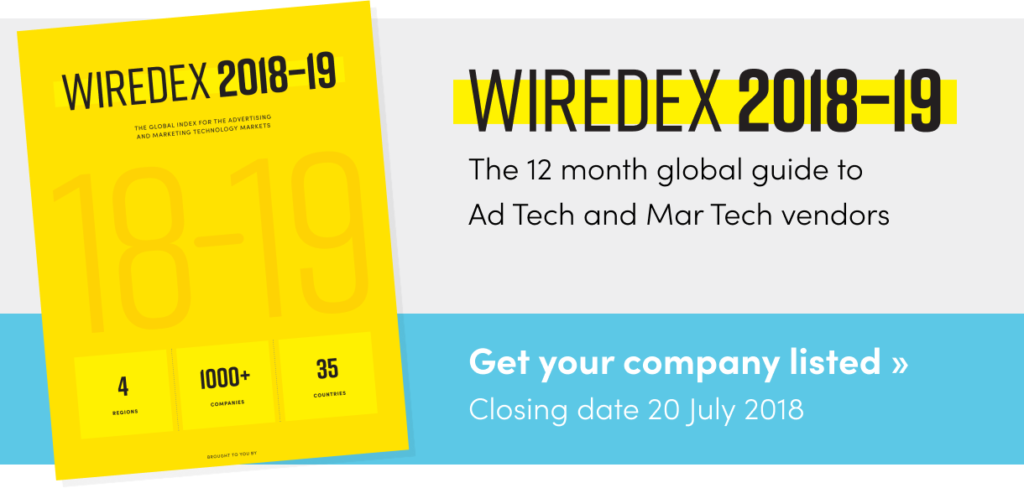 TagsAd NetworkAdvertiserAgencyAPACDSPProgrammaticPublisherSSP