The Guardian Preps Mobile App Relaunch, Brings Programmatic To Its Core
by Ronan Shields on 21st May 2014 in News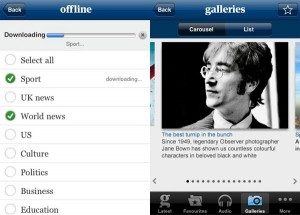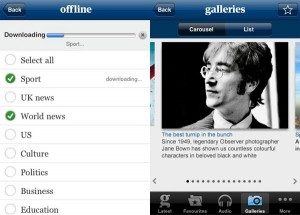 The Guardian is preparing to relaunch its mobile app offering to help advertisers access its most engaged readers, as it also continues to place programmatic media trading at the core of its commercial operations.

The disclosure was made this week by Sam Sherson, Guardian News and Media, revenue operations director, speaking at an event hosted by the Association of Online Publishers (AOP), where he also made a presentation entitled: "Delivering on the promise of programmatic".

During a panel conversation with other presenter, Sherson said: "We are about to relaunch our app… soon… and the app is all about our more engaged [audiences] with content, they're the readers that spend the most time with us, and we see that as the most hardcore Guardian reader and it's also where we see value for advertisers."
Sheerson went on to say that data shows that the title's mobile readers are its most engaged audience should – in theory at least – drive up mobile advertising revenues, although he was unable to share any further details on how the publisher would monetise this audience, i.e. whether the ads here will be sold directly or via automated channels.
"Mobile has been slower to take off than desktop [in terms of generating revenues] for various reasons," he said.
Of course ExchangeWire readers will be aware that of cookie targeting and the fact that players who control the app ecosystem [such as App Store owner Apple] only give limited insight into their data.
Henderson went on to add: "But mobile presents a real opportunity to us in terms of inventory, we just have to figure out how we can monetise that."
Fellow panelist Todd Tran, Nexage, managing director, EMEA, said the reason why legacy publishers – or "multi-screen publishers" as he calls them – are generating much less in revenue, compared to app developers, such as Angry Birds publisher Rovio, is that they have much less data on their mobile audiences.
Legacy publishers are largely split over desktop, mobile web, and elsewhere, hence it is harder to build up a single customer view, but he does believe that multi-screen publishers will eventually catch up, interns of their sophistication.
"The mobile ad ecosystem, it's a different ecosystem, for instance we don't have cookies and there's lots of different ad units… we're going to have to wait about 5-10 years before it's the same as desktop," said Tran.
During his address, Sherson also went on to point out how mobile and programmatic are increasingly central to the publisher's strategy.
"Mobile is central to what we do these days.. but as a media organisation we prefer not to distinguish too much between platforms, it's all about the audience for us, be that on a [desktop or mobile] browser, in-app," he said.
"But from a commercial point of view it's all about selling things as a whole, in fact all our content is being designed to be responsive [i.e. its websites will be built using HTML5], so that it can be published across platform. So that lends itself to selling the audience as a whole."
This includes the tight integration of its automated and direct sales teams, all of whom are aware of how each other's efforts complement one another, according to Henderson.
He also went on to explain the publishers triple-tonged approach to programmatic selling of media, such as its RTB-play Guardian Private Marketplaces, which it is beginning to talk to media agencies about over trying to use as a means to attracting even more brand spend, as well as its publisher trading desk ("for want of a better word") Guardian Response+. This is then complemented by Guardian Labs which the publisher users to generate bespoke "high end" content for brands.
"We see programmatic as helping our sales team concentrate on more strategic and bespoke advertising," he said. "Programmatic does a job in the scheme of things, that enables us to concentrate on more bespoke [content]."
Today, the Guardian's entire sales team trades automatically, so every member of our sales team will be talking to sales and trading desks, according to Sherson.
"We've been trading using RTB as long as anybody since 2010, and been quite open with the sales and agency teams about the data we're getting on it… This involves making sure that our sales team's strategies are in line with our direct and programmatic advertising teams, it's helped us to ensure that everyone is on the same page."
AdvertiserCross-ChannelDigital MarketingDisplayExchangeMedia SpendMobileProgrammaticPublisherTargetingTrading Desk