Revenue High for Teads; Rubicon Project Provide Platform for SoundCloud
by Sonja Kroll on 17th Feb 2017 in News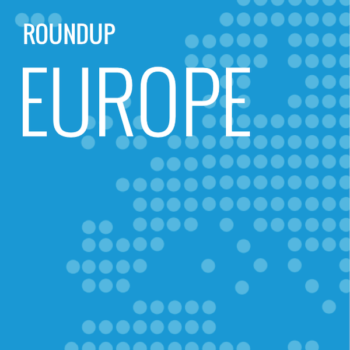 ExchangeWire round up some of the biggest stories in the European digital advertising space. In this week's edition: Strong revenue growth for Teads; Rubicon Project supply platform for SoundCloud; Eyeota partner with MeritDirect; OpenX and PCH partnership; GeoEdge provide QA testing; and Bitposter team up with Kinetic and JCDecaux.
Record-breaking revenue for Teads
Good news for video ad tech provider Teads. The Luxembourg-based company raked in USD$200m (£160m) in 2016, representing 39% growth year-on-year.
According to Real-Time Daily, Teads' revenue growth was driven by the rise of mobile and the need for programmatically tradable quality video inventory. With Teads focusing on both areas, the resulting product offerings were able to respond to the demand.
More than half of Teads' revenue originated from mobile (55%), while programmatic had a share of 35% of the revenue. Last year, Teads had already announced a record-breaking revenue result for 2015, delivering USD$144m (£115m).
Rubicon Project automate SoundCloud's audio inventory
Music streaming provider SoundCloud are opening the door on programmatic ad buying of their ad inventory. The chosen platform for the programmatic transactions is supplied by Rubicon Project.
Tom Kershaw, chief product & engineering officer, Rubicon Project comments: "Today's announcement underscores our ongoing commitment to providing buyers with the ability to access premium, highly sought-after supply at scale via automated channels, regardless of ad format. We are very excited to work with a streaming audio leader like SoundCloud to open up their users to advertisers and brands seeking to leverage the many benefits of transacting their ad spend programmatically."
Brands can target SoundCloud's audience via multiple devices, based on first-party and content-level data. SoundCloud has 175 million MAUs globally, with their ad-supported offering currently available in eight markets including the US, UK, Ireland, France, Australia, New Zealand, Canada, and Germany.
Eyeota inks data partnership with MeritDirect
After an initial cooperation in the autumn of 2016, Eyeota expand their data partnership with MeritDirect. MeritDirect provide firmographic target segments in the area of B2B in the UK and France.
Thanks to the new partnership, Eyeota's Audience Data Marketplace now includes more than 1,000 segments from MeritDirect OmniDIGITAL, reaching audiences across display, mobile, video, and native advertising platforms. The Data segments include industries such as government, IT, construction, finance, human resources, manufacturing, engineering, sales & marketing, retail, and other verticals.
"Our data integration into Eyeota's marketplace enables marketers to identify qualified B2B prospects and reach these key decision makers and influencers with personalised and contextual content to help them along their purchase journey", explains MeritDirect VP of digital services, Ethan Simblist.
Marketers can segment audiences based on industry, the number of employees, sales volume range, and position, to name but a few. "In addition, marketers have the ability to target 50 million real-time, anonymous B2B audience data profiles to improve their campaign efficiencies", Kevin Tan, CEO, Eyeota, adds.
According to Eyeota's Index Report, B2B segments are one of the most popular data types purchased by advertisers.
Integration of OpenX solutions into PCH's monetisation strategy
A new partnership between OpenX and PCH will integrate the OpenX solutions in PCH's monetisation strategies.
PCH/Media have recently positioned themselves as a digital media player. With reach into 73% of US households, PCH/Media have access to unique data assets for targeting solutions. Using OpenX Bidder and private marketplaces, PCH says they saw a significant lift in revenue across desktop on PCH.com, PCH's largest digital property.
"OpenX was our first header bidding partner, and the tangible business results we've seen since beginning a relationship with them are a testament to their level of dedication to serving our unique brand needs", explains Heather Macaulay, head of revenue at PCH/Media, of the partnership. "We truly believe our combined success is due in no small part to the collaborative, consultative partnership we've built with the OpenX team."
OpenX CRO and co-founder Jason Fairchild, meanwhile, commends PCH for blazing new trails: "PCH are pushing the envelope by applying new tools and methods, like leveraging their own first-party CRM data, to substantially increase the value of their unique inventory to advertisers looking for specific audiences."
QA Testing for Direct-Sold Campaigns by GeoEdge
A new solution launched by GeoEdge promises to automate the direct-sold, creative QA testing process for publishers. Designed to make the workflow more efficient, the solution dubbed 'SpecHub' allows publishers to test campaigns prior to publication.
"We designed SpecHub to solve the problems our publishers face when testing and launching direct-sold campaigns. Often, the process is filled with delays, errors, and miscommunication", explains Amnon Siev, CEO of GeoEdge.
After putting campaigns through the SpecHub procedure, publishers only receive pre-verified creatives. which comply with all their specifications, reducing the prep time pre-launch. SpecHub is customised to publisher and industry standards, flagging creative that does not comply with IAB regulations. The solution also identifies and notifies unknown or suspicious elements in an ad campaign, and flags any detected errors in the ad campaign.
Bitposter partner with Kinetic and JCDecaux
Bitposter are pushing OOH with two new partnerships. The OOH trading platform is teaming up with Kinetic for an integrated trading platform for media owners in the UK. Kinetic's planning system for media owners, Aureus, is integrated in the new platform, effectively creating a private marketplace on the basis of Bitposter's platform.
"Our sector is undergoing an exciting transformational phase", says Stuart Taylor, CEO Kinetic UK & Western Europe. "This collaborative development will not only make the outmoded process of buying and selling OOH more efficient, but will help allow the growing scale of DOOH to reach its true potential."
The new platform – the result of a year-long collaboration between Bitposter and Kinetic – promises Kinetic clients more efficient and effective service, thanks to a streamlined process and increased data integration.
Bitposter recently also announced a partnership with OOH media owner JCDecaux, which is bolstering the programmatic trading of JCDecaux's inventory. The partnership is to provide buyers with a frontend interface, through which JCDecaux is able to deliver automation at scale.
Philip Thomas, co-chief executive officer at JCDecaux comments: "Using JCDecaux's SmartBRICS data management platform and the frontend buyer interface of Bitposter, this partnership will give buyers access to JCDecaux's inventory via an automated channel, as media moves away from frame-based buying to audience-based trading, based on their own first-party data or third-party data."