AppNexus Inks Partnership with Axel Springer; New Skins for Sublime Skinz
by Sonja Kroll on 5th May 2017 in News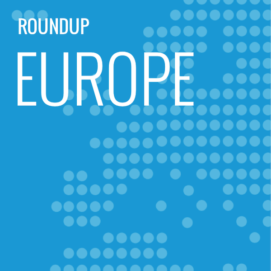 ExchangeWire round up some of the biggest stories in the European digital advertising space. In this week's edition: AppNexus team up with German publisher Springer; Sublime Skins launch new formats; Widespace partner with La Place Media; Online Safety Division by RadiumOne; Funding for Yieldify; Programmatic podcasts by DAX; and Meetrics Viewability Benchmarks.
Massive technology deal for AppNexus with publisher Axel Springer
German publishing house Axel Springer Verlag says bye-bye to Google's ad server and switches allegiance to AppNexus. Starting next year, the partnership will bring the online content from tabloid BILD, newspapers such as BZ and Welt, as well as online publications like finanzen.net and businessinsider to AppNexus's ad server. According to the press release, international Springer brands are also expected to make the switch to AppNexus in the future.
This is a massive deal for AppNexus, with Springer one of the largest digital publishers in Europe, and also signals the stepping away from ad tech providers, such as Google's Doubleclick, who have long been criticised for the lack of transparency when it comes to revenue shares and pricing models. Springer wants to start afresh on the basis of AppNexus' advertising technology, including all digital channels, formats, and application purposes. "We are seeing great potential from a more intense collaboration between Axel Springer's many digital offerings", explains Andreas Wiele, president of marketing and classified ad models, Axel Springer SE. "With AppNexus' technology, we create the technological base for this, which will be particularly beneficial to our digital marketing."
With the AppNexus Summit event taking place in London this week, a flurry of other news items have been released. Amongst other things, AppNexus are joining with MediaMath, Index Exchange, and OpenX to launch an open, technology industry consortium, aiming to make people-based marketing widely available within programmatic channels.
"Today, 48% of all digital advertising dollars accrue to just two companies – Facebook and Google", says Brian O'Kelley, CEO, AppNexus. "That dynamic has placed considerable strain on the open internet companies that generate great journalism, film, music, social networking, and information. This consortium enables precision advertising comparable to that of Google and Facebook, and does so in a privacy-conscious manner. That means better outcomes for marketers, greater monetisation for publishers, and more engaging content for consumers."
Additionally, AppNexus is announcing major policy changes in the context with the impending GDPR.
O'Kelley says that AppNexus is committed to collaborating with the new regulations. "AppNexus believe in the fundamental goals of the GDPR. As part of its initiative, the company will review their list of partners, either directly or through our customer relationships, and will introduce new requirements relating to the use of data on and off of our technology stack. AppNexus also plan to expand our European data centre architecture to ensure that data originating in Europe stays in Europe.
New ad formats for Sublime Skinz
Provider of skin-based advertising, Sublime Skinz, are launching four new formats available through programmatic and direct sell. Extending their product offering in the UK, the new offer is aimed at leading an industry wide shift to outstream video advertising.
The new formats have been created in an attempt to provide noninvasive advertising to advertisers and agencies, while at the same time supporting crossdevice campaigns.
"As publishers look for high-impact advertising, that is contextually relevant and user-initiated, we have seen a migration from traditional advertising", explains Estelle Reale, marketing director EMEA, Sublime Skinz. "Furthermore, with big names switching off pre-roll, both brands and publishers alike are increasingly looking towards new technology and video ad formats that can provide an overall better user experience. By developing new formats such as these, we are ensuring there will always be a suitable platform to meet brands and publishers needs in an ever-evolving industry."
The four new formats provide skins that allow the background to change, skins composed of a 180-degree panoramic creative; HTML5 mobile skins specifically for mobile web campaigns and VideoSkinz Reminder, where a video in the header follows the user's scroll, moving to the bottom of the page as they move down the page.
La Place Media partner with Widespace
Mobile tech provider and publisher co-op La Place Media are teaming up to improve the monetisation of the French group's mobile web inventory. To this end, the two companies are working on creating an automated marketplace with guaranteed access to publisher inventory at fixed rates.
The partnership is directed at monetising mobile web inventory across Android and iOS. Through Widepsace's Summit marketplace, buyers will receive guaranteed access to premium context from publisher inventory at fixed rates. Also on the list is user targeting across the whole mobile ecosystem with smart brand interest profiling of the user based on historical data and previous brand preferences.
Christophe Joyau, chief operating officer at Widespace, tells ExchangeWire that the partnership is aimed at providing an alternative to Google and Facebook: "The duopoly attracts one-fifth of global ad revenue, largely owed to the scale of their audiences and the resulting data these tech giants have to offer – so it's increasingly difficult for publishers to compete. Our partnership with La Place Media, however, aims to empower publishers to take back market share by giving both publishers and advertisers the flexibility to do business directly through our platform." How is this facilitated? "By offering the ability to sell inventory via Widespace packages or direct deals publishers can overcome the issues of scale, and offer quality, mobile-specific formats, with a guarantee on brand safety and zero fraud that's missing elsewhere in the market."
For inventory delivered via Summit Widespace also guarantees zero nonhuman traffic, facilitated by vetting against both bot traffic and ads that are unlikely to be viewed by a human.
RadiumOne launch online safety division
Following Group M's move to create a VP brand safety last July, RadiumOne step up to clean up the media supply chain. To that end, the ad tech provider is launching a dedicated division, tasked with improving online brand safety, tackling fraud and increasing transparency.
To that end, RadiumOne's Safety Division has come up with a list of offers for clients as well as suppliers, including educating clients, improving best practices in context with white and black lists, and creating supplier relationships. Issues such as ad fraud and opportunities in tackling online brand safety and transparency are to be explored in terms of new technical solutions and innovations.
"There has been a justifiable increase in the clamour to clean up the online advertising supply chain and with our credentials on tackling these issues we felt it was important to lead from the front and set a precedent for the rest of the industry", comments Craig Tuck, UK MD, RadiumOne. "Having a dedicated division is testament to the level of effort and expertise required to properly address these issues and protect all of our clients' investment in digital advertising, which goes way beyond token gestures and the endless talk."
Headed up by Timmy Bankole, currently in charge of supply operations, the Safety Division consists of a team of five.
Funding round for Yieldify
Mar tech provider Yieldify have just secured USD$6m (£4.65m) in its second funding round, led by Binomial Ventures. The funding is backed by participants such as John Giuliani, CEO, Conversant, who also joins the Yieldify board as Chairman. Yieldify's existing investors include GV, SoftBank Capital, Hoxton Ventures and Data Point Capital.
Having recently launched their conversion platform, Yieldify now want to invest further in research and development, Jay Radia (pictured left), CEO and co-founder of Yieldify tells ExchangeWire on request. While there are no new offices planned in the short term, the company is planning to invest their funding also into US expansion, a market which is growing 180% yoy, Radia says.
DAX launch programmatic podcast product
The mobile-led digital audio exchange DAX is branching into podcasts, allowing brands to advertise across multiple podcasts through a single buying point. Five new podcast platforms (AudioBoom, SoundCloud, BlogTalk, Podcast One, How Stuff Works) as well as Global's own podcasts, enable programmatic advertising at scale. Targeting is based on genre, location, and device, and advertisers on DAX Podcasts will also be able to access comprehensive results including breakdown on genre, device, downloads, etc.
Speaking to ExchangeWire, Oliver Deane, director of commercial digital, Global thinks that the move will transform the industry by offering brands a way to reach listeners at greater scale, with the efficiency of buying programmatically. Asked about the prospects of programmatic podcast advertising, Deane points out, "5.5 million people listen to podcasts every week in the UK, this is nearly 50% up on last year's figure. This is a large growing audience who are choosing to spend time listening to a huge range quality podcast content from comedy to technology. A brilliant opportunity for advertisers."
The podcasts are not only limited to regular mobile devices, but are reaching into the home by way of voice-activated speakers: "We are already programmatically serving ads onto these devices. If someone listens to any of our publishers on an Amazon Echo, we are already able to reach them."
However, according to DAX, the podcast audience is highly mobile with 75% of listening taking place on smartphones.
Meetrics see connection between rising mobile ad spend and declining ad viewability
The rise in mobile advertising spend may be contributing to declining ad-viewability rates. That is one of the conclusions drawn by ad verification company Meetrics in their latest quarterly viewability benchmark.
According to Meetrics, the proportion of banner ads served in the last quarter which met minimum viewability standards decreased from 49% to 47% – the lowest level for nine months. Based on the recent IAB/PwC figures, this suggests around £750m per year is wasted on non-viewable ads.
"Declining viewability is partly driven by mobile, now accounting for over half of display ad spend but tending to have lower viewability rates than desktop for various reasons", comments Anant Joshi, commercial director UK & Ireland, Meetrics. "Obviously, the smaller screen size can mean more page scrolling and, thus, more chance of ads being missed lower down a p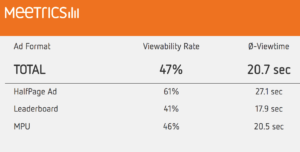 age; plus slower network connection speeds can cause ad loading delays. There's also the legacy issue of desktop ads served on mobile which don't format properly, despite the use of responsive design."
The UK's viewability rate is the lowest in Meetrics' Q1 benchmark report, lagging behind Germany at 55%, and France at 60%. The highest viewability rate was recorded for Austria with 67%.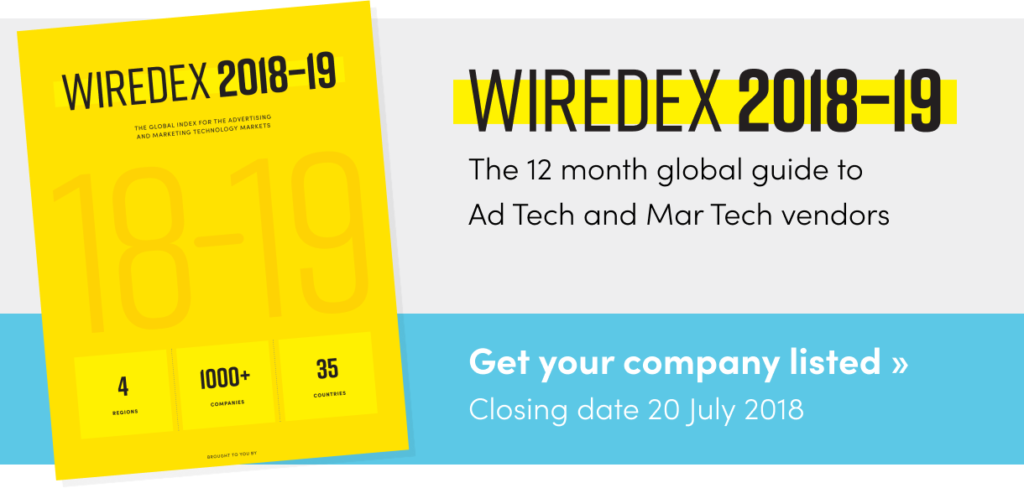 TagsEMEAProgrammatic