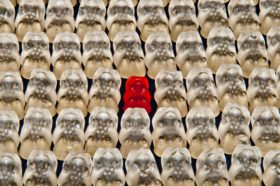 In a sea of tiny logos, so tightly packed together it's nearly impossible to tell them apart, there's no better illustration than the display LUMAscape to prove why standing out in ad tech is tough, writes Andreas Reiffen, CEO, Crealytics. Exclusively for ExchangeWire, Reiffen explains why differentiation is vital for the smaller players in the industry, to get out of the shadow of the duopoly.
Although the digital ad spend pot grows every year, the ever-increasing number of players offering similar solutions means competition is rife. And it doesn't help that some companies have already allocated huge portions of their budgets to just two ad mediums. In the UK alone, it's estimated that Facebook and Google already account for 53% of all display ad spend; and, by 2020, the duo are set to claim 71% (equivalent to £4.1bn), which surpasses the entire UK display market's current value.
With a slim – though not negligible – portion of spend left for everyone else, rivalry among small-scale providers is increasing and fears are growing that digital advertising may soon become an oligopoly.
So, is the end of digital diversity really nigh? Not by a long shot.
Industry conjecture may state that smaller players (including ad tech providers, publishers, and agencies) are now either destined to join forces or be eclipsed by the big guns. But such narrow predictions fail to recognise the complexity of modern advertising. Audiences now engage with brands across multiple channels; and they expect interactions to be adapted for both their needs and those of the platform they are using.
As a result, advertising requirements have also changed: if they're to keep up with consumers' raised standards, brands need agile, tailored solutions that align with the distinct specifications of each vertical. This is something that the all-inclusive services of industry goliaths don't provide, despite their considerable resources.
There is, therefore, an opportunity for smaller players to steal a march on dominant market forces. Instead of trying to match the scale of big organisations, independent companies should focus on creating their own customised, vertical-specific solutions.
By developing best-in-class, bespoke offerings that specialise in one niche area, and have the capacity to work efficiently with other platforms (including the likes of Facebook or Google) small players can ensure their unique capabilities stand out in an industry overcrowded with siloed, similar solutions.
For example, say a small ad tech company operating in a sector that traverses online and offline, like retail, wanted to differentiate themselves from more prevalent platforms. By developing their solution for a particular aspect of retail, such as home appliances or wearable gadgets, the company could establish themselves as the go-to platform for those areas, with unrivalled vertical-specific insight and technological ability.
Indeed, the same goes for almost any other sector, from automotive to consumer packaged goods (CPG). Every vertical needs a specific strategic approach and customised tools that larger players don't have the time to develop or commit themselves to delivering.
Detail and quality, then, are the standards small ad tech providers, publishers, and agencies can strive to achieve in their own niche and use to outshine the broader appeal of industry giants, and their walled gardens. Customisation will be the future and salvation of advertising's small, yet mighty, players.
While it's true that some leaders of the pack have received a knock, such as Google's recent ad placement scandal, it's highly likely that walled gardens will remain a permanent fixture of the ad tech landscape, as will the struggle for power. So, for the smaller players, the priority is finding a way of working alongside major players without getting lost in their shadow – and the best way to do that is bringing something unique to the table.